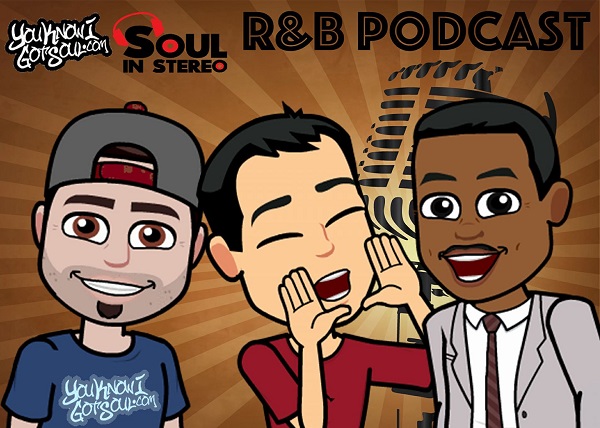 Follow our podcast on Soundcloud: https://soundcloud.com/youknowigotsoul/sets/youknowigotsoul-podcasts
Follow our podcast on iTunes: https://itunes.apple.com/ca/podcast/youknowigotsoul-podcast/id998813013
Follow our podcast on Google Play: https://play.google.com/music/listen?u=0#/ps/Imoe7gt6vd4v6iuf4yq5fyhy3e4
Follow our podcast on YouTube: https://www.youtube.com/playlist?list=PLVyB7WCEUIPl_CYZFTwiNLHqtCHaK2GcK
2:45: Edd's first Keith Sweat concert
6:00: Kyle's first Ashanti concert
8:20: Marsha Ambrosius's new 90's inspired single
13:10: Usher is in the studio with Jermaine Dupri and Bryan-Michael Cox?
16:30: Musiq Soulchild releases more songs off his upcoming album
20:20: Legacy of Day26 after 10 years
23:30: The weird era of R&B in the late 2000's
29:20: Ranking The Best R&B Albums of the 2000s
1:13:14: R&B Hall Of Fame nominations: Anita Baker and Tevin Campbell
It was a slow week in R&B but it's never a dull moment with us. We start off the podcast talking about some of our first concert experiences as Edd talks about his first Keith Sweat experience and Kyle talks about his first Ashanti experience. Afterwards we talk about taking 90's R&B albums for granted as there were albums that didn't get the love that they should have got. Afterwards we talk about some of the new singles that came out including Marsha Ambrosius, Musiq Soulchild and Sammie.
Afterwards we talk about the legacy of Day26 as they celebrate their 10 year anniversary. We also revisit R&B during the late 2000's and try to figure out why people have forgotten about artists that came out during that time period. Afterwards Edd talks about the list he published about the top R&B albums of the 2000's.
For our hall of fame discussion, we try to nominate Anita Baker and Tevin Campbell.