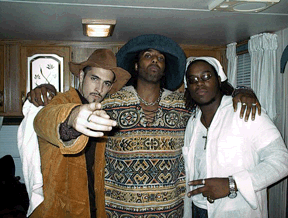 A group you may or may not have heard of through the years is Jack Herrera, a trio formed by Jon B. made up of him along with his bandmates Dominiquinn and Silky Deluxe. Although Jon did get the group signed to a deal, and they did have an album completed called Retro Futuristo, it never got officially released. They did however get two of their songs placed included "Free to Believe" on the soundtrack to "Light it Up" and "High Off You" on "Red Star Sounds, Vol. 1: Soul Searching".
The origin of Jack Herrera is that around the time Jon B. was touring in support of his second album "Cool Relax", he got the idea to form the group. You can check out the song "City Lights" here, which is one of the standout songs from "Retro Futuristo". As you can hear on much of the album, the vibe of the project is very neo-soul and a slight departure from Jon B.'s smooth r&b sound. All three members of the group split vocals throughout.
A few years ago when we interviewed Jon B., he gave us some insight into the group and discussed why the album never officially released.
Jon B.: It never did [get released], it got signed officially, I got the group signed. Everybody got to tour, we got to shoot….what I did was, that was the first self funded project that I ever did. I took money that I was making at that time, you know, from "Cool Relax," and instead of going forward with the whole fame, kinda, 'I wanna be famous, I wanna be the next Elvis Presley,' I was like I wanna go straight to the soul side, I don't want to necessarily dive into this artistry thing. I'm down to do the whole Puffy thing and sign artists and do that whole thing, I'm down to do that because that's really what I wanna do. To do like Diddy and have that…really stamp on music that he has, and because ultimately that's the way I've always seen myself as being a producer and a person who's behind music, not just someone who's out front doing my thing, but also really assisting others to be the best they can be. And really just putting out classy music, a thing that Diddy has always done. Really, for me, yea it's just, the Jack Herrera project just fizzled away because everyone had different aspirations about how to go about doing this, and Sony had there's, and we had ours, and I was definitely loyal to my band. At the same time I continued to do Jack Herrera for a long time after we had already been released from the label. In my heart, it still has an incredible resonance, I love that project, I always will, I just hope that there's a chance where everyone can get into a mind state where we are able to record again, be able to get that project back. That's almost like the same thing I said about Babyface. It feels almost there's just the same impression on me in my life, I really appreciated those guys for what we did together.
In the meantime, we patiently await a new album from Jon B., the follow up to his 2012 project "Comfortable Swagg".