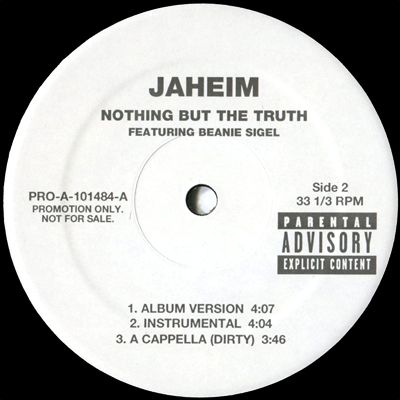 When Jaheim came on the scene in the early 2000's, he literally experienced immediate success. Discovered by DJ Kay Gee in New Jersey, the singer was praised for his vocals reminiscent of Luther Vandross and Teddy Pendergrass, but with an Urban flavor.
In fact, Jaheim has always had a hip hop edge to him, so it's probably no coincidence he was discovered by a hip hop legend. Each of his albums are mixed with an array of r&b ballads alongside urban tales with his signature style of what you could call rap singing.
Today we highlight a forgotten song that was released only as a promo single called "Nothing But the Truth" featuring rapper Beanie Sigel. It was distributed in 2004, which would fall between Jaheim's 2002 sophomore album "Still Ghetto" and third album "Ghetto Classics" from 2006. The song actually features the production and chorus from Beanie Sigel's song "The Truth" from his debut, but has new verses.
In case you were wondering more about Jaheim's origins in music, we caught up with him for an extensive interview a few years back to dig into that. Additionally, we took an in depth look at DJ Kay Gee's Divine Mill record label and many of the artists he housed there.