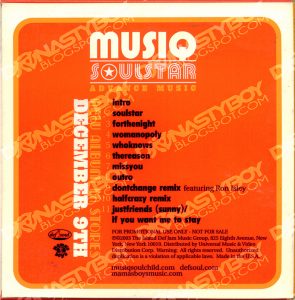 Many may not even realize it for whatever reason, but Musiq Soulchild is easily one of the most successful artists of his generation. Think about it. Since 2000, how many r&b artists have had as many hits? He's definitely up there among the greats of his time, and hopefully will be remembered as such.
The success has even continued as he's transitioned gracefully into an independent artist. Musiq Soulchild's 2016 album "Life on Earth" contained his latest hit single, the song "I Do" which reached the Top 5 at Urban A/C radio.
Today we take a look back at the opposite side of the spectrum and focus on a song that not only wasn't a hit, but few even realize came out. That song is the remix of his hit "Don't Change" which features the legendary Ron Isley. It was only included on some advance copies of his album "Soulstar" that were handed out for promotion of the project in 2003.
This version of the song is cool to listen to simply for the fact that it's a duet between two legendary artists. Not only that, but the production and arrangements are switched up from the original.
Next month, Musiq Soulchild will be heading out on the road to headline the Nu Soul Revival tour.