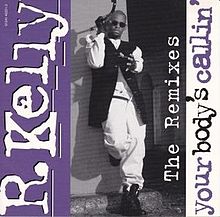 There is little denying that R. Kelly established himself as the King of R&B during the 90's. It all started out with his solo debut album "12 Play", which is highly regarded as a classic and one of the best of that decade. In fact, look in the dictionary during that time under the term "Baby Making Music" and you'd probably find a picture of Kellz.
One of the songs that helped him claim the crown was "Your Body's Callin". There is also a version to the song which features Aaliyah called the "His and Hers Remix". However, this rare gem is all about an unreleased remix to the song that most have never heard. This one was not included on the The Remixes CD single that was put out for promo. Unfortunately we're only able to track down a snippet of the song, and it's tagged as the "Quiet Storm Remix".
R. Kelly has managed to maintain his super stardom in the over two decades since his debut, even though his sound has consistently evolved. However, he's been able to masterfully flex between trendy and current sounds while still reverting back to his original sound to keep his core fans happy.