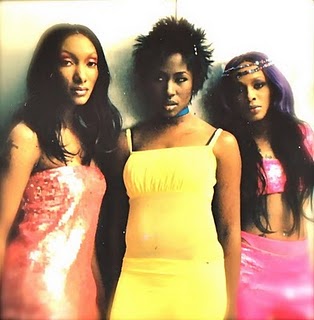 Some of the Aaliyah fans may recognize this title because Jomo Hankerson spoke about the song in an article back in the day:
"In the process of recording One in a Million, we got a demo from Timbaland and Missy. The song was called "Sugar and Spice," which felt a little too kiddie to us, but the structure of the record, the melody, had what became Tim's signature triplebeat on it. We were overwhelmed, and we sent it to Aaliyah. She called us back like, The track is crazy, this is the best thing I've ever heard. So we flew Timbaland and Missy into Detroit to work with her."
Along with that, Missy and Timbaland recently talked about the song in an interview with BET. So is this the same song? You betcha it is.
Here is some background information about the song from the interview we did with Tweet:
YKIGS: Is there a specific memory that stands out to you from your time there?

Tweet: I kinda remember most of the days. The most I remember, there was one time we had an album release party for a young lady Renee Anderson, she wasn't a part of the Bassment, but an artist Devante was working with at the time. So we had a release party for her, and I remember that night was the night Missy wrote "Sugar and Spice" and I recorded that song with her. So I remember that, we had fun, when we recorded the Bassment Tape, I remember all of that stuff. We were musical all the time, we were a family.
YKIGS: I'm glad you actually brought up Sugar and Spice because we've had a chance to hear that one. What can you tell us about that song, and overall what can you tell us about the sound of Sugah?
Tweet: Sugah was…we always used to say the female version of Playa. So we were old school, we had the old school sound, maybe The Supremes, we would always look at The Supremes and get ideas. Like the old 70's and things like that, so our sound was basically the female Playa at the time. And "Sugar and Spice," it was just spur of the moment. Everybody was in the studio in the back like having fun, enjoying the release party, and Missy was like "C'mon let's go do a song!" Just spur of the moment and she wrote it and we did it right there while the party was still going on.
Now the question remains: Did Aaliyah record the song? That has yet to be confirmed. However, this mystery song did end up appearing on Tha Truth's 1997 album "Makin moves…Everyday".