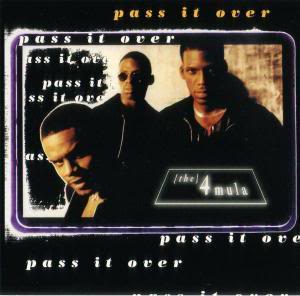 Prior to his stardom as part of Bad Boy Records and releasing his debut album "Emotional", Carl Thomas was actually part of a group called The 4mula. Years before his biggest hits like "I Wish", "Summer Rain" and "Can't Believe", he released the single "Pass it Over" as part of the group in the mid 90's. As the story goes, the group was put together by super producer Troy Taylor (now famous for the success of Trey Songz) for which Carl relocated from his hometown in Chicago to New Haven, CT. Although the group eventually disbanded and their debut album remains unreleased, Carl Thomas would go on to explore the open mic scene in NYC and eventually get discovered by Puff Daddy. The rest is history. In our first interview with Carl Thomas back in 2011, he gave us some history behind the group.
Carl Thomas: There was a full 4Mula album, might I add that the 4Mula was put together by Troy Taylor and we recorded a whole album for Epic Records, the album just never came into fruition. It was just one of those things when you're young and learning along the way. But it was a really good album, we learned a lot as artists writing and producing that album and I'm really, really proud and shocked and surprised when I see the 4Mula pops up every now and then like a ghost! *Laughs* It pops up every now and then, like I was in Japan and somebody handed me a "Pass It Over" cd. So I'm really proud to say that it was one of the founding bricks of my foundation.
Carl Thomas: You know I actually lived in New Haven for awhile. Actually it was West Haven, let me not mess the story up. *Laughs* Me and my group members, who were from New Haven, and of course Troy Taylor who was from New Haven, they were just commuting back and forth and I as the only one in New York. So I kinda wanted to try something different and I went out there for awhile and I actually became a Connecticut native baby!