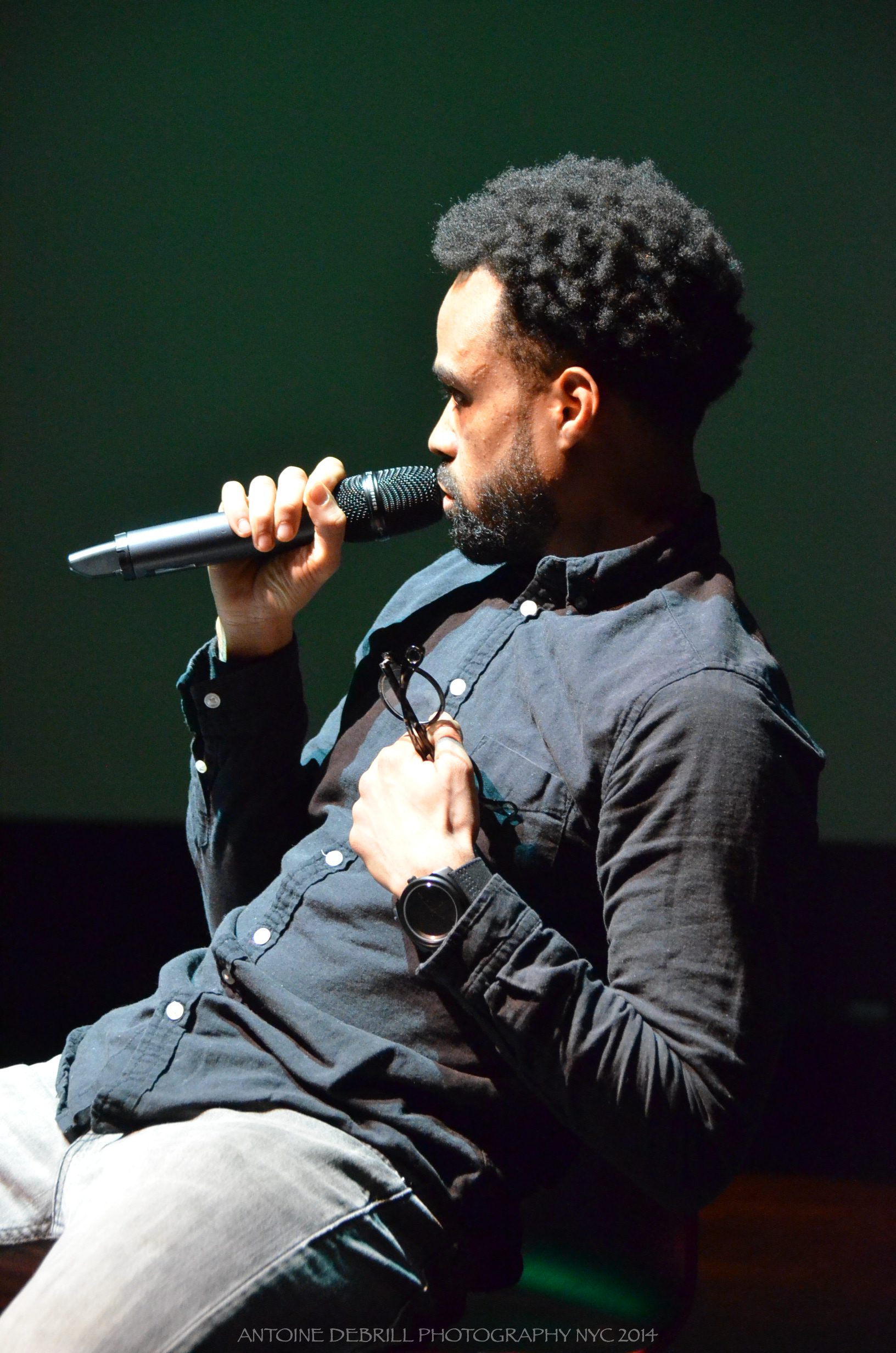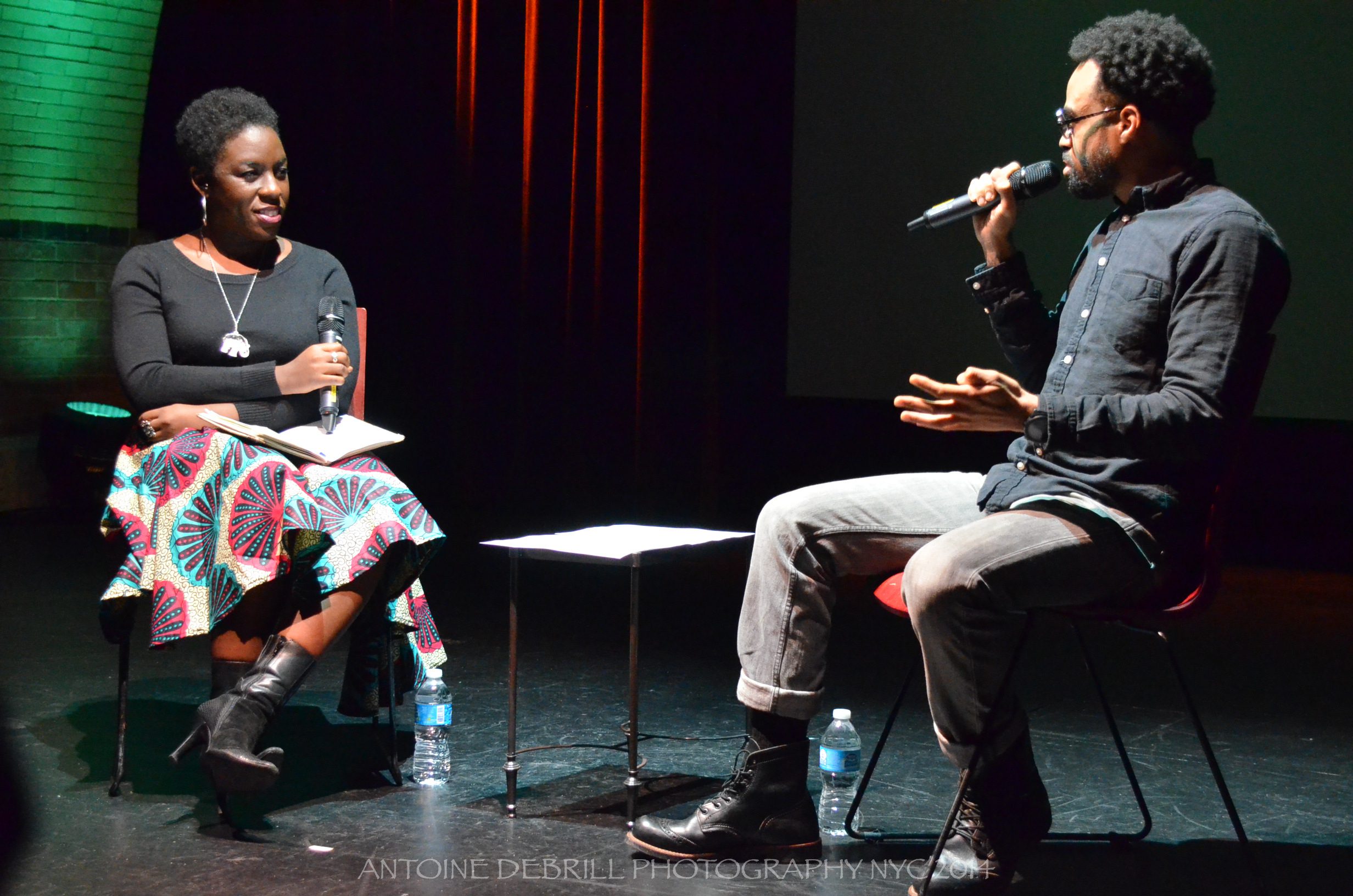 Written by Tara Scudder for YouKnowIGotSoul.com
Ethnomusicologist Fredara Mareva Hadley sat down with the Grammy-nominated musician Bilal last night (Feb 19) at the Harlem Stage Gatehouse to dig deeper into his inspirations, background and personality. The unique, intimate experience was conducted as part of Harlem Stages' Composers Now series. The varied format included personal accounts of his upbringing, review of a few of his past performances, and listening to several jazz-focused artists who have inspired him.
The free-flowing conversation allowed Bilal to let loose and candidly reflect to an arts-oriented audience of his fans. He told tales of the conflict he experienced growing up as a singer and attending a jazz music high school, where vocalists were not well-respected. He had even disguised his abilities and interests in hip-hop artists in effort to be more accepted. His father introduced him to the jazz scene at a young age through the jazz club he owned Zanzibar Blue. Remarkably, his father's actual intent was for his son to become an entrepreneur not a performer! However, Bilal kept using his innate ability to perform since the age of 4 when he had a solo performance in his church choir.
"I tend to listen to the voices in my head" he blithely remarked, in one of the night's many comments peppering the conversation with a discussion of arts and spiritual energy. He shared a story of how classical composer Beethoven had to live his life apart from mainstream society as they believed he was 'different' than others and could access a different realm. To summarize, he referred to artists as having a sort of third 'antenna' to receive a different wavelength of energy.
Bilal reflected on how different the music industry was in the span of time between his debut album and Love For Sale (which was never released due to pirating). He learned from his friend Erykah Badu the importance of carrying your own hard drive to your sessions and demanding the studio copy get deleted. Implementation of computers in the studio was brand new and when he 'got comfortable' then the Love For Sale debacle ensued. He was used to feeling 'like a wizard' and figuring out ways to manipulate sound by distorting his tape reel and using an MPC.
He also discussed how his music is structured to allow continual interpretations. He has a routine of writing a song and structuring it to one instrument allows for him to rework the song in multiple styles. Performances continuously develop and one saw from his performance reels that his creative freedom reigns supreme.
A highlight of the night was a discussion of a question posed by an audience member regarding his experience working with J Dilla. While Bilal was signed to Interscope Records, he had his longtime friend Robert Glasper put in the budget to fly everywhere with him so they could 'talk about sh**' all day and 'be haters together' discussing music. They flew to work with Dilla for a three-day period to work on a couple tracks, including 'Certified' with Guru. The first day they just rode around in the car listening to a whole bunch of his music. Bilal laughed while telling the audience he didn't know until then that Dilla could rap! He animatedly mentioned how gifted of a musician Dilla was and how he, like Prince and Stevie Wonder, can play anything they can conceptualize. They were all in a recording studio, and by the time Guru, Glasper and himself had gotten in the zone Dilla had already produced a few beats for them to choose from.
Bilal closed out the night with a mingling session for his guests to chat one-on-one with him while sipping some vino.
Photos courtesy of Antoine DeBrill