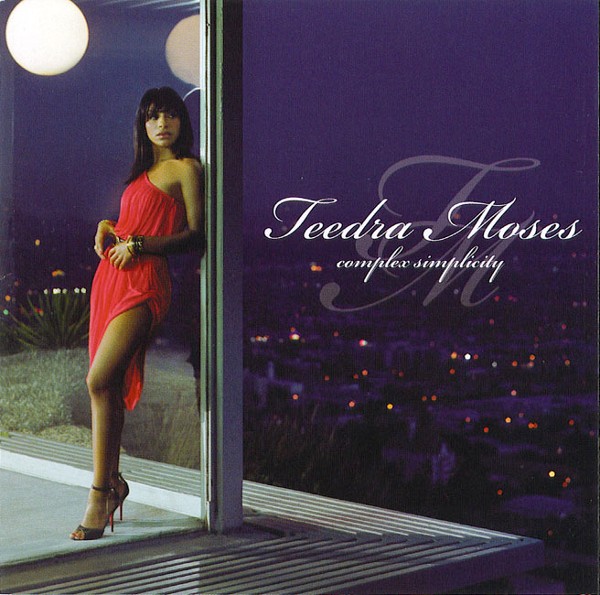 "I can't really trip about people not knowing, I guess in due time, all in God speed. But some amazing music I have is from artists that people really don't know. It's like, some things are really a gift, and if that's not meant to be, hey I can live with that" – Teedra Moses
The trajectory of the Teedra Moses story has undoubtedly been a remarkable one. She has had the unusual benefit of essentially earning her living and standing within the industry on the basis of just one album. An album at the time which didn't even encounter much commercial success upon its release exactly 10 years ago today. The quality of the music in addition to word of mouth and rise of social media have allowed this New Orleans native to consistently thrive and gain new fans despite the lack of a follow up release.
It only spawned two singles and only one was supported by a music video. This resulted in a lowly peak on the Billboard 200 and weak sales, the album was yet another victim of the sometimes unpredictable and frustrating music business. Distributed by the now-defunct TVT records, the home to rappers such as Lil' John and the Ying Yang twins, the album received a very minimal push and was barely promoted despite a favorable reception from critics worldwide. As a label that was very hip-hop orientated it's plausible that they probably did not know how market this album thus preventing it from being the huge success it should've been. Nonetheless, Moses' underrated status doesn't seem to faze her because as she once said in a previous interview with us "I am so grateful to be on the underground and surviving. I'm so happy to be something people choose and not forced to be down with. It's not like a mind f*cking, you must be a fan of Teedra Moses". And with that being said we will now revisit a few of the tracks on this immaculate body of work.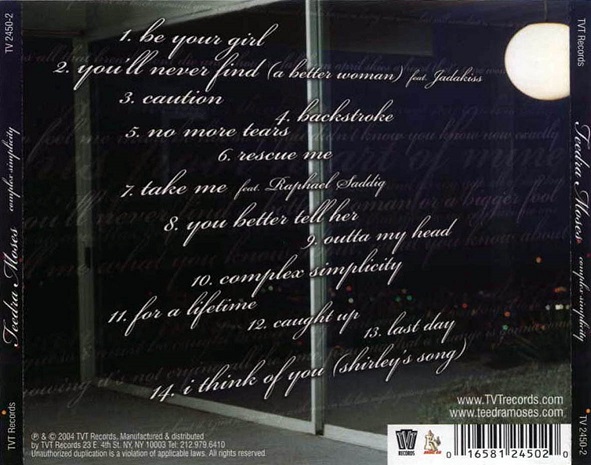 Be Your Girl:
Serving as both the albums lead single and opening track, this smooth song harkens to the sound of the 90's with a drum pattern reminiscent of Rick James' work with the Mary Jane Girls. Lyrically the song speaks of longing for someone who's already involved with someone. Despite peaking at 87 on the U.S. R&B chart and failing to chart on the Hot 100 or any other international chart, the track gained a lot of play on UK radio stations and has since become a staple of sorts spawning loads of well-known remixes. This song is undoubtedly a classic hit amongst hardcore music lovers and it continually gathers huge reactions whenever it's played in a nightclub or performed at Teedra's shows.
No More Tears:
Armed with a sassy vocal, lyrics telling a story of self-assurance and a killer horn-laden beat coupled with a sample from Outkast, this track is all sorts of a winner. It's also worth mentioning that the vocal arrangements running throughout the song are nothing less than stellar and highlight the beauty in Teedra's tone.
Caution:
Every time I hear this song I can't help but wonder why this song wasn't afforded the single treatment. From the first listen 'Caution' has always been the highlight of the album for me. Sonically it's an eclectic melting pot of psychedelic soul mixed with pop influences and rhythms that bare resemblance to the garage/funky house scene in the UK. Perhaps this could've been the track to catapult Teedra to higher heights if equipped with a strong backing. Nevertheless this track will always be my favorite on the album and I look forward to the day where she finally includes it in a concert set list. Teedra also told us about the history of the song:
I mean most of those records were written in my mirror. I had mirrors on my closet doors in my room when I lived in Pasadena at that time when I was writing that album. I would just fall so deep into myself. *Laughs* I would have a beat on, and I would just be in the mirror in my vibe, and my room was all red, and I just remember it being such a great color at the time because it surrounded me so much. And I would just be in my room, and I probably looked a hideous mess, but in my head and in my mind I was on. And I would just be in the mirror singing to myself, free styling, and that's how that record came out. "Caution"…none of those records were thought of, they just became what they became, it just was freestyling and that's pretty much how I write. I just freestyle whatever emotions are on me at the time, with the hopes that maybe somebody else will be going through that same emotion. I think that "Caution," it wasn't anybody specifically I was talking about, it wasn't anything more than the beat pushed me in that direction and as I was looking into the mirror, that's what was coming out. I wish I had something deeper for you. *Laughs*
Caught Up:
An ode to the 70s funk-influenced soul era, this song is groove personified. It gets more and more pleasurable with each listen and it's the perfect song to relax and unwind to. The bass guitar and electric piano showcased here are pure elegance. As R.Kelly would say this is definitely the perfect song for the 'steppers'.
Complex Simplicity:
While the title track has elements of poignancy it no doubt is brimming with optimism. It's such an encouraging pick me up for whenever you're feeling down and stressed. The vibe of the song radiates glee and happiness, therefore it's appropriate that Prince's buoyant 'Raspberry Beret' was sampled for this homage to 80s funk.
Although Teedra has generously shared free new music in the years since 'Complex Simplicity' with the releases of well-received mixtapes such as 'Luxurious Undergrind' and 'Royal Patience'. Teedra's dedicated fanbase are still waiting with baited breath for the release of an official sophomore release. And it seems that we are finally inching closer to that dream becoming a realization. Earlier this year she unveiled the stunning track 'All I Ever Wanted' which serves as the lead single from a new EP entitled 'Cognac & Conversations' which is slated to drop later this year with the assistance of Maybach Music Group and will feature collaborations with Ne-Yo, Rick Ross and 'Take Me' duet partner, Raphael Saadiq.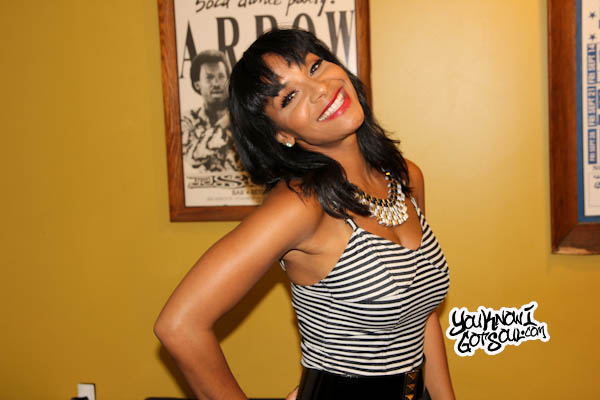 With most artists today only being as good as their last hit. The narrative of Teedra's career and this album is an example of how quality music can stand the test of time. So much so that Teedra has been able to book shows stateside and internationally for the last decade consequently becoming one of the underground's hottest commodities.
Many consider 'Complex Simplicity' a modern and overlooked classic of the 2000s and it's exactly the acclaim and connection that people seem to have with that project is what has held off Teedra from dropping a second album as she said "What it is about that album is the main reason why I can't just throw out a second album. My intentions are to make timeless music, my intentions are to make music that you can listen to 10 years from now and appreciate it". I can definitely understand that when another album arrives, she wants to have a similar if not bigger impact than her debut. Whenever it finally comes around, it does seem that through her grinding in the past decade it will almost certainly make a bigger splash now that more people are aware of her music and has accordingly generated a respectable level of anticipation.
Check out Teedra's latest single below:
https://www.youtube.com/watch?v=FAikG1yWltc
Written by Sope Soetan (@SopeSoetan)
Quotes taken from previous YouKnowIGotSoul Interviews