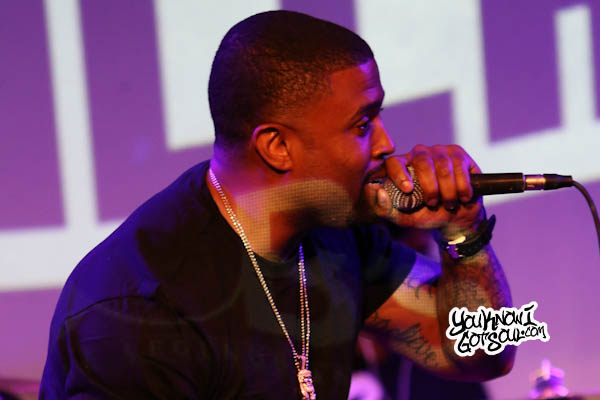 Next is a group that will forever be tied into the lineage of 90's R&B history with the way they impacted the genre and the legacy they've created. With crossover pop hits like "Too Close" and "Wifey" among others, they were able to surpass just about all of their peers in chart success.
Lead singer RL from the group has been a friend and supporter of ours for many years now. We had him join us for a recent episode of our SoulBack R&B Podcast and he discussed how the group was originally discovered by Kay Gee of Naughty by Nature, and made the shocking revelation about how this might be the end of the line for the group. Check out what he had to say below.
You can also check out the entire episode here, where he spoke on much more about the group's history and his own solo career.
YouKnowIGotSoul: Discuss the history of Next and how you were originally discovered.
RL: It's funny, when the guys met Kay Gee, I was at soundcheck. We were opening up for Aaliyah the night before. Nature performed at 1st Avenue on a Saturday. Aaliyah performed at Glam Slam, which was Prince's club, the night before. I was at soundcheck and the guys were at The Mall of America getting a wardrobe, and they ran into Kay Gee. He told them to come to the show. We left a demo with Kay Gee and he had it on the tour bus. Prince's DJ Brother Jules was on the tour bus talking to Kay Gee, and Kay had told him he was looking for talent. Brother Jules told him we were the dopest act in the city, and our demo tape was right there on the bus. All of the sudden, Kay Gee called us. I thought it was a joke. We were flown out to New York City, and we had on flip flops and sweat suits. We literally got off of the plane and went straight to The Apollo. We were there when it was Biggie, AZ, Puff Daddy, The Lost Boyz & Nature performing. We looked down and there were church fans on the seats, and it said "Illtown's New Lineup" and it had all these different groups including our group Straight4ward, which we were called at the time. We were shocked. After the show, we went to Kay Gee's house, he had a big mansion, the pool, the basketball court. When we woke up, they were setting up his 1st annual Boogie Night party. Mike Tyson, Queen Latifah, anybody you could think of that was a star was at this cookout. This was our first taste of being around these people. We weren't signed or anything. Next thing you know, we were staying with Kay Gee. I was the youngest out of the group. The others would go home on the weekends, they had girlfriends or kids or whatever. I didn't have anywhere to go. My parents had recently left Minneapolis and moved to San Diego. I was sleeping on the floor on Kay Gee's back house in the room next to Jaheim. Every time I'd hear Kay Gee come in, I'd make sure I was dressed and had my teeth brushed, and sit in the studio with him. That's how I was able to write so many records for Jaheim and Next. The guys would go home to visit their families, and I literally lived, eat, drank, slept music. I was at an advantage to learn under one of the best producers of my generation. That's how I got started.
YouKnowIGotSoul: What's next for Next?
RL: Right now for me, 2019 is the farewell tour of Next in my mind. Unless God has other plans. After this year, it probably is a wrap. We might do shows here and there, but I don't even know. We have a whole album done. It's disappointing because, you know all that we went through as a group. I love my group members. I'm probably closer to T-Low now than Tweet, and it used to be the opposite. They're real brothers, so you have different dynamics. They grew up together in the same house. Regardless of how wrong one might be, they will always be brothers. They are great guys, we make a great team, it's never been about thinking I'm bigger than the group. When I went solo, people always thought I got a big head, but didn't realize I got put out of the group. They didn't realize the name that I came up with was secretly trademarked behind my back, and I recently just got a part back. I'll say this. Sometimes it's about the people you surround yourself with. Tweet is super talented. He's never been the vocalist even though he can sing. But he played his role. He was the spokesperson, he was the body, he was the personality. But if someone is in his ear telling him he can do more or other things, then you start thinking you need to do more. When you have success and the resources, you move away and you're not around each other every day. Growing up, I was dependent on them because I didn't have a car. We had to be around each other. We were always together. When success comes, you have different friends or a girl. You might have a family. You have different influences and they are telling you different things. We did a whole album and I heard my album was dated. But the record I just did with Lil Duval, I did in 2014. So if it's so dated, how is it climbing the charts? But this came from one of my group members! He wants to do rap. He feels he wants a whole different vibe. I understand because I've been there, in a place where I've doubted what I know, the integrity of music. Maybe I need to do what's on the radio? Maybe I need to be more trendy. I call it musical menopause. When you get older, you get a few grey hairs, you start looking in the mirror. You start questioning all of the skills you've learned over the years of being in this industry. It took me awhile to say No, let me do what I know. I don't want to be dated, but I don't want to be that dude where people say "Mannn, he's doing that too?" We are separating. I'm working on a project for T-Low. I think he can be the new Dave Hollister or Gerald LeVert. He's a teddy bear, he has that smooth voice. He's just never put himself in the fore front. Tweet is working on a rap project with his son, and I wish that well. My favorite saying is "I wish everybody well, I just wish me better". I'm working on me over here. With groups, sometimes it's ego, but a lot of times it's the opposite. It's insecurity that pushes you away from each other. My main objective is to make good music, feed my family, and have fun.