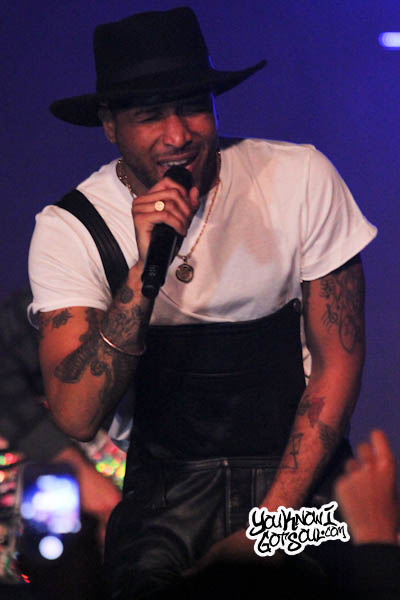 2016 truly was a breakout year for Ro James. We of course got a chance to see him on his grind over the past few years here in NYC, but he really got a chance to shine on a major scale last year. Part of that emergence was due to the opportunity to open for Maxwell on tour; a legend he can now call a friend. Not only that, but his debut album "Eldorado" earned him a Grammy nomination. Bigger things are in store for the young r&b star in 2017, as he'll soon be heading out on his first headlining tour. YouKnowIGotSoul had a chance to sit down with him once again prior to taking the stage at Raheem DeVaughn's holiday concert and discussed his breakout in 2016, what he has in store for 2017, his upcoming tour, and lessons he's learned from Maxwell.
Interview by Zeplyn Tillman
YouKnowIGotSoul: Coming off of your breakout year in 2016, what are you most looking forward to this year?
Ro James: I'm looking forward to unraveling the layers of my creativity. I feel like there are so many things I want to do, from fashion to more music to acting. Just many different things. I feel like this is the next year and people kind of know my name now, and it's more of spreading the word. There are billions of people in the world, so I still have a lot of work to do. I look forward to traveling the world during my first headlining tour. Just letting people know who I am as an artist. As a new artist, you kind of get lost in the jumble of all of these new artists that come out, so in 2017 I look forward to showing the separation and showing why I differentiate myself.
YouKnowIGotSoul: You just got off an amazing tour with some of the greats. What are some of the things you take away from that experience?
Ro James: Everything. The business to team work to interacting with your fans and how to run a business while you're also being an artist. That's very important. That's what started me in the beginning, I was all about the business. It's what threw me off a little bit, just knowing all of the business of it. Just watching how they function with their teams and looking at their track records and how they've been successful. To still be here and doing an arena tour. Just applying that to myself. I feel like it's a blessing from being exposed to that type of professionalism so early. I gained a big brother in Maxwell. He looks out for me and talks to me about just maintaining and just keeping it true with the music which is the most important thing. It's good to have those types of reminders in a world where everyone is chasing a single or chasing a check or be the most popular. I try not to forget it's about the music when all of that falls off.