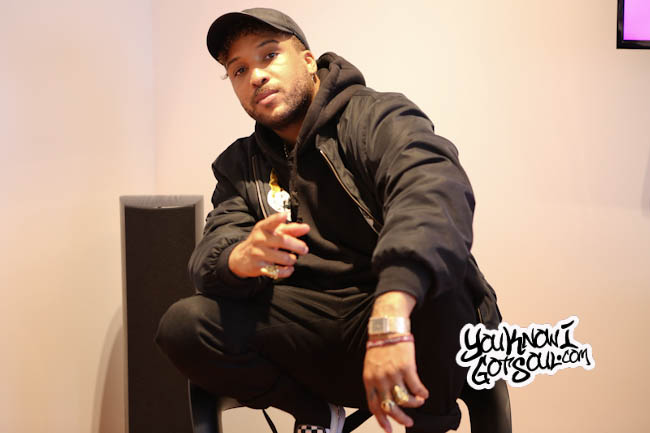 During our history of covering the New York City r&b scene since the start of YouKnowIGotSoul, we've come across many upcoming artists trying to break in. The reality is that many of them never make it; the music industry can be very cruel in that regard. However, one artist who we seemingly would bump into constantly is Ro James. The talent and unique style was always there, but he was really on his grind like few others were. Not only was he performing across just about every venue in the city, but he was always making himself extremely visible at events and associating in the right circles. Years later, he made it, and will release his debut album this month on ByStorm Entertainment / RCA Records. We sat down with him during a promo run in NYC and discussed the journey to this point, what to expect on his debut, advice for other emerging artists, and much more.
YouKnowIGotSoul: You've recently signed with ByStorm Entertainment / RCA Records . Your debut album is coming out later this month. Reflect on the journey to get to this point for us.
Ro James: *Laughs* With "ELDORADO" coming out. That's kinda of the point of it all, enjoying the ride, that's the slogan I'm going with. It's been a journey. It's up and downs, holding on and almost letting go and sticking it through.
YouKnowIGotSoul: With all of the grinding you were doing throughout New York City, you released the three part EP series "Coke, Jack & Cadillacs". What was the key moment that got you signed to this deal?
Ro James: The key moment was me releasing that project and just stepping out and not waiting for anyone else. I really put that together with myself and my management. I was independent and I did it differently. I wanted people to get to know me from my beginning. That's why I started the whole story from 19 years old, my beginning. It's been a journey.
YouKnowIGotSoul: You released "Permission" as the first single from the upcoming album "ELDORADO". We love the single and chose it as one of the best r&b songs of 2015. What inspired the song?
Ro James: "Permission" was a collaboration with Verse Simmonds and Soundz the producer. Mark Pitts actually sent me the track and he thought it would sound good with my voice. I listened to it and I lived with it for a little while and went down to Atlanta and created it. We just wanted to have a little bit more finesse when it came to approaching women and how we talk about them in a song. We always have the aggressive route, so this time we wanted the finesse and respect and sexy.
YouKnowIGotSoul: We got a real D'Angelo vibe from the song, I know he's one of your influences.
Ro James: I can hear that.
YouKnowIGotSoul: Talk about the upcoming album "ELDORADO". What can we expect on there sonically? Your EP series was very raw and gritty. Is it along those lines?
Ro James: The EP was raw and gritty and that was how I wanted it to be, it was nostalgic, to 19 years old. All the things I was listened to was that raw rock/soul with r&b and hip hop sound. It evolved into "ELDORADO" where I experimented a lot more, I worked with producers I never worked with before, I worked with one or two writers. I expanded my sound and stepped outside of my comfort zone. This is just a ride. I've got all the feelings, the hip hop, the country, the rock, the soul are the primary. We just expanded the sound a little bit. It's a little bit more polished but still gritty.
YouKnowIGotSoul: Any collaborations on the album?
Ro James: Nah man. It was so important to me that I wanted to come into this with just people knowing me. I could have collaborated with a lot of people or asked a lot of people to help out. I feel like I don't want anybody to respect my art based off of a collaboration. I'm not going to say a name, but if I worked with such and such, it's like people would like Ro James because I have a song with them, as opposed to getting into my artistry and what I'm bringing to the table. I wanted to do that first and later we'll add the features and collaborations and people I wanted to work with.
YouKnowIGotSoul: Did you have to have a lot of patience to wait through all of these years before releasing your debut album?
Ro James: Man definitely a lot of patience. A lot of tears and sweat and blood and arguing. It's all worth it in the end. I have my first album, I think that it's a blessing because millions of people in the world dream. They might necessarily be great, but they also have the dream. Just to have the opportunity to do this and share it with the world, I'm happy and excited.
YouKnowIGotSoul: We've seen you on this radio station tour stopping around the nation. Reading your bio, you've lived all over the U.S. during your life. Is there a particular city you identify with the most?
Ro James: I always feel most at home in New York which is crazy. Indiana feels like home too, but I feel like everywhere that I go, it feels familiar because I've already been there. I go to California, I've been there before and know people there. All of the places I've been and meeting all of these people on this tour, meeting so many inspiring people.
YouKnowIGotSoul: Reading your bio, your Aunt previously sang back up for Prince. With his recent passing, talk about the influence his music had on your career.
Ro James: Wow, Prince. He was a huge influence. I think that the first time I saw "Purple Rain", it sparked in me something that I don't know how to describe. It showed me this different approach on art and artistry. For me, growing up, my looking up to him, I always felt a responsibility to my artistry like "Prince would be proud of this!" Not to ever emulate what he did, but just to respect his artistry and the way that he did it and how I could apply individuality to my life. He really tapped into his emotions. My aunt sang on the Prince song "Diamonds and Pearls" so just knowing that she was a part of that also inspired me and it made me want to go hard and really figure out what my thing was.
YouKnowIGotSoul: We encounter so many up and coming artists around New York City and we love sharing your story. What advice would you give back to other artists trying to make it like you did?
Ro James: Just stay true to yourself. I have so many stories of people telling me that I wasn't as good as someone else. Or I should try to do something different or that r&b is not popular and I should try auto tune or rapping. Just so many things I was told and I had to stick to my guns because I knew that what I wanted to do was different than what you had heard of before. Maybe you've never heard of somebody who was inspired by rock music, and hip hop music, and country music. But my Father was a pastor so trying to balance all of the feelings. That's a lot. For me to introduce somebody to that lane of music, they would have discouraged me not to do it. My advice to anyone is to stay true to yourself, be an individual, don't follow anyone else's path, if you see something popular in music, find your own sound, because that's what will make you stand out, or else you'll get splashed. *Laughs* Support yourself and invest into your music and quality. You have no reason to not have quality videos and sound with all of the technology out. As a new artist, it's really your responsibility to dig into that and execute your vision.
YouKnowIGotSoul: You're affiliated with The Jackets crew (Luke James, Melanie Fiona, Stacy Barthe, Bridget Kelly) and remember being at an epic show at the Highline Ballroom here in NYC where you brought them all out. Do you plan to collaborate with them again in the future?
Ro James: Sure. I'm still cool with everybody. That was great. I believe that was the thing that started the conversation really. I had been going and having label meetings, but that really solidified it, I put that together, and it actually happened. Moving forward, I have so many ideas incorporating brands and just other artists and people that I've met along the way now and just putting them into the show.
YouKnowIGotSoul: Anything you'd like to add?
Ro James: Download "ELDORADO" and download "Permission". Thank you guys for supporting since the very, very beginning. I remember.