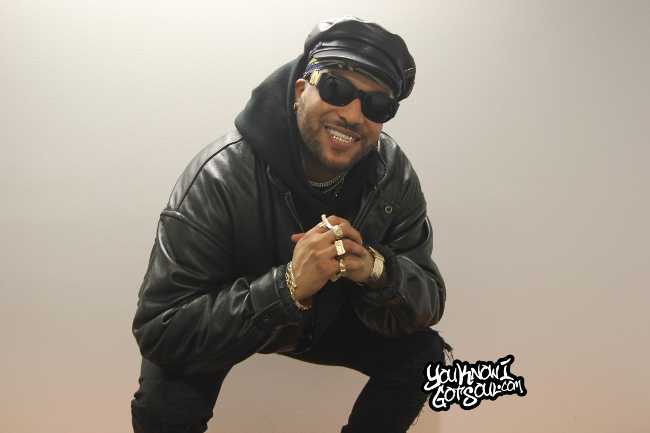 Ro James established himself as one of the new stars in R&B when he dropped his debut album "Eldorado" back in 2016. He had been grinding for many years prior to that, but he made his breakthrough with the record "Permissions". The single was the bridge between old and new R&B as he put his Prince inspired vocals over a modern beat. The single was a huge success at Urban AC. Ro James most recently released his new EP "Smoke" as he prepares for his sophomore album. YouKnowIGotSoul had a chance to talk to Ro James about his upcoming project including his collaboration with legendary producer Salaam Remi. He also talks about the challenges in the industry right now and also remembers his friend and R&B singer Leah LaBelle who tragically passed away in a car accident last month.
YouKnowIGotSoul: You just dropped the new record "Lost My Mind" with the Biggie verse. Talk about that song a little bit.
Ro James: I've been working on this new album for about six months. I went to Miami and me and Salaam Remi got in. That was a song that we did on the first day working together. We're both from Queens, so we had a connect. We talked about bringing back that vibe of New York and that grit and dirt, but on some R&B shit.
YouKnowIGotSoul: What made you guys decide to put Biggie on the song?
Ro James: I felt the song needed some Hip Hop energy and I was doing it myself. He found this sample of Biggie and he was like "Let's put this in" and it just worked. With Biggie on it, it's paying homage to 90's Hip Hop and R&B which plays a huge influence on my artistry.
YouKnowIGotSoul: What does Biggie mean to you?
Ro James: Biggie is an icon in Hip Hop. Being from New York and that 90's era with Bad Boy, you appreciate the feeling of Hip Hop and R&B. Biggie had that essence grit and that dirt with his voice and tone.
YouKnowIGotSoul: Is this the sound we'll be expecting on your new album? I feel like you and Salaam is the perfect combination.
Ro James: Salaam Remi is a legend. He's dope and he's been in the game for so long. He's worked with so many different people. I got in with him and we have a few songs that we made and put together. This actually was something we did off the whim. We just did it our first time getting in the studio. He's definitely going to play a part in the new sound of the album.
YouKnowIGotSoul: Talk about some of the other material you've been working on.
Ro James: It's all a secret man! I'm trying to keep it low key. I have an EP coming out on Friday and you'll hear four songs. The full EP is called "Smoke and Mirrors". It'll be a two part EP and the first part comes out Friday.
YouKnowIGotSoul: "Permission" was one of the biggest songs in 2016 for R&B. That song sort of opened up the doors for R&B in that it had classic elements of D'Angelo, but the production was very progressive. Talk about the impact of that record.
Ro James: I think it gave a different perspective to R&B. I think it allowed people to see that R&B is fly again and that it has a fresh feel. I don't come alone and I come with other artists that embody the same artistry as me. But "Permission" in particular bridged the gap of old school and new school. When I created the song, I had no intentions of tying Prince into it but I kept getting those comparisons. What I realized was that it was the soul and falsetto and the musicality that people were missing, I feel I brought that back.
YouKnowIGotSoul: Your sound has always been very eclectic, so your debut album "Eldorado" isn't just a bunch of "Permissions". What was the response from the listeners when they heard the rest of your album?
Ro James: It was a great response. I try to tell a story with my record and my art. "Coke, Jack & Cadillacs" was my EP and it told the beginning of my journey. "Eldorado" represented my first album and I feel like people have been taking this ride with me. It is an eclectic sound. I love so many different styles of music and I feel like I'm truly inspired and I embody all these different sounds with every project. My mission is to share all these different facets of me. All those things I appreciate, but not being boxed into a specific genre or sound. I just want to be free with my music and just being an artist.
YouKnowIGotSoul: It hasn't been that long since you last released music, but the industry moves so fast these days. Do you feel like you may have gotten lost in the shuffle?
Ro James: Nah, I have no concerns with that. I do realize that the climate of music is putting music out fast. I wanted to re-engage and realign myself and make sure i was right mentally and emotionally. I wanted to tell a story. I don't want to get lost in the shuffle of just being over-saturated. I want people to respect my work and to get something from it. I feel like if I put too much out, you lose the feeling and you're detached because you're expecting it. When you hold something precious and you say "I'm going to give this to you every two years", you appreciate it a little bit more. You consider it for art versus something that's here today and gone tomorrow. We're in the world of Hip Hop where it's songs but I come from wanting to mold my career after greats like Stevie Wonder, Marvin Gaye, Otis Redding, Prince and Michael Jackson. They took their time with projects and put their packaging, picture and videos together to where it's cohesive. Then when you hear the title and you're excited about that and the video too. I miss that in music. I don't care if people put songs out every week, I want people to respect my art and music. I'm going to tell you a story and if I get lost in the shuffle, fuck it.
YouKnowIGotSoul: Talk about some of the producers you've been working with.
Ro James: I've been moving around this time. I wanted to experiment and I try to do that every time to grow. I worked with Salaam and we have 4 joints. I worked with Andre Harris from Dre & Vidal. I've moved it around and there's so many people. The thing is, do you want to go to the top producer and spend $100k on a track or do you want to go to somebody you can sit down with and tell them "This is my vision of what I hear for this particular project". We can sit down and go over some old vinyls and smoke to catch a vibe. We can have real communication about what what this feels like and I feel like unless I can do that, it's hard for me to just work with people. I can work with a big name but it's just a song. I want to make a movement or a feeling.
YouKnowIGotSoul: One of my favorite songs off your last album was "Already Know That". How did you guys put that song together?
Ro James: DJ Camper is family. It was just a vibe and we were listening to a lot of music. Ryan Toby from City High is so fire with the melodies. He came in and went in the booth and that's how the joint came out.
YouKnowIGotSoul: Leah LaBelle passed away not too long ago. You guys came from that same era of R&B. Were you close with her?
Ro James: That was one of my best friends. I've known Leah for like ten years. It's really sad because we came up together. We encouraged one another and pushed each other to be strong because everyone kept saying R&B was dead. Leah LaBelle had such an amazing voice. It's like a crew of us like Luke James, Bridget Kelly and Wynter Gordon. We all came up around the same era and encouraged one another. We have a family of artists that encourage one another in New York and pushed each other. Leah was one of those people that was special. We were proud when she signed with Pharrell and she got her deal because we knew that she had worked so hard. Just knowing that she passed, it's so crazy and a reality check. It's like "Get it together and do your shit because tomorrow isn't promised". It makes me realize even for myself because she was so great and she had so much to do. I ask myself "What do I want to do before I really leave?" It was a reality check and I was in a little depression with my music and trying to figure it out. Her passing pulled me out of it. You only get one life and you gotta do this. God bless Leah LaBelle.