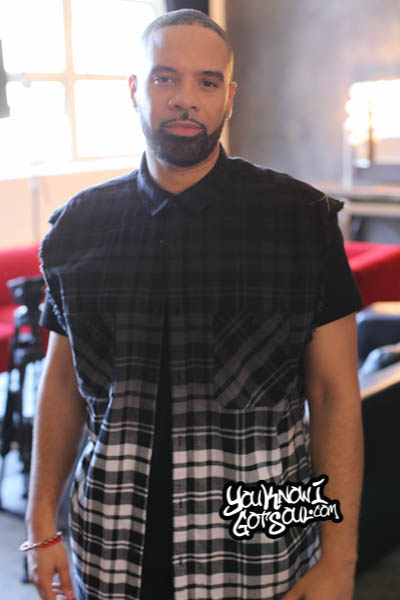 YouKnowIGotSoul was recently on site in Brooklyn for Russell Taylor's video shoot for his latest single "Electric". The soul singer has been getting long overdue recognition after recently being showcased by VH1 in their "You Oughta Know" series. Following the success of his single "War of Hearts" and new single "Electric", Russell will release his new album this Summer and it's poised to be his biggest yet. YouKnowIGotSoul spoke to him about all of these things and more.
YouKnowIGotSoul: We're here at the video shoot for your new single "Electric". Tell us about the concept of the video.
Russell Taylor: "Electric" is a nice kind of soulful EDM type of record, so we wanted something with the pace and energy, but to take me out of artist per say and put it into a different context and narrative. I'm a photographer, I'm this celebrity photographer and there are two simultaneous photo shoots happening. I have a connection to a young woman that is on another photo shoot. Somehow "Electric" brings us together and boom, it's love.
YouKnowIGotSoul: What inspired the concept for the song when you wrote it?
Russell Taylor: The concept of "Electric" happened in the studio because I'm a wild and crazy guy, I know that sounds corny, but I like to hang out and party. *Laughs* One thing that's lost I feel sometimes when you're a soul singer, there's kind of like a unspoken, you can't really do a certain type of music. I wanted to do a tune that kind of showed that side of me. So "Electric" is being in the club and the music is playing and everything is right and the lights. "All we have is right now so why don't you come with me so we can make this happen; whatever this is." That's where "Electric" came from.
YouKnowIGotSoul: This of course is the follow up to "War of Hearts" which has been a very successful single and made you a VH1 "You Oughta Know" artist. How did you get that spot?
Russell Taylor: I'm very blessed and shout out to VH1 and VH1 Soul. Initially what happened was The Black Ink Crew licensed "War of Hearts" for one of their episodes and then this was the first crowd sourced edition, meaning the public could vote. I found out from the network that I was in the top 3 finalists and then all of my "souljers" showed up and voted for me. I got the notification on TV that I was the next "You Outta Know" artist for December.
YouKnowIGotSoul: What has that accolade meant to your career?
Russell Taylor: It has helped immensely. People that wouldn't normally be exposed to my music have seen me and they have heard the song and it's brought them to the rest of my artistry. The VH1 thing was a very good platform and it was awesome. I'm forever grateful.
YouKnowIGotSoul: The album is coming this Summer. Can you give us a preview of what to expect on there?
Russell Taylor: It is a culmination of everything I heard in my head; that's what's on this record. As an artist, whatever your medium is, you have these kind of ideas about what you want your art to be like when it gets out of your mind. Sometimes it may be an appropriation of what you think. In this regard for me, it is everything that I've wanted on the record. I'm very happy because now it gets me even closer. When I do a show, I'm even closer to what I wanted it to be. It's like the beginning of the rest.
YouKnowIGotSoul: Anything you'd like to add?
Russell Taylor: YouKnowIGotSoul.com man, you guys do great work and I appreciate you coming out to the set in Brooklyn, New York. Hit me up at @RSoulStar on Twitter, #Souljers. I'm always on Instagram, same thing @RSoulStar, I would love for you to stop by and say what's up.