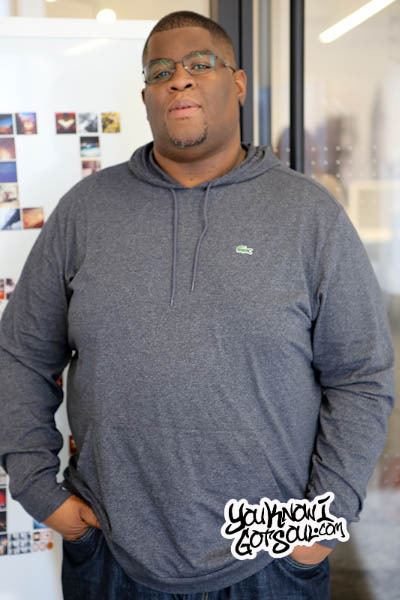 Salaam Remi has quietly been one of the elite producers in r&b and hip hop music since he began his career. This is a legendary journey that has been 30 years in the making and includes hits with the likes of Nas, Miguel, Amy Winehouse, Alicia Keys, Jazmine Sullivan, Tamia, and countless others. What's perhaps most impressive is how he's not only been able to transcend many generations, but also tailor his sound to each artist. His recent success with his new batch of artists including Mack Wilds prove that he's got so much more to give. He recently launched his "Do it for the Culture" campaign where he's giving fans music to listen to in large batches. YouKnowIGotSoul sat down with him recently and discussed his movement, breaking his new artists, what's next for Mack Wilds, his success across many generations, and much more.
YouKnowIGotSoul: Let's start out by talking about your new movement "Do it for the Culture". You just released a whole bunch of new music for free. What inspired this?
Salaam Remi: A couple of things inspired it. One is I have my label over the years and knowing that sometimes there is great music that needs to come out, but because of different aspects, you're waiting for the right time. I was working with Miguel this year, and we were recording and I knew his project wasn't going to come out until next year. That's the amount of time it takes to set it up and get it right. I said "Yo let's just do something so we can put it out". Right away, we put out "Come Through and Chill" and I felt so good about that. The way I felt about that, it was better for me to pull together some music and start releasing it. This is for the culture. For the people who want to get it, they're able to get it without waiting for what would typically be a major label release date and schedule. There are people out here who want to get music, they're into music. For me, it's just go for it. I'm setting up DoItForTheCulture.Club. Every few months I'm going to put out a lot of music on streaming services. I feel like without me putting out more music, I can't complain about what's out.
YouKnowIGotSoul: Let's talk about some of the artists you've worked with on your label. The first being Mack Wilds. He had out the single "Love in the 90z" last year, we loved the song. He's been getting back into acting so more music hasn't immediately followed. What's next for him?
Salaam Remi: Mack has some music that he's been working on while doing TV. The issue was that from the material that we have for the "Love in the 90z" project, he didn't have one day during the whole year to even move around and promote it. He's been doing "Shots Fired" which he's the lead actor in the show. He plays the black cop who shoots the white teenager in Charlotte, which for sure is going to be a huge show and topic of discussion. Then there is also "The Breaks" which he had come out top of the year. He shot a full season of that. As both of those things are coming out, he's been working on music. He's probably going to put out a project before the album of what he's been working on. I included his song "Camouflage" in my Do It For the Culture playlist, it's a song I love, I'm always on my 90's vibe.
YouKnowIGotSoul: What's the process like of helping him blow up as an artist?
Salaam Remi: I think it's consistency more than anything else. There's no artist that's out here now who's actually blowing up and then not actually coming back with music consistently. So for everything that we have now, our top artists now consistently give you music and feed you and feed you with visuals and everything else. I think that in general, it's just the time to come with music back to back. I would have loved to have followed up "New York: A Love Story" right away, but it just took time to get the music right. Also, he's just a visual artist and an actor. As we know with a Jamie Foxx, he had been doing records for years. Same with Jennifer Lopez, she's an actress. It's all the right timing to get them all the way there. Both sides benefit. I feel his music side helped propel him back into a great space for his acting side as well, it kept his visibility up.
YouKnowIGotSoul: You signed Jordin Sparks to release her last album "Right Here, Right Now". We loved the album and especially the single "They Don't Give", but felt it was overlooked as a whole. Talk about that project.
Salaam Remi: For me, it was a thing where I met Jordin Sparks when I was doing "Sparkle". Once again, she's a known artist that was on the Pop level with "No Air". She won American Idol at 16 or 17. That was able to be there, and then I met her when she was starring in "Sparkle". For me, it was a thing where I saw something that I felt like musically is still missing. I'm not afraid to put my neck out and make sure artists who need to get supported or something I'm passionate about, I stand up for. I'm proud of her album, and "They Don't Give" is something we did with Babyface. Anyone who hears it last year, next year, or 10 years from now, they've got to feel emotion. We're packing our music with emotion and the proper records and it's just timing. It's the time when everyone now decides they want to look at it. Even though I wanted a lot more r&b fans to tap into that, or even more Pop fans to adapt to it, I just don't know that it was the right time to do so. No regrets, it's always moving forward and feeling like we did the right things for the right reasons. It's good music with good people, that's what I'm about.
YouKnowIGotSoul: Another artist you're currently helping to emerge is the group Lipstick Gypsy. They had the awesome single "Infatuation" last year. What's the process like in 2016 of helping an artist like that break out?
Salaam Remi: It's a lot that goes into. First things first is the music. That is 1000% percent the most important thing. We have a lot of the Instagram generation who is all about who is dating who, or who fell down the stairs next to who, who snapped on who. Even a lot of our biggest artists the last few years have really blown up by reality shows. With saying that, that's cool and I'm not mad at the people who do that, but I'm all about the music. That's what I do best and that's what I focus on. Lipstick Gypsy have been working on more stuff. Chris is a great producer and pretty much I just give them guidance to do what they do best. John is developing over this past year. You'll see more music from them.
YouKnowIGotSoul: It's no secret that r&b is not in the mainstream like it once was. Hip hop has emerged as the popular genre right now. It led us to think about an artist you've worked with over the years, the legendary Nas. He's been able to transcend generations and maintain a steady level of success. Is there anything r&b artists who were big years ago can learn from him?
Salaam Remi: When I turn around and look on my Instagram, a lot of people are working and constantly performing. Whether your record is platinum this week or now people don't know where to get it, once the CD buying audience of r&b held stuff together. You had times when Anthony Hamilton might outsell Cee-Lo on albums, but Cee-Lo had bigger singles. At the end of the day, it's really like who's going to serve their audience. We did Anthony Hamilton's record "Amen", and he toured the country with Fantasia. Maybe some people didn't hear the record, but the people who were supposed to hear it did hear it. I think it's just pocketed right now, and as long as you continue to make great product, every pocket that's for you is going to win. I'm just going to continue to feed the people that want the music that I'm making and keep putting the music out there. I wanted to give them an option of where to go to to get it from me. Not necessarily waiting for a label to serve it to them.
YouKnowIGotSoul: One of the biggest talents you have that we've noticed is you're able to craft your production to the artist. You can't always immediately know it's a Salaam Remi production, but when you read the credits, you can see how you fit that production to that artist. That's amazing in a time when beats are so cookie cutter. How are you able to do that so well?
Salaam Remi: Listening before I talk. I ask questions before I actually start to prepare something for the artist. I think everyone has a story to tell. Part of what I do is help artists find their voice, not only their vocal voice, but their writing voice. Every artist that I worked with who has those records that everyone talks about, they are also writers. I like to say I helped support whatever their writing was so people heard the song clearly. I recorded it and mixed it in a way that the song came across even more importantly than my production. The song is the key at all points.
YouKnowIGotSoul: You've been at this for so many years now. What have you been able to do to remain at the peak, while many producers haven't had the same success over the years?
Salaam Remi: I've been at this since 1986, 30 years now. I'm always looking for the new talent. That's really where it is. There's somebody I haven't met yet that's going to continue to make what I do relevant. There's somebody born in the mid 90's, which shows that most of the artists I work with were born after I already started producing. Those artists will become the artists that everyone tomorrow will be looking for. For me, it's just looking for people who are coming up and the next person. All the time.
YouKnowIGotSoul: There was this record you produced a few years back and we hadn't had a chance to talk to you about it yet. "Make Love to Me" for Luke James, which Ne-Yo wrote. I think that was our favorite song of 2013. We thought that was the one to help bring Luke James to the next level. Talk about it.
Salaam Remi: Ne-Yo and I have great chemistry, he's a great writer. Every time I get with Ne-Yo we come up with five or six records in a couple of days. Sometimes those songs end up other places. He originally had the record. But somehow Luke James cut the record, and I got a call about it. I was happy for Luke. He was also on a label that was more pop focused, and looking for the huge record. Sometimes they don't realize what that means to the people on the ground level. They didn't see what I knew it was and we all knew it was. Anyone who discovers that song will most likely have a moment while listening to it. That's all I can do, is continue to plant the seeds; some will be trees, some will be plants, some will be bushes, some will bear fruits, some are for the season. My constant flow is to keep putting out quality and letting it get into the right hands. That's why I'm doing "Do it for the Culture". Like with the Champagne Flutes, you've got Terri Walker on there. She's a vocalist from London and people have heard her do r&b stuff before, but this is a whole nother level that the same set of people are going to love.
YouKnowIGotSoul: Who have you got left to work with that you haven't had a chance to?
Salaam Remi: I don't know. I don't have a direct artist I can think of at this point. It's whatever is supposed to happen is going to happen. Honestly I feel like I haven't met them yet. The next legend in the making who is walking down the streets somewhere looking for their opportunity. The amount of artists I've worked with thus far, there is no way I can ask for this amount of talent to come to me. From The Fugees to Jazmine Sullivan to Miguel to Amy Winehouse to whoever it is. I think there is enormous talent out there and if I hear something in someone and it makes a big difference, that's what you're going to get.
YouKnowIGotSoul: Here we are a few years following the passing of Amy Winehouse. Since you were able to work with her extensively, talk about the void her passing has left.
Salaam Remi: I'll say that her inspiration still has inspired the people who are here today. She was inspired by people who passed before she came, and there will be people who come after who are so into her stuff. I just feel like everything just flows through. She was a part of a great legacy as far as that of singer / songwriters who actually came and made their mark. In her short time here, she really made a big difference. If you talk to an Adele or Sam Smith, they love her first album "Frank". If I talk to brand new artists now, they say the same. This is just paying it forward by continuing to create a community of great musicians who do great music.
YouKnowIGotSoul: Anything you'd like to add?
Salaam Remi: I'd just like to add Do it for the Culture. Take time to listen to the music and give me feedback, tell me what you think is great. I want people to tell me if you really like a song or groove. Let's cultivate a community where the music is fore front and not necessarily the foolery.