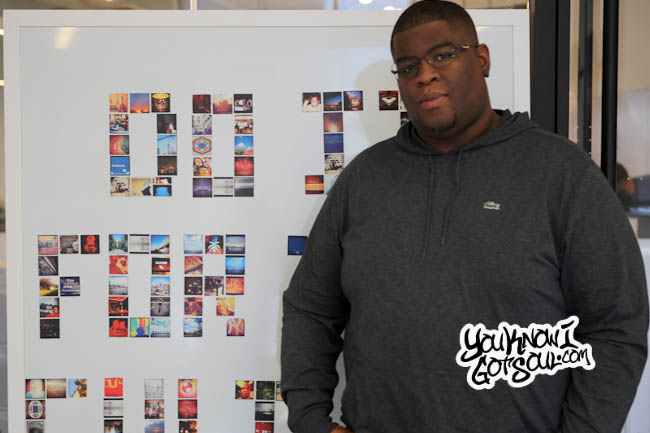 Legendary producer Salaam Remi joined us for an interview on a recent episode of the SoulBack R&B Podcast. During his appearance, he discussed his "Do It For the Culture 2" movement, how he got his start as a producer, working with a wide range of artists from Tamia to Miguel, and much more.
Check out what Salaam Remi had to say below. Also make sure you check out the full episode, and check out all of our episodes here.
YouKnowIGotSoul: Talk about creating Tamia's "Leave It Smokin".
Salaam Remi: Honestly, I just listen to the type of music that I like. Marvin Gaye is my favorite artist, so when you listen to the "I Want You" album and you hear the complexity of the chord changes and the passion in the grooves of the chords, he's able to flow over it vocally. That's all it is. The Tamia song was just me doing a key pass on the B50 of a melody and a snare. She wrote it just to that. I knew that what I was playing was open enough to give the feeling and emotion I wanted. I make a lot of stuff to feel like New York summertime basically. I live in Miami but I make music for New York summertime. When I started it, I said don't worry, we'll make the song and as long as it's emotional and you like it, we'll add the beat later, so that Grant will like it. When we did "Beautiful Surprise", we did the same thing. I went through a couple of grooves and put it there, played a little bass on it.
YouKnowIGotSoul: What's the chemistry like working with artists like Miguel who have an eclectic sound and can't be confined to one genre?
Salaam Remi: My thing is, I kind of just do me all the time. In general, I try to not do what's typical. Whatever is trendy, that's not me. There are times when I did something and it became a trend, "Here Comes The Hotstepper" was a #1 Pop record, and they asked me to do another one. But I said no, because I had done that with all of the reggae records. Even if it's popular now, I'm not doing it anymore. I just do what I feel. I'm a Jazz, Gospel, Blues, Reggae influenced musician, who grew up in the hip hop generation. Anything I do is going to have a bit of a bop to it, even if I try not to.
YouKnowIGotSoul: Talk about your Do It For the Culture 2 efforts and why you're releasing all of this music each week.
Salaam Remi: I'm emptying my hard drive basically. Before the hard drive dies, let me just share some of the ideas I've had. I want to do music when I feel like it. Sometimes when I'm hired by a label and an artist to be their producer, then that's a service job. I'm giving the paying customer what they want. With the Culture project, it's all about what I want to do. It's not about chasing whoever has the most followers that week. That's cool, but this is just strictly how I want to do it.
YouKnowIGotSoul: Where did you get your start as a producer?
Salaam Remi: My dad was a producer. He was doing arranging and producing. I got an opportunity to help him with a Kurtis Blow production, and I came up with a concept they ended up using for a record. I helped him on that level, and then I was doing my own demos. I had drum machines since the early 80's. 30 years ago in June 1989 I graduated high school, and then I went with my dad and was running around with him. I was in the middle of hip hop. At the same time, I went to school for business management. So the opportunity was there, but it was about me applying myself to create the material. That's where it started.