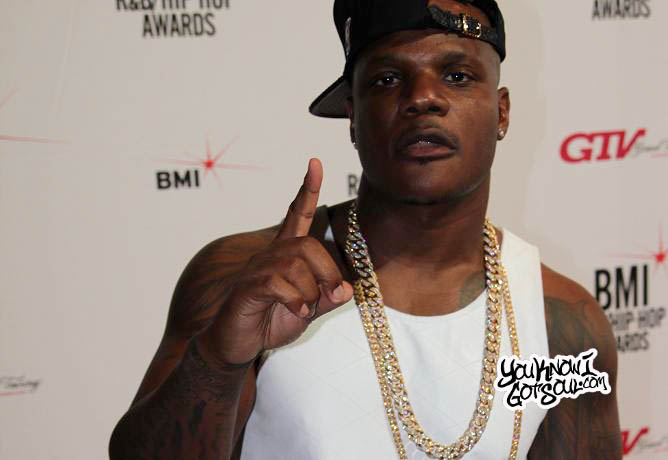 You would think that a songwriter who has had so much success would be content with his career already, but Sean Garrett is just getting started. With 18 number one singles under his belt, it's hard to argue against his chances to take over radio once again. With his new single "Look On Your Face" and the development of his artist Avery Wilson, there's no doubt that 2017 looks very bright for The Pen. After all, he did spend the last decade writing hits for the likes of Chris Brown, Usher, Ciara and Beyonce. YouKnowIGotSoul had a chance to talk to Sean Garrett about his new music, his thoughts on R&B today and his future plans for his artists Avery Wilson and Gigi Frattarelli.
YouKnowIGotSoul: You just put out the new single "Look On Your Face" with Lil Yachty. The song has some traditional R&B in the chorus, but it has current trends in the verses.
Sean Garrett: Basically the record represents the fact that Sean Garrett is back. I'm doing my thing and making music fun again. I wanted to give people that feeling of Jodeci on the chorus. It's how Jodeci records used to make you feel. It was melodic, but it was really saying something. I feel like that's been missing so much from music. People want to enjoy music and feel it at the same time. I just wanted people to have a new record that felt really good and was about relationships. It wasn't too sappy, but in the verses we spoke the truth. It was in a way that fans would be interested and keep you interested. It was the same way we did it with "Break Up" by Mario.
YouKnowIGotSoul: There's such a disconnect in R&B right now. The Urban AC fans love that traditional sound but the youth loves trap music. Is there a balance so that everyone can enjoy the music?
Sean Garrett: That's exactly what this record is. That's who Sean Garrett is. I've always been that person that's been able to make that young music for people that R&B and Hip Hop. That's what "Break Up", Usher's "Yeah", Chris Brown's "Run It", Ciara's "Goodies" were and what "Look On Your Face" is. That's what I represent and I'm always going to make it interesting. It's not just a situation where it's just one dimensional or all the way trapped out. I want you to feel something too. I feel like a lot of records will have the turn up, but you don't walk away feeling like it made you feel some kind of way. I'm not putting any of the music that's been out down because everyone's efforts encourages other efforts. I'm thankful for what The Weeknd has done to the culture. I'm thankful for PartyNextDoor. That's one of the guys I really fuck with when it comes to R&B music. I'm the guy that wants to make R&B popular again to where it's Pop music. I just want to fuse Pop music with R&B and Hip-Hop. I just want it to be cultural and that's what I'm ready to bring back to the table.
YouKnowIGotSoul: Is a new album going to come out of this?
Sean Garrett: The new album drops February 14th. It'll be on Valentine's day. It's going to be crazy as hell. I'm back full-time. The reason I took a little time off was because I was developing my label and my superstars. My new artist Avery Wilson is an amazingly talented artist. He's 20 now and we're ready to drop his single in January. His album is fire. I have another artist named Gigi Frattarelli who is incredible. She's 19 as well, so I only like to work with artists who are very special, especially when it comes to my own. I had to take a little time off to take my game to the next level. Rihanna is the face of Roc Nation and they mentored her. They took her through the process of artist development like it was supposed to be done. That's the reason why Rihanna is so amazing. She has the full package. Not only does she have the ability to perform, but she listens. You can tell she listens in reference to continuing to work hard even when she's at the top. We can all hear her vocals have went to another level. If you've seen her in concert lately, you'll see that her showmanship has went to another level. That's what I've been inspired to do. Outside of being a hit maker, I want to also be a star maker. Me being so young still as a veteran in the game, I wanted to give back to the youth and give back to my community. I want to find somebody that's special and birth them to the world. In 2017, people will really see what it is.
YouKnowIGotSoul: You've been responsible for creating hits for artists like Chris Brown and Ciara when they first came out. Does it surprise you that it has taken Avery Wilson a little longer to break out?
Sean Garrett: You have to understand, when I brought Avery Wilson out, he was only 16. H plays piano, guitar, he has a voice from heaven and he can dance. This is a full package artist. You don't need to rush that. He needs to understand how to handle success. That's the reason why you have a lot of artist that come out and it's turbulent when they get successful because they haven't gone through the process of understanding what it's like to be successful. You can't get to the point where you don't understand your power. We're right on point. When you hear this new single and album, you'll understand what we're doing. I went to Clive Davis, Doug Morris and RCA records for this. I have a team over there that's incredible. We know exactly what we're doing. We know how big Avery's talent is. It took Clive two years to break Alicia Keys and Whitney Houston. Avery Wilson isn't a disposable artist, so that's the reason why that quick fix mentality doesn't work. This kid has a voice that's unbelievable. We had to show a couple of sides to him. That's why we put out "If I Have To" and "Change My Mind". We were getting people ready to understand that he isn't just an artist who can stand on stage and sing. He can also dance. He's also a millennial and he's also a true musician. None of the R&B artists that are out play instruments, so it's a different game to it. I'm willing to take the challenge because Avery Wilson is going to earn every fan one by one. It's not a quick fix. This is a marathon and that's what my career represents. That's what I'm about. My new single is out because there's an album coming. I'm not taking my foot off the gas. I'm back and I'm excited. The reason we put Lil Yachty on the record is to let people know that we respect the culture and the youth. We respect the millennial. I'm just a millennial veteran. I have a millennial mindset and there's so much more to come. We're just getting started. I was just blessed to pop off early.
YouKnowIGotSoul: I remember a decade ago, there were a handful of songwriters that were on every single R&B album. It was yourself, The-Dream, Ne-Yo, Johnta Austin and Tank. How competitive was it?
Sean Garrett: I have a new book that's coming. It's called "My First 17" and my book is going to tell some of the stories behind what really happened and how these records came about. It was very competitive, but that competitiveness drives my blood. I'm an athlete at heart and I just love the competition. I can't live without it. It's just a rush. I'm just so ready to get it started again. To be honest with you in a humble way, I exploded on the scene. It was hard as hell to get on that Usher album. I wasn't even supposed to be on the "Confessions" album. They had already had the first single picked and they had the album done. "Confessions" was the second single and "Burn" was the first single. I just came out of nowhere because in my heart and my mind, music is about making people have an undeniable feeling that they can't resist. To be very honest with you, that's where the ball has been dropped in R&B because it seems people aren't willing to push the envelope to make you feel a certain type of way. That's what R&B is known for. When Hi-Five came out with "I Like", it was an irresistible song. It didn't matter if you were a kid or an adult, it didn't matter. That's the thing about music. I despise the fact that the youth today acts as if being youthful is the answer to everything. It's a very young minded perspective and if you're not smart enough to realize that in life evolution is real. What that means is, we all are evolving and getting older every second of the day. That means it's about what you know, what you do and how hard you press the button to make it go. If you're not willing to put it in the time, energy and work in, then it doesn't matter how young you are. You'll be here and gone tomorrow if you don't learn something. It's like that secret recipe Coke has used forever that makes people go back time and time again to get another one. Music is the same way. It's about a feeling.
YouKnowIGotSoul: Looking back at your approach to the music industry, were you more excited about getting the lead single or getting as many placements?
Sean Garrett: I was excited about lighting up the world. My perspective was not about anything but lighting up the world. It was about saying "We can party like there's no tomorrow". That's what "Yeah" by Usher was about. It was about a feeling. It was how Michael Jackson would make you feel when you heard "Rock With You". It was excitement. I see people trying to do that. I see people right now trying to capture that feeling of Michael, but it's not strong enough. It's all about the feeling. Everybody is asking what happened to R&B, but it's still here. It's just that nobody is doing it. That's my job. I'm about to bring R&B back for real. We're going to make R&B popular culture again. Everybody loves R&B. Everybody loved Bobby Brown, Hi-Five and Mase. Mase and Biggie were really R&B. Listen to "One More Chance" because it's actually R&B! That was popular culture. It's just fun. It ain't fussing, fighting, arguing and being disrespectful to each other. I love my brothers and sisters. That's why I'm happy and why I love this shit because there's not a moment in the day that I don't feel like I can go in and create a monster record because I love making people feel good. That's my job.
YouKnowIGotSoul: It's awesome seeing how excited you are about music. I saw that excitement in you when you wrote Brandy's "Two Eleven" album a few years ago. However when you separate the passion of music from the business side of it, does it still make sense to you to write a whole project? I know R&B is struggling right now with sales.
Sean Garrett: These are the facts people have forgot about. When "Yeah" came out, sales were on the decline. When that song came out, Napster had just hit a year before that. We wounded up selling 1.2 million copies the first week before anybody had heard the album. It was 1.2 million based on one single. The album ended up selling double dimaond across the world at a time when Napster had hit. Sales don't represent it all. It represents a lot, but it doesn't represent it all. My mother used to always tell me that I had to climb before I walked. When you have people following what everybody else is saying, what do you think Drake is? Drake is R&B. Don't get it fucked up. Are we counting those sale? Are we counting Adele's music? She's singing R&B music. What I'm trying to say is, I don't get caught up in the sales. I get caught up in the feeling. If everyone would have thought "Confessions" was going to go double diamond, they would have double downed on their bet. No disrespect to anybody, but "Yeah" was leaked. It ended up being number one in 120 countries. What that means is connecting a superstar with a hit record and the artist has the ability to take the jet pack on their back and put it across the goal line. That's the difference. That's when you have sales. Sales isn't just putting a catchy single out. That's what's missing right now. People are trying to make money, but not everyone is doing what it takes to make money. You have to complete the circle. That's what we're doing with Avery Wilson. You can't just have a good voice. You need a great voice, song, performance and video. When people see you, it all has to match up. There's a lot of missing parts in R&B right now. That's why it's not selling right now. Things that are irresistible, people will pay for it.
YouKnowIGotSoul: With R&B album sales being so low right now, that means budgets aren't high either. Has that effected your ability to get placements? You're an established songwriter and you have a certain asking price.
Sean Garrett: I'm not going to lie, it is a climate change. But that's what being resilient is all about. That's what it's about. I always go back to the basics. When I did "Yeah", nobody knew who I was. When I did songs like "Goodies" and songs like "Soldier" and "Lose My Breath" by Destiny's Child, nobody knew who I was. It's about being patient and working hard. People try to put the money before the work. You can't do that. You have to trust in God, trust in your feelings and the love of the music. Everything else will come. I don't even get caught up in sales. I've seen it go from nothing to everything. Nothing else matters. I've seen it all change overnight. The same way we went from CDs to streaming, it's a good example of evolution. It's real and you have to be able to deliver. They're still buying Jordans out here and they've made every color. They're selling more than they used to. It's marketing. Look, I remember in 2012 when certain people wanted the radio to sound a certain way. I'll leave it at that. With that being said, you just have to love yourself and live and die with the passion of the music. I walk around happy as hell because I create music for a living. I can touch the world with my heart and my passion. Music has dominated life well before I was ever born.
YouKnowIGotSoul: There's also a sad reality to the state of the industry right now. Joe, who you've worked with in the past, announced that he might retire soon because he feels no one cares anymore. How does it make you feel knowing that there are artists that feel like that right now?
Sean Garrett: If I could talk to Joe, I would tell him to stop playing. He knows me too. If you give up, then you can never win again. Giving up is not an option. You cannot give up on anything. Hats off to him and I love him, but that's why I'm here. My job is to take the torch and keep it moving. That's why you have artists like myself and Avery Wilson. I guarantee you if Joe heard Avery Wilson sing, he would be like "That boy can sing!". We'll take the torch from Joe and keep it moving. One of my dear friends Usher told me that he feels that same way. I looked him dead in his eyes and told him that I was going to change the world with "Yeah" and I did. If you don't believe, then you just don't believe. I believe it's magic though. It probably sounds corny as hell, but it's real. Music is magic. Music does shit that money could never do. Music unites nations and stops wars. At the end of the day, it's all about how you were raised and your perspective. It's all about if you want to win. If you don't want to win anymore, then you can't win. If you're not in the game, you can't win the game. If you give up, let it be your perspective. I've been taught long ago that I'll never be nothing.
YouKnowIGotSoul: The last time we spoke to you, you were really excited about Reign's album. Is that still happening?
Sean Garrett: I still love Reign. She had a baby and she's young. She's a mother now. The music was totally incredible. I hope Reign makes it back and decides to continue her career because she's an amazing artist. I have my new artist Gigi who is a fucking problem. You'll be hearing her music soon. The record we're ready to put out is the Avery Wilson single. It's fire. I swear to you, the shit is hot. One record changes the excitement in people. If you're a music fan, you know that smash can come at anytime. Remember how you felt when Snoop Dogg and Pharrell came out with "Drop It Like It's Hot". The whole radio changed. It's the same excitement when "Yeah" came out. The world changed when Fergie came out with "London Bridge". A smash can happen at any given time. I'm ready to strike. Just stay tuned and I'm ready to strike at all levels.
YouKnowIGotSoul: You've been mentioning Usher a lot in this interview. I was disappointed to see you weren't on his latest album.
Sean Garrett: All I can say is that it's all about timing. You have to be ready to receive it. I did Usher's "Yeah" and "Papers". To me, both of those were extremely huge records in his life. I love Usher and he's my brother. Whenever he needs me, I'm here. But I'm ready to get back to Usher and he knows what I mean when I say that. I'm ready whenever he's ready. But sometimes you have to let people see the difference. I'm just keeping it all the way G. You have to feel what it's like. You have the right to do whatever you want. He knows my number and Pharrell's. He knows the greats' numbers. He knows what time it is whenever he is ready. I think he also likes to experiment and sometimes artists like to do that. You have to give them room to do that. I can't dictate what that man needs to be doing. He needs to experience what he needs to experience to know what's good for him and what's not good for him. I'm just here and available when he need me. In the meantine, I've got shit to do. *Laughs*
YouKnowIGotSoul: Who else are you working on?
Sean Garrett: We just dropped that Keke Palmer that's fucking fire. Check that out. That was just an EP. That's not even the album. That's taking an artist that people had doubts about as an artist and I think they got something out of it. It's all a process. You can't make it all happen overnight. I'm working with Bebe Rexha, Kyla, Liam from One Direction and this new artist named Skyla. I'm working with everybody, but I'm working with new artists. "Yeah" was huge, but when I wrote for Ciara and Chris Brown, I think that's when everything changed. I love Jay Z and Beyonce because they changed my life. Jay Z named me "The Pen" and Beyonce let me use the pen. Working with her was amazing, but it was the things I did with new artists that really changed the game and made people realize I was a hit maker. It takes something new that no one has ever seen before and make it explode around the world. That exploded Ciara around the world. "Goodies" was number one for 9 weeks straight. I did Chris Brown's "Run It" and that broke him around the world. It's still his biggest single right now. If you look at all the artists I've ever worked with, I'm still blessed enough to have one of the biggest singles of their career. My passion is for them and I put my everything into these songs. i get into their life and what their aesthetic is. That's what's missing from R&B. People don't take it serious enough. You don't have to take it serious though, I'm back and I'll take it serious. They're playing with it now. You've got R&B artists doing country music now. I mean really? Let's keep it all the way G for the fans. I just feel like they were playing with it, so I'm back.
YouKnowIGotSoul: Bruno Mars' new album has so much New Jack Swing influences on it. Do you think there was too much nostalgia on it?
Sean Garrett: I kind of have two perspectives of that. I love Bruno Mars and I love the album, but me personally, I don't play with going back. When you go back, you have to really to make sure you have some timeless songs. I thank Bruno Mars for his album and being that big and taking a stance and saying "This shit was cool. I'm going to do this shit. Fuck what the label is talking about". I love and respect him so much for that. Like I said earlier, it takes a village to raise a child. R&B is our child. It takes all of our efforts of standing for something and standing for the sound and also taking it to the next level. When I came into the game, that was all I was trying to do. I was just trying to take things to the next level and not try to be a copy cat. I just took the elements, but I wanted to make it feel like it was something new. That was the key in my opinion. I thank Bruno Mars because he's been a great hand in that by being bold enough. He just killed the performance at the AMA and I love him for that. I also love The Weeknd. I love Bryson Tiller, PartyNextDoor and Drake. There's some real shit going on. Part of the comments about the sales of R&B over the last couple of the years, you can look at it and say that it's declined. But I guarantee you one thing, 2017 is going to be a much bigger year. They're understanding streaming a lot better and we were just going through a lot of climate changes. There was a change in the music as well as the system. When you have those things going on at the same time, it's going to feel like a debacle. I did "Yeah" when I was 20. Changes happen.
YouKnowIGotSoul: Anything you'd like to add?
Sean Garrett: Stay tuned. I've got the new album coming February 14th. I'll be giving you the name of the album very soon. Look out for Avery Wilson's new single in January. Look out for Gigi. Just look out for The Pen. I'm back whether it's Pop, Rock, R&B or Hip Hop. I'm back. I love the fans and I love my people.