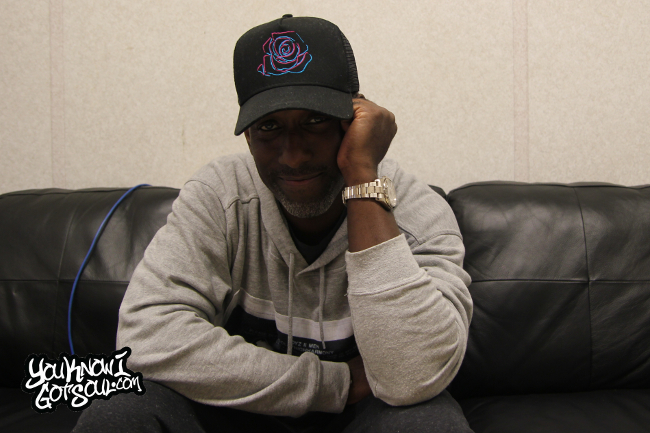 After selling millions of records and establishing a legendary legacy with his group Boyz II Men, Shawn Stockman is ready to spring his wings with his solo project "shawn". The projected is slated to come out later this year. He recently released the smooth record "Feelin Lil Som'n" which is quickly climbing up the Urban AC charts. YouKnowIGotSoul had a chance to talk to Shawn Stockman about his debut album as well as his partnership with producer Tim Kelley. We also talk to him about his history with Boyz II Men including the turbulent times during their legendary run. We also talk about the state of R&B and the challenges of 90's artists adapting to today's industry.
YouKnowIGotSoul: Talk about your new single "Feelin Lil Som'n" and the creation of it.
Shawn Stockman: "Feelin Lil Som'n" was written by myself and Tim Kelley who is someone I've known for a long time. He's done a lot of music for my group Boyz II Men and we collaborated on most of my solo album. "Feelin Lil Som'n" is a smooth banger, that's what I like to call it. You can chill and ride with it in your car with. You can hang out and get ready for the club or dinner with your friends. As far as the lyrical content, it's a short story about a man envisioning this woman to be his lawfully wedded wife. That's basically how it is and it's just done with a slick background with that beat.
YouKnowIGotSoul: Talk about your partnership with Tim Kelley and how that relationship has formed over the years.
Shawn Stockman: The second album Boyz II Men made was where Tim and the group met. We instantly hit it off. We had the same musical taste and creative philosophies. We've known each other for that long, it's been over 20 years. We've always kept in touch and we've pretty much done our own things throughout the years. Tim has produced a slew of hits for other people and we've done our thing as Boyz II Men. This solo idea, which was presented to me by Tim to sign with SRG records, I thought this was the best time for me to embark on this whole journey that I'm on right now.
YouKnowIGotSoul: Tim told us he's been trying to convince you to work on a solo project for a minute. What made you finally realize it was time?
Shawn Stockman: It's funny when certain things happen in your life personally and career wise, certain directions tend to take you to certain points. I felt like this was just the right time to do it.
YouKnowIGotSoul: You guys did "50 Candles" together for Boyz II Men. What's the creative process like now versus then?
Shawn Stockman: It's very similar. Tim normally will come with a track and possibly a hook idea in certain cases. Then I'll write the rest and that's pretty much it. It's very simple. It's not hard or rigorous at all. We go through music, we pick what we feel and we go with that.
YouKnowIGotSoul: Back in the mid 90's, you had released the single "Visions Of a Sunset". A lot of fans were anticipating a solo project after that, what were your intentions with that single?
Shawn Stockman: It was literally just for that soundtrack. I had no other intentions to do any other further projects on my own. That just fell in my lap and I didn't even write the song for myself. I wrote it with Celine Dion in mind. I sang the demo and it was actually Wanya's idea to basically keep it for myself. I'm glad I did because a lot of people fell in love with it and I thank them for that.
YouKnowIGotSoul: At that time when you had put out that record and it got the response that it did, was that new to you?
Shawn Stockman: It was very new to garnish that level of success and notoriety on my own. It was something pretty cool. It was one of the reasons where I was like "It'd be cool to do a solo record" but it was one of those fleeting thoughts, so I kept it moving.
YouKnowIGotSoul: It's really interesting in terms of the timing of this solo project. Boyz II Men was the face of music at one point and then you guys went through a transitional period. Now you guys have established your legacy, so how important was it for you to wait for that moment to clear before you started working on a solo project?
Shawn Stockman: Yeah because we understood during that transitional phase, we were better as a group than individuals. We were better as a whole, so we weathered the storm and we went through a lot of things. We helped each other do that because we knew it was a turbulent time and once things started to settle, which is pretty much now, it just gave us the freedom to do these individual things. You'll see the individual things whether it's music or otherwise from the rest of the guys too.
YouKnowIGotSoul: A lot of R&B artists are now at that transitional phase and a lot of them seem to be lost in terms of what to do next. Talk about that time period for the group and what helped you guys overcome that.
Shawn Stockman: What made us overcome it was our faith in God, our faith in each other, our will to want to make things work and not to mention, we felt we had something. We had good records and songs. People loved them, so we felt like in its purest form if we continued to give that to them, people would eventually come around.
YouKnowIGotSoul: The transitional period is when a lot of groups start to break up. You guys kept it together for the most part, but what would you say to those who are going through their problems right now? Like 112 is going through their issues currently.
Shawn Stockman: Yeah, I heard about that and it's really sad. Every situation is different, but I look at a group relationship like a relationship with your significant other. There has to be levels of reciprocity, understanding, humility and commitment. If you want to make it work, you will find a way to make it work no matter what. If 112 really wants it, they'll find a way. There's nothing that bad that you can't overcome and come to some sort of compromise.
YouKnowIGotSoul: You've had so much success with Boyz II Men, how do you measure the success of your solo project?
Shawn Stockman: *Laughs* There is no measure. First off, Boyz II Men has a 26 year head start and I just started. There's really no comparison and the endeavor of doing this isn't for me to outdo what I've done because I know I won't, but I just wanted to see what else could come of the creative process. You never stop creating and this is just my way of doing the alternative. I want to see how far it takes me.
YouKnowIGotSoul: Let's talk about your album. Is it very similar to what you've done with Boyz II Men?
Shawn Stockman: The album is called "shawn". It's almost like me saying "Hello, how are you? My name is Shawn". I didn't want to go too eclectic in terms of the creative process. I kept what felt most natural and comfortable to me which is R&B love songs. I worked with Tim Kelley, Raphael Saadiq and Antonio Dixon. Those were the only producers I did songs with and I did some myself. I didn't want to fill it with a bunch of other people's ideas because I wanted the body of work to have a level of consistency creatively.
YouKnowIGotSoul: Speaking of 112 and the other groups that came out in the 90's, at the time when they were making their way into the industry, how did you feel knowing you had such a huge influence on them?
Shawn Stockman: I thought it was great. That's what it's all about. We were influenced by New Edition and we were fortunate enough to work with them. It's flattering to me that people look at our music in such a high esteem and these guys are no jokes. They're all great artists. For me to be directly or indirectly responsible for creating those groups, it's an honor.
YouKnowIGotSoul: You've seen it all in your 20+ years in the industry and you've seen how R&B has evolved with time. Where do you see R&B going next?
Shawn Stockman: R&B actually went through an identity crisis. It was trying hard to stay current and Hip Hop was such a dominant force that a lot of R&B artists felt they had to become Hip Hop. It changed the feel and the original sentiment that R&B gave. People still love it and you see it now more than ever with H.E.R., Daniel Caesar, Sabrina Claudio and Amber Mark. All these artists sound very similar to the R&B of old and these are younger kids. The kids are getting into it which is what I love. I love that R&B is getting back to its roots.
YouKnowIGotSoul: I read an interesting article and it said that most people by the age of 30 stop searching for new music and you just mentioned a bunch of younger artists. What keeps you motivated to keep looking for new music?
Shawn Stockman: Well, music is my life and I'm forever a student. I am aware that we all change and evolve. Music also evolves, so in order for me to understand the landscape of the business I'm in, I have to look and find. I have to do all of those things to keep my identity fresh and authentic. Yeah, people my age normally don't do that but there comes a time where people my age, they will look for it if the music is good and find it. I feel like my records are going to bridge the gap because younger artists still look up to us and audiences my age know who we are still. It's something for everybody which is what I always wanted.
YouKnowIGotSoul: One of the saddest songs of all time is "Doin' Just Fine" by Boyz II Men. Talk about the creation of that song.
Shawn Stockman: It's pretty self explanatory. When you go through a really bad breakup and you thought you'd never be able to get over it and you found the strength spiritually to overcome that hurt and "Doin' Just Fine" is written with the inspiration of those moments. Just feeling defeat and then finding that internal strength to not just get over that person, but legitimately get over that person. Not to just say it, but to feel it and say "I'm done and I'm a better person now. You messed up because you left probably the best thing that's going to happen to you".
YouKnowIGotSoul: With a record like that, how does the creative process work once you present it to the group? Do the other members add onto it after?
Shawn Stockman: We kept the formula as Boyz II Men as people know it. Wanya is the finisher, I come in on the second verse and Nate usually starts the first verse. In writing that, I kept that in mind and knowing who was going to sing what. In this particular case, the harmonies were pretty much there. I laid out the blueprint and I sang the whole demo. The guys heard it and they were like "We love it!". They knocked it out.
YouKnowIGotSoul: Anything you'd like to add?
Shawn Stockman: Thank you to advance and currently to those who have supported my solo effort thus far. Thank you very much and there's more to come. There's more music and more energy to exude out there. Just keep an eye out. I do plan on touring a little bit by myself so check out my Instagram @ShawnStockmanOfficial. Again, thank you so much. Support me and Boyz II Men.