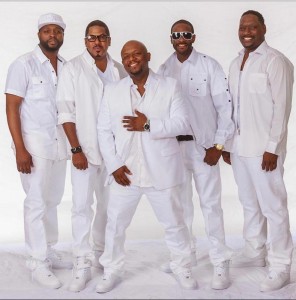 When we featured the news a couple of months back that r&b group Silk had announced their new album and new single, there was a lot of excitement among r&b fans. After all, the group had so much success in the 90's and into the 2000's, but had gone quiet with nearly a decade passing since their last album. All of that has now changed, and Silk have stirred up the feelings they brought to us on their classics with the new single "Love 4 U 2 Like Me". The song shows that the group are not only still capable of delivering quality r&b music with feeling, but also that they are listening to what the fans want. YouKnowIGotSoul caught up with Silk to discuss the new single, what to expect on the new album, their current sound, reuniting all five original members, other ventures they've gotten into, and more.
YouKnowIGotSoul: We're loving your new single "Love 4 U 2 Like Me". You've got the 90's throwback sound mixed with a progressive production. What inspired the song?
Silk (Gary "Lil G" Jenkins): The song was produced by Wirlie Morris. For us, it was the moment that we found the music that was the foundation for the rest of this project. We've been listening to and making a lot of music and we didn't find that thing that brought us all together that said "This is where we can start." This was the song that circulated among all of us and we thought it was the one. I think it's a great re-introduction for ourselves into today's urban music scene. Wirlie Morris has done other production on Charlie Wilson, New Edition, Keith Sweat. He's been a mainstay at the top of the Urban A/C charts so it made sense to us music wise and business wise to make the move.
Silk (Gary "Big G" Glenn): There's also a couple of elements in the song, like "Like Me", which is on all social media, you need to get the thumbs up. We thought it was an old school, new school presentation that would be received by each generation. We thought it was a very wide spectrum type of song. From the eight year old to the seventy five year old.
YouKnowIGotSoul: The single is the first song from the upcoming album "Quiet Storm" which you've announced is coming out next month. When we first featured the news of the album, there was a lot of excitement from the fans. Tell us what to expect on the album.
Silk (Gary "Big G" Glenn): I think they'll get Silk 2016. We made music that feels good to us and that's kinda the way we've done our music throughout our careers. We've been fortunate that the music that's felt good to us has also felt good to our fans. Without oversimplifying it, sticking to that formula should feel to the fans like it feels good to us.
YouKnowIGotSoul: You said you stuck to the classic Silk sound, but did you find yourselves being influenced by what's current or trendy? Did you try and do anything new?
Silk (Gary "Lil G" Jenkins): We maintained throughout our career to stick to our guns and stick to what we felt people were hungry for and loved coming from us. In that sense though, we still kind of added a few more spices to the ingredients. It kinda just came forth. It wasn't like it was forced. It came within the equation.
YouKnowIGotSoul: "Quiet Storm" is being released on the Silk Entertainment in partnership with Shanachie Entertainment which is where you also released your last album "Always & Forever". It's been nearly a decade. What made this the right time to come back now?
Silk (Gary "Big G" Glenn): I think musically we found a good balance between who we have been and who we are becoming musically over time. You go through things in life and you mature and your music should reflect the growth in your personal life. The timing of the music, everything has kinda fell into place at the right time. Even our introduction to Wirlie Morris, it became evident that we had the overall right kind of music to release as an album. The timing feels good to us and we're putting our best foot forward now.
YouKnowIGotSoul: Catch us up on what you guys have been involved in over the past decade besides touring.
Silk (Gary "Big G" Glenn): I'm an AAU basketball and I coach at the high school level. Gary Jenkins has done a lot of acting on stage and on TV.
Silk (Gary "Lil G" Jenkins): I just did my first feature in a series that comes on Fox called Sleepy Hollow. I landed a role in one of the particular episodes on that one. That was pretty exciting. I'm also dabbling into some artist development type things. I'm doing some vocal coaching and getting ready to start building my clients up with that. Once we come off of the road, that will be something I'm doing to help future aspiring artists to hone in on their craft.
YouKnowIGotSoul: The other thing that came along with the new album is that all five original members are back together and a part of this project. How important is it for that to be the case? Many groups go through lineup changes and lose members.
Silk (Gary "Lil G" Jenkins): I think that's been part of the foundation of making the album. I think we recognized the history of groups. There are usually some pieces that go away or get replaced. There are a lot of stories of groups, and it's difficult being married to one person, let alone four people! *Laughs* We use that as a rallying cry. We use it as we start to do shows and as we recorded. Every time somebody says five original members, it's priceless. That helps inspire us at the times when we go through it. We're brothers, and brothers do go through it. But you find a way to make it work. There's strength in knowing that there are only five people in the planet who can say they are part of the group Silk, and they are the original members. For us it's helped us stay together and stay focused on our common goals.
YouKnowIGotSoul: With this album coming out in a time when r&b has changed so much, what are your expectations for it?
Silk (Gary "Lil G" Jenkins): I think because it's been missing for so long, everybody is on their heels waiting for it. I think it's going to be a refreshing re-entry to the industry to our fans and family members.
Silk (Gary "Big G" Glenn): I feel like for me, I hope we have success at the box office so to speak. I know the game has changed, but there are still ways to measure if something is successful. I feel like in once sense I've gotten some of what I needed. Consistently people have said what you've said about the song, and that means we were able to make some art that is relevant now. I think in the back of your mind if you're talking about music or sports, when you're making a comeback, you wonder if you can compete on a high level. I feel like from a creative standpoint, there was been enough validation for the song and performance of it that I feel good and I don't think it will take anything from what I was hoping to have. I feel good.
YouKnowIGotSoul: Has there ever been a time in the past decade when you guys were close to releasing an album, or was this now the first time you were serious about new music?
Silk (Gary "Big G" Glenn): Musically there were a couple of times we thought we were on the path to doing something, but everything happens for a reason. I guess all of the process and the journey led us to where we are now. I wouldn't take anything away from it because I don't know if we'd have what we have right now.
YouKnowIGotSoul: You guys came from an era in the 90's when there were alot of successful r&b groups. Today's r&b, we don't see as many new groups coming out. What do you think that is?
Silk (Gary "Lil G" Jenkins): I would say it's because the content of the music seems different. Back in the day, it used to be all about finessing and caressing and touching and foreplay. Today's music is kinda like one play. As far as r&b music is concerned, we know literally that women interpretation of what you're doing is rude when it comes to r&b. The perception is that the music is geared towards females. When females don't have the story lines and they don't feel they've been pampered or they have been caressed or dated in a sense, rather than just pounded, in a sense. *Laughs* That is the main factor. It just left the door open for us to re-introduce it to even the younger generation now so that they can learn some lessons from people before them.
YouKnowIGotSoul: Anything you'd like to add?
Silk (Gary "Lil G" Jenkins): Thank you to the fans for your patience and just being loyal to the music. We are very conscience and cognizant of being away as long as we were. The same effort that we put into getting to this point in our journey and releasing this album now, we're also interested in putting that much effort into releasing as much content as possible for the next however many years. We are committed to much more frequently releasing new music.
The new album "Quiet Storm" is available for pre-order now.