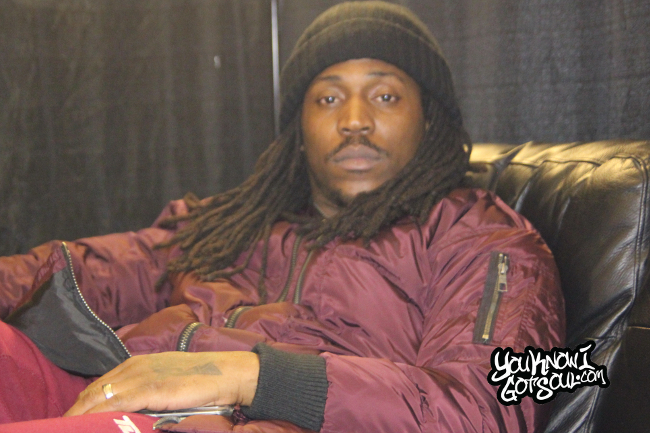 It seems like anything related to Top Dawg Entertainment is a mega success right now. When we look at the success that Kendrick Lamar has had along with SZA's recent climb to stardom, it's not a shock that expectations are incredibly high for SiR. He's come through so far as he dropped his critically acclaimed album "November" a few months ago. That shouldn't come as a surprise though because SiR has been in the game for a minute now. Before he even started on his solo career, he was working behind the scenes penning songs like "Fools Gold"by Jill Scott. He also engineered Tyrese's "Black Rose" album. Working with some of R&B's greatest legends has polished up his sound and now he's ready to carve his own path to success. YouKnowIGotSoul had a chance to talk to SiR about his debut album, his journey in the industry as well as writing with his brothers under the name The Woodworks.
YouKnowIGotSoul: You dropped your project "November" last month. Introduce us to the album.
SiR: "November" is my first full-length project through my label Top Dawg Entertainment. It's my baby man! I'm glad I finally got that out off my chest. We've been trying to get it right and it came together very well. It was better than we could have ever expected. It's short and sweet. That's what I like most about it.
YouKnowIGotSoul: Talk about the growth from the HER EP up until now because your sound has progressed.
SiR: I think it's all about time and perspective. My view kind of changed a lot and I had some life stuff happen and it changed the way I looked at certain things. That changed the way I wrote certain records and it changed the way I attacked certain ideas when I'm writing. The records started to change and we had a playlist of songs and I was super happy with it. I thought it was done and I started working past that and then I found something else, so I ended up combining two worlds into "November". It turned out very well.
YouKnowIGotSoul: We're really excited about this sound you're bringing. Talk about how you developed that sound.
SiR: I pull a lot from a lot of younger and older artists. I listen to a lot of music. I started off as an engineer and that gave me a lot of control over my sound. I can hear something in my head and make it happen on Pro Tools or Logic. I'm just as into the technical side as I am the creative side. I think that has a lot to do with who I am as a person and musician. I'm very hands on and involved. I don't think that will ever change. It kind of grows with me.
YouKnowIGotSoul: Of cvourse you're signed to Top Dawg Entertainment which has been predominately a Hip Hop label. I know SZA is doing her thing right now in R&B, but what made you know this would be the right fit for you?
SiR: I mean, you never really know. *Laugh* I had a good feeling though because it was already home. I'm from Inglewood and Compton isn't too far off. I just felt most comfortable with people that were familiar with where I come from and what type of person I was. It was just felt right.
YouKnowIGotSoul: Along with your SiR projects, you've done a lot behind the scenes. You wrote "Frozen" by Ginuwine which I really like. Talk about era in your career and writing songs like that. How did that help you get to where you are now?
SiR: Dang, that was like 2012. I was writing with my brothers at the time under the name The Woodworks. We were in the studio specifically for Ginuwine and that record came. I didn't even write that all by myself. Daniel did the hook and I think me and Davion did the verses. That was a team effort. Shout out to the Farris boys. *Laugh* I'm a product of my family and my surroundings. My brothers both started off writing music when I just wasn't into it. In my early 20's, I was into the gym and fitness. I never really took it seriously. When I was a kid, my family was into music and it just wasn't my thing. I was just playing sports and I wanted to be athletic. I wanted to be involved in other shit and I didn't want to do what my mom wanted me to do at all. But I ended up coming back to it and found my way around music and damn, I was like 22 when I wrote my first song. Few years after that, we were already engineering and working. Luckily I had my brothers and people that were already involved in the music industry to nurture me and keep me going.
YouKnowIGotSoul: Another record you did was "1995" off Jazzy Jeff's "The PLAYlist" project with Glenn Lewis. Talk about that record.
SiR: I wrote those verses with Eric Roberson. That's some OG shit right there man! For the hook, I recorded it and pitched my voice up. It's a feeling and a vibe. In 1995, I was a really little kid. There was a lot going on in my house. My parents were barely getting by. My dad just got out of jail and we had just moved to 38th and King. That was far away from where we were supposed to be. It was a really transitional time in my life. I was a kid, so I didn't know things were bad. Things were bad when I got in trouble, but other than that I was just a kid enjoying life. Everybody remembers the good times in 1995. That's what the song was about and it came together very well. Shout out to Jazzy Jeff, Glenn Lewis and everyone over there at the Playlist retreat.
YouKnowIGotSoul: You've also written for Jill Scott, LeToya and Melanie Fiona. Have those placements made you more or less patient with your own project because you've already tasted success?
SiR: It doesn't make me more patient, but I'm just an impatient person in general. I have a real problem, but I have a short attention span too. I'll be mad and then all of a sudden I'm onto something else. I try to just not worry so much and just be as productive as possible because you never know when it's done. I have a lot of help which is great. I'm not putting an album together by myself. I think that's a tough task and shout out to people that love being in control, but I definitely think control should have give and take. I'm in control and I'm holding the wheel, but I definitely take advice from passengers and people that have been in my position. I don't just go out there and say "This is my album! I'm done!". I'm definitely with the advice and learning. I'm trying to get better and trying to make better music.
YouKnowIGotSoul: You worked on Tyrese's "Black Rose" album. He always talks about his R&B bootcamp. What would happen there?
SiR: At the time, I was engineering. He would just call in writers and producers. He would basically just put together a project depending on if he's working on his album or another artist. He would let the writers and producers come together and build songs for one specific purpose. It was successful every time. He's very good at finding the right people and putting them in the right place. He always had good help and I was definitely good help. I felt like our run was a good one. I engineered the "Black Rose" album and met a lot of good people. I learned a lot about myself and seizing the moment. I learned to be ready for anything. At the time I was so scared to jump out and tell him I wrote records. I was his engineer and I loved my job. I was good at what I did and I wasn't tripping on if he knew what I did or not. I just wanted to keep it professional. I hired my brother Davion as an assistant for awhile and he was like "I write records!". So he went straight at it and played Tyrese records the second day he was at the camp in Arizona. Then he told Tyrese that I wrote records too and I played him a couple of joints that I had been working on at the time. He made me press play in front of all the producers. Once the record stopped, everyone went crazy! Tyrese is a good dude. He's a busy man and he's got a lot going on in his life. I couldn't imagine being in his shoes. I'm trying to keep my life simple as fuck, so much respect to him.
YouKnowIGotSoul: Anything you'd like to add?
SiR: Shout out to you. I think it's crazy you interviewed my brother Davion early on in the game. I'm a testament to my family and I'm not the only musician in my family. I think it's a great thing that we're given the opportunity to just build and work.