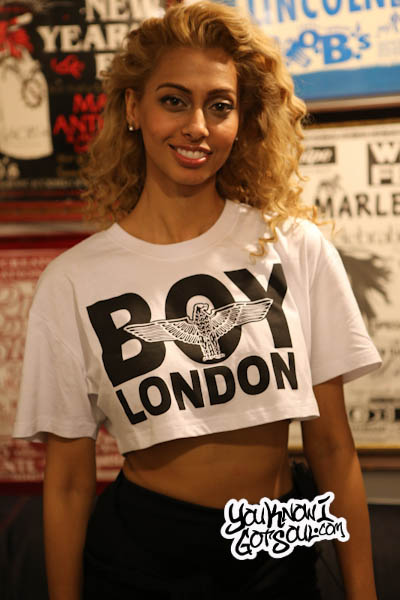 The rise of social media over the past decade has opened up a world of possibilities for artists that once did not exist. It seems like more than ever, artists are discovered online and go on to achieve mainstream success. One of the latest in the line of those success stories is Sonna Rele, a London based artist who was signed by Ne-Yo after he discovered her wildly successful "Music Mondays" series. Quickly, Sonna went from recording music for her rapidly growing fan base on the internet, to working with one of the top r&b artists in music. The possibilities are endless. YouKnowIGotSoul sat down with the emerging artist prior to a recent performance and discussed her origins in music, how Ne-Yo originally signed her and reached out, what he's learned from him, her recently released "Wildhearts" EP, and much more.
YouKnowIGotSoul: Take it back to your origins in music. You've been showing off your talents and developing a fan base for yours. When did you first realize your gift in music?
Sonna Rele: I started singing when I was like six years old. I didn't really think I had a talent, I thought everyone could sing. Everyone else around me found it unusual and I found myself singing a bunch of Disney songs.
YouKnowIGotSoul: You've made a name for yourself with the Music Mondays series on Facebook. What originally inspired you to go that route?
Sonna Rele: One of my main things is to connect to people on a 1 on 1 basis. Social media for me was somewhere I could do that. Not having to go through an organization to get through to people. I started this thing called "Music Mondays" where once a week I'd post a song and people would comment. Some of the videos started going viral and I was able to reach thousands and thousands of people and get comments. Sometimes I wouldn't get much sleep because I felt the need to connect to people and show how much I appreciate all of the love.
YouKnowIGotSoul: Are there any in the series you did in particular that you could say were the biggest ones?
Sonna Rele: Some of my biggest were songs that I didn't expect to go viral. It was just songs that I really enjoyed singing. Some of my originals went viral when we put it on Facebook it had over a million views. That was a good indicator to know that I was on the right track and people were connecting to it.
YouKnowIGotSoul: We really started taking notice of you after Ne-Yo co-signed you and signed you. What originally led to him reaching out to you?
Sonna Rele: Ne-Yo reached out to me after hearing my "Music Mondays" series. I didn't believe it at first. I thought someone was trying to trick me. Then finally we connected and he told me he'd been watching some of my series. So I told him "That's what you do in your spare time, you go on Facebook?" *Laughs* It was cool because it led him to me and I landed the deal and he signed me. He's been a great mentor.
YouKnowIGotSoul: Is this something you ever thought was possible when you started your series?
Sonna Rele: No. When I first started, I had no idea any of that stuff was going to happen. For me I just wanted to connect to people and find a way to learn new songs every week and be random.
YouKnowIGotSoul: In your bio it talks about how when you told your parents that Ne-Yo had reached out, they weren't familiar with him. Tell us about that!
Sonna Rele: *Laughs* My dad has no idea when it comes to pop artists and stuff. He knows them, but he doesn't know the names. He gets them wrong all of the time. I had to educate him and he went on Google. He became a fan after that.
YouKnowIGotSoul: Your parents are also musicians. What impact did they have on you from that aspect?
Sonna Rele: My parents being musicians, they know all about the entertainment industry and all about staying grounded and being true to yourself and following your art rather than chasing fame.
YouKnowIGotSoul: You've been with Ne-Yo for a couple of years now, talk about the time you've had to develop under him.
Sonna Rele: Ne-Yo's been making me work on a lot of different projects. Sometimes he'll just call me and say he wants me to write a song with six words in the verse and then just put the phone down! *Laughs* It's cool because he loves to help build you as a songwriter. He's an incredible songwriter as well so it's good to be able to get that additional knowledge.
YouKnowIGotSoul: Tell us about the "Wildhearts" EP you recently released.
Sonna Rele: For me, being Indian brought up in London, I face a lot of barriers that I'm sure a lot of others do also. For me, I'm always being told not to do what I want to do. The EP is all about breaking out of the box and being different. Being different is what makes you successful in your own right. Following that and whatever it is in your passion. It can be art, it can be journalism, it can be music. Just being different and following your dreams and not let anyone else discourage you.
YouKnowIGotSoul: When listening to the project, you've got this unique sound. It's a blend of pop and r&b and it's refreshing. What inspired the sound?
Sonna Rele: The sound for me was inspired by lots of different genres but really just wherever the song took it. There's one song called "In Too Deep" that has an African and Indian influence. My mom's Indian and my dad's from Africa. It's a nice blend of where I'm from and where I can connect to, my roots.
YouKnowIGotSoul: Tell us what to expect next from you.
Sonna Rele: A lot more music. I'm going to be doing a lot more writing. Obviously the EP is close to my heart and I want to be able to connect to as many people as possible. A continuation of that will be in the pipeline.
YouKnowIGotSoul: We see so many artists who try to take a similar route to what you did with releasing videos on Facebook or YouTube but not quite as successful. What do you think it was about you that made fans gravitate?
Sonna Rele: I think the thing that draws people to me is consistency. Obviously you want to do something, but people don't always stay consistent. With "Music Mondays", for two years, every single Monday without fail I posted a video for my fans to connect to. Even if it started with one fan, I didn't care. One turned into 500, and now I'm close to 1 million. It's a great journey.
YouKnowIGotSoul: Anything you'd like to add?
Sonna Rele: People can following me on my social media. My Facebook is SonnaReleMusic, my YouTube is SonnaMusic, Twitter is SonnaMusic, and Instagram is SonnaRele