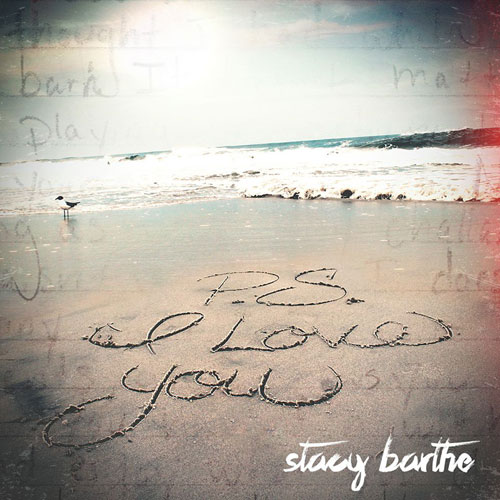 GRAMMY-Nominated Homeschool/Motown Records artist Stacy Barthe announces the release of her PS I Love You EP, available on iTunes May 7th. The digital-only release is a collection of four tracks that cover the spectrum of life and love over smooth and sultry rhythms and features production from DJ Camper, J.U.S.T.I.C.E. League, Kevin Roosevelt and Supa Dups. The socially conscience lead single, "Hell Yeah" featuring Rick Ross is quickly becoming a fan favorite with the release of the starkly beautiful video recently debuted on VEVO and obtained immediaterotation on BET, VH1 Soul and Centric. P.S. I Love You is the last installment of a trilogy of EP releases from Stacy that includes Sincerely Yours, Stacy Barthe and In the In Between.
"I'm so excited to share my music with my fans and I hope that its touches each and every listener," states Barthe. "P.S., I Love, like the other EP releases, is just the tip of what is to come for me and I welcome everyone to take this journey with me."
Since acquiring her 2007 publishing deal with Universal Music Group, Stacy Barthe has penned songs for a collection of megastars that include Britney Spears, Rihanna, Katy Perry and Kelly Rowland. She eventually blossomed into a full-fledged artist and with a couple of independently released critically well-receivedEP's she was signed to John Legend's Homeschool imprint.
Stacy Barthe has garnered praise by critics and fans alike through her heartfelt and honest songwriting.
Media outlets including Billboard.com, The Fader, NPR, Essence and Pop & Hiss have become early champions of her burgeoning talents, with the L.A. Times music blog adding her name to their Best of 2011 in local hip-hop and R&B list.
Track listing for P.S. I Love You is as follows:
First track list is:
1. Home In My Heart
2. To Be Loved
3. Flawed Beautiful Creatures
4. Hell Yeah! feat. Rick Ross
Barthe will release the second installment of the EP PS I Love You Too June 25th.