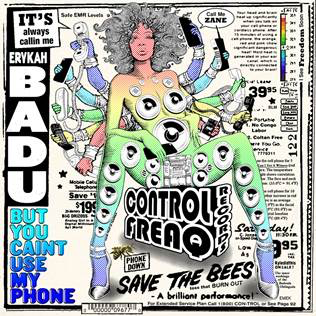 Erykah Badu releases her new mixtape "But U Caint Use My Phone" today exclusively to iTunes and you can stream the project now to get a listen. The project is her first since released the album "New Amerykah Part Two (Return of the Ankh)" in 2010 and features guest appearances from rappers Andre 3000 and Drake.
Badu came up with the title of the mixtape as a reference to her song "Tyrone" which came out on her live album in 1997. Included on the new mixtape is her version of Drake's "Hotline Bling" which is titled "Cell U Lar Device".
The whole mixtape was created and produced with Zach Witnessin and written and recorded at Badu's home in Dallas, TX in 12 days.
Badu also recently hosted the 2015 Soul Train Awards which will air this coming Sunday. During the ceremony, Badu gave her first performance of the song "Phone Down".
"But You Caint Use My Phone" Mixtape Track List
1. Caint Use My Phone Suite
2. Hi
3. Cell U Lar Device
4. Phone Down
5. U Use To Call Me
6. Mr. Telephone Man
7. U Don't Have To Call
8. Whats Yo Phone Number
9. Dial'afreaq
10. I'll Call U Back
11. Hello