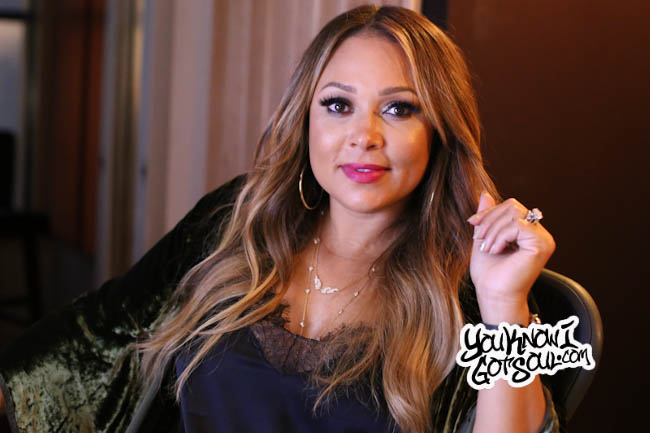 With the way r&b has evolved over the years with artists putting out new music less frequently, you never quite know how long it's going to be until we get the next album from your favorite artist. For example, we've been waiting nearly a decade for the next Chico DeBarge album, over seven years for the next Jon B. album, and the list goes on an on. The legendary Tamia gave us a similar wait with the six year gap between her "Between Friends" and "Beautiful Surprise" albums, but luckily that appears to be an outlier. After releasing the great album "Love Life" in 2015, she's already gearing up for the release of her next album "Passion Like Fire" for later this year. It's led by the fresh single "Leave It Smokin" and the album is going to full of the traditional r&b goodness we've grown to love from Tamia. We had a chance to interview her once again at the listening event for the album, and got the background on it's creation, how she chose the first single, and her motivation for this album.
YouKnowIGotSoul: Talk about the creation of your upcoming album "Passion Like Fire".
Tamia: The creation of "Passion Like Fire", like with any album, I kind of go into it letting the music lead the way, and the melody and writing. This album I co-wrote a lot more songs than normally on an album that I do. I worked with great producers like Lil' Ronnie, classic r&b producers like Shep Crawford of course again. Salaam Remi, who has the first single "Leave it Smokin", which we also did "Beautiful Surprise" and things together before. I kind of just let the music lead the way and I choose the songs that I love and put them on the album.
YouKnowIGotSoul: You mentioned the first single "Leave it Smokin". We really love that one, the sound is so fresh and really like nothing else. Tell us about the song.
Tamia: In choosing a single, you never know what will resonate. I loved "Leave it Smokin". Every time I work with Salaam Remi, I leave thinking I have a great record, and then he sits with it for three weeks and makes a thousand edits and just lives with it. He brings back the most amazing thing. I just felt such a connection with the song. It just felt fun like Summertime, like a good way to introduce the album. Of course, I definitely have the classic sort of Tamia ballads and things like that on the album. But I think it's important to show ebbs and flows for an album, and I just love this song.
YouKnowIGotSoul: With the way r&b is going, we never really know when an artist is going to release another album. Your last album "Love Life" was in 2015, so how did you get motivated to start working on a new album?
Tamia: My team was like "You better get back to work!" *Laughs* It's different now than it was before. You definitely don't have the luxury to wait around and take several years off. The music business has always been fickle, but it's very quick now. Literally, a couple of months after I put out "Love Life", they were like "When are you putting out the next album!" I think that it's obviously very important to continue to grow musically as well, but I love touring and doing shows. I think it's important to keep the music flowing. When I feel it, I go and record. I let management know that it's time. Then the hardest part is sort of everyone getting on the same page and saying yes this is a good time, you go in there and write the songs and do the album and we are here to support you. eOne is all set up, and management is all set up, and we all have the same vision for the album. So I think that's important as well. Obviously r&b needs as much support as it can get, but it takes everyone to be in the same mindframe and in position for it to all work. I'm glad to be back!
YouKnowIGotSoul: Aything you'd like to add?
Tamia: Well, first of all I want to thank you guys for supporting me for so long. Even through when I had a lot of music out and even when I didn't have a lot of music out, always supporting and always being there to fill people in on what I continue to do. It's you guys that have helped me stay relevant and stay being able to do what I love which is music and connecting with people through music. Without you guys, I would not be here, and not be able to continue to do what I love. Thank you guys for always supporting my music!