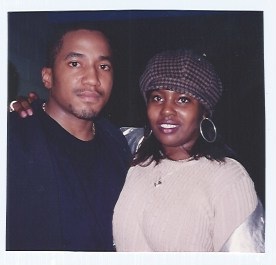 Tammy Lucas isn't a name that R&B fans will recognize right away, but you'll soon understand her importance to music once you start connecting the dots on the people that she's collaborated with over the years. With names like Teddy Riley, The Neptunes (Pharrell and Chad Hugo), A Tribe Called Quest and Noreaga under her belt, you start to see that there's something special there. New Jack Swing fans will recognize her sweet vocals on the Teddy Riley single "Is it Good to You" and Pharrell fans will recognize her feature on Noreaga's "Superthug". There are a few more gems in her discography including Blackstreet's "Joy" which was co-written by Michael Jackson. Simply put, Tammy Lucas has been one of R&B's best kept secrets. YouKnowIGotSoul had a chance to interview her about her history with Teddy Riley and The Neptunes and also talked to her about her future plans in the music industry.
YouKnowIGotSoul: Tell us how you originally got your start in music. We know you linked up with Teddy Riley, but talk about your origins
Tammy Lucas: It started with my dad. He was a really great drummer. He played drums for Dionne Warrick and he was part of the Appolo House Band at one point. He worked with Donny Hathaway, Roberta Flack and just a lot of different people. That's where it really started. From that point on, I was just around him practicing and just listening to a lot of music. My mom was a huge music lover. She went to the record shop every week and bought new albums. Then I did a couple of years at the Harlem School of Arts and sang in church choir at my school. In the teenage years, I did my first song "Hey Boy". After I did that, I met Nelson George who was working at Billboard at the time. He told me about Uptown Records that had just started. I had a little bit of time over there. That's how the Teddy Riley thing happened. We were at Brookyln at the time and it just seemed to flow back then. It was like one thing led to another. It was such a cool time.
YouKnowIGotSoul: We know Teddy Riley set up his studio in Virgnia Beach. Did you make the decision to follow him and continue working with him?
Tammy Lucas: Not really. I was doing some stuff on my own and we took a little break. I did some stuff with him early on before. I did some backgrounds for Keith Sweat and I wrote a song for Stephanie Mills. We did a few things and Guy was just getting started. I did some of the vocals on the first Guy album. We did a bunch of stuff together. We did something with J.T. from Kool and the Gang. Teddy was getting a lot of work and that was before Virginia Beach. Then we took a little break from each other and then he had the Michael Jackson thing. He called me onto that and we went down to LA and we met Michael Jackson and the engineer Mr. Swedien. We got a lot of open tracks. Teddy and Michael were working on his album and there were a million different tracks. They gave us a lot of open tracks. "Remember the Time" was one and "Joy" was another one. I'm not sure what the other one was, but I took the stuff back in my little cocoon. I wrote "Joy" and Bernard Belle wrote "Remember The Time". We co-wrote those with Teddy and Michael Jackson. That's something I'm really proud of. "Joy" didn't make the "Dangerous" album and then Blackstreet recorded it years later and I think it was a number one song. I also won an ASCAP award for "Joy". That was the highlight of my career. I loved the Jackson 5 and Michael Jackson my whole life. He was one of the singers I studied as a child. To be able to meet him and I have a co-write with Michael Jackson, sometimes I can't even believe it. I just love that whole thing. I'm always appreciative to Teddy for taking me down there as one of the writers.
YouKnowIGotSoul: Pharrell always credits you as the person who taught him how to write songs. What was your writing process like and what did he pick up from that?
Tammy Lucas: It was a lot of listening to the music. Right off the top, we would listen to a lot of Stevie Wonder. It was a lot of Hip Hop and from listening and talking about the music and how dope this part was and from the instrumentation to the vocals, we were really caught up in the music. We appreciated the great music from Donny Hathaway. Then when you're ready to do something, you have something to give. Not in the sense of copying it all, but in the sense of enriching yourself with great music. That's what we did. Pharrell and Chad had songs when I met them. I would say that I made them better songwriters and definitely enhanced or brought out a lot of stuff, but they had a lot of stuff that was dope from day one. That made me so excited about them and I expressed that excitement to Teddy Riley. I told him he had to sign The Neptunes. I told Pharrell my project was about to be done and I told him that I wanted them to write some songs for my album. That's how we started working on my album. We were waiting on Teddy because he had so many projects coming and going. I had already moved down there and at first, I was just staying there and then I got an apartment. Once I met The Neptunes, we would just be waiting. Once you have a lot of people signed and you're this hit producer, everyone has to wait for their turn. While we were waiting, that's how me and The Neptunes got really tight because we just started hanging out everyday. Pharrell is a beast. His work ethic is off the chain. That's probably how he is today because he was ready. He was calling me and Chad everyday and he was like "Let's go!". He would come in my house. A lot of times, he would have songs. He would let me listen to everything he did. I would give him the fine points of songwriting. Melodies and lyrics is my forte. I don't do tracks, but I pick tracks. Between what I knew and highlighting the great music we were listening to, that was pretty much the formula.
YouKnowIGotSoul: You had mentioned your album "Truly Soulful". Tell us about the project and how it was coming together.
Tammy Lucas: We started doing some stuff together. I have stuff that I had recorded with Teddy Riley before we moved to Virginia Beach. We had those songs but I was getting a little older. We took it to a little more mature direction and Pharrell was just eager. He came to me with open tracks and then I would write to the tracks. Then when we recorded it, we would record it at Teddy Riley's studio. Then later on, we started going to Chad's house. His dad had bought him some equipment and Teddy let him borrow some keyboards. We were just on it everyday while we were waiting. I was doing other stuff as well like LL Cool J's "Stand By Your Man" and I did a couple of soundtracks. We just did a couple of things. I was an in-house writer. I did writing, vocal producing, feature vocals and a lot of different things. Pharrell emerged and started some of that stuff on his own. We recorded a slew of stuff for me and then we started branching out and working with other artists. AS a matter of fact, we did some stuff with Blackstreet, myself, The Neptunes and Joe. We were working with Joe early on before he emerged into the premiere singer he is today. The song was "Isn't This The World" which was a really nice song. We did a lot of stuff. A lot of stuff we did has yet to be heard by the public. I'm thinking about putting out some of those songs. Pharrell and Q-Tip were on Pharrell's radio station not too long ago and they were talking about some of the stuff we did. Q-Tip reminded everybody that it was me that introduced Pharrell to him. He was a huge Q-Tip fan. At one time, I was going to be signed to The Ummah because of the demo that Pharrell, Chad and I had done. Q-Tip still loves the song so much. Some of them are still really cool. I would love to do an EP or something soon.
YouKnowIGotSoul: Tell us about "Superthug" by Noreaga. You did the chorus on that song. What did that song mean to your career?
Tammy Lucas: I don't think it meant what it should have meant. I was in a transition having left Teddy Riley. Our dynamic had changed with The Neptunes because when I first met them, I was like their big sister. They didn't know a lot, but Pharrell is a quick study and Chad was already ambitious. It was an easy marriage for all of us to work together, but as the years went on and they began into the producers they are today, the dynamic changed. I didn't have my own personal manager at the time. A lot of times because of my great relationships with Teddy Riley, he opened a lot of doors for me. I wasn't officially signed to Teddy. I had signed a production deal with him. With The Neptunes, I never signed a deal with them either because I was helping them out for such a long time. When the dynamics changed, I don't think I had everything in place to take advantage of that moment for myself. The Neptunes were on a new journey and of course they were reaching heights, you just never know how things are going to play out.
YouKnowIGotSoul: Where was your career after working with The Neptunes? Did you still have plans to record music?
I always had plans to be a solo artist. I just got lost. As a matter of fact, I'm writing a book called "Lost In Music". I Just got lost in music. It happens. I never really had management and that's a big thing for me. You have to have someone that's partnering with you. A lot of times when they work with producers, they did act as managers for me but if their focus changes, it just changes. I got stuck on Teddy Riley and his movement. And then I got The Neptunes sound for reasons of just because it was so dope. I understood their sound from day one. I got stuck on it and we went through this thing for a while, everybody falls out with each other because of differences in opinions. People are changing and growing everyday and all of these things happen. There came a time where Pharrell was like "We have to do an album" and it never happened. I'm sure he had good intentions but things just sped up for him so much and I guess his focus just shifted. I get it and it happens. I tried to reach out to a couple of other people but I didn't find that gel that had with Teddy Riley and The Neptunes. I found it with Q-Tip and he's the dopest, but we never really worked back together again. We did some few things. I did some backgrounds for him and I did the "Once Again" song but as far as doing a whole album, we didn't do that. I think Sting once said that you have to be with the producer that brings out the best in you. I had a great chemistry with Teddy Riley and The Neptunes, so I'm hoping to find that chemistry again with new producers. It doesn't have to be one person, it could be a a mix of people. As a younger woman, I got stuck on the New Jack Swing. Teddy was the dopest producer, he worked with Michael Jackson. I stayed a long time saying "We're going to work it out". That's the business side of it. A lot of times, the musicians don't realize there's a real business to it and there's politics to it. You have to make moves. That's why I take my hat off to Pharrell and Teddy. They were young too, but they had a definite focus.
YouKnowIGotSoul: Do you have any projects that you're working on?
Tammy Lucas: I'm always writing, but in the future I plan to release a dance record. My first song "Hey Boy" was a club single which is like R&B dance music. It's the really good stuff from back in the day. I wrote a song and I'm planning to release that dance single. Then I have a lot of R&B songs and a lot of fusion songs. I also have the stuff I did with The Neptunes. I'm just trying to find the right situation. I want to do it right. The industry has changed so much in a way that you have to get it right the first time. It takes a lot of thought. Perhaps I'll do some live shows and see where that leads me. I want to do an album even if it's just an EP or even f I just put out singles at a time. I've had a lot of interests from DJs and fans that wish I would put something out. I would love it.