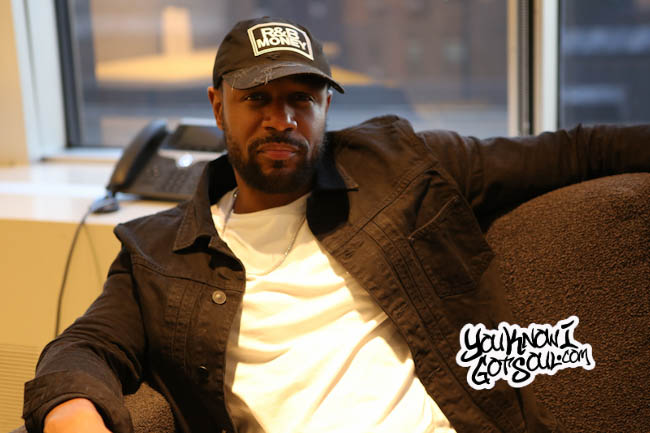 In recent years, Tank has been very vocal in combating those who claim they want "real r&b" in response to some of the recent music he's put out. Although his previous album was titled "Sex, Love & Pain 2" after this masterpiece which released a decade earlier, the content was more hip hop influenced than the traditional r&b sound we'd become used to from him. This was Tank's way of progressing the r&b genre, one which had become dominated by hip hop and pushed many of our favorite artists from the spotlight. With the new album "Savage", Tank is continuing to push in the same direction. The veteran singer continues to carry the torch for r&b while ever evolving his own sound. YouKnowIGotSoul sat down with Tank for an interview and discussed what to expect on "Savage", the aggressive title, what's influencing him, listening to old school r&b with Floyd Mayweather Jr., and much more.
YouKnowIGotSoul: Your new album "Savage" is coming out this fall. How does the aggressive title represent the project?
Tank: The project is very aggressive, as you can probably tell by the first single "When We". We're taking an aggressive approach across the board. Whether it be ballads, whether it be tempo. From the sonic of the record to the melody to the lyrical content. It's all aggressive and it's all pushing the line and fighting for space. Trying to carve out some room for r&b. In order to do that, we have to compete if we want space. We've got to put ourselves in position to be able to follow up or even lead in terms of what our r&b is. So you heard "Sex, Love & Pain 2", this is the next step past that. It's one that I thought was necessary if I want my song to be on the same playlist as Migos or Meek Mill. We gotta give them some firepower and that can stand up to all of those records. They're savage in their approach and I'm savage in mine.
YouKnowIGotSoul: It's interesting you mention competing against those hip hop artists, especially since "When We" is doing really well on Urban A/C radio. What's your balance there?
Tank: I'm kind of in between worlds. I'm on stage with Frankie Beverly at one point, and then I'm hosting King of Diamonds. *Laughs* That's me. That's the thing that I am. I'm kind of the bridge between what we knew r&b to be and where it is now. I'm ok with that. Are we pressing the issue in terms of where we are played on the radio? No. I think the project will speak to the people it will need to speak. I think the music alone will cater to the people it needs to cater to. We're just letting the people make the decision. It's not for any one thing to decide that. Just the people.
YouKnowIGotSoul: You talk about this aggressive sonic. What can we expect it to sound like? Is it an extension of the direction you went in on "Sex, Love & Pain 2"?
Tank: It's more of an extension of that album. It's more of songs like "She Wit the Sh*t" or "I Love You" with Yo Gotti and Rich Homie Quan. Those moments started carving out space for us. We wanted to take more of that approach. Just being able to see the music come to life in concert and watch the people's reaction, watch them sing every lyric and turn up with us, and it be r&b and me singing about a woman. It let us know that we're going in the right direction. We wanted to continue to push the line.
YouKnowIGotSoul: We heard an interesting comment from one of your peers recently stating that adult r&b had grown stale and dated sounding. Your music now seems to be an answer for that, pushing it out of that stale zone. How do you react to that?
Tank: It's all about timing. For the people programming Urban A/C radio, they have what is their core music. We always pay homage to the r&b music and the things that came before us. Urban A/C also has to be exciting at some point. It has to be doing something new and pushing forward and evolving just as everything does. My record is kind of part of that evolution. A Ro James, those moments are part of evolution. Even when they play some of the Sevyn moments, that's part of the evolution. What it does is gives an opportunity for people who love the old school music to understand where the new school is. You kinda have fun in both places and you don't have to dial up a bunch of different stations to find a variety of good r&b music. They're giving the music a shot and that's all I wanted, for it to get a shot. For young people to be inspired and older people to be entertained.
YouKnowIGotSoul: You've been vocal on social media in response to those who say they want "Real R&B". You've stated you'd never do another "Real R&B" record. Does that still hold true?
Tank: I'm going to do what's true to me. I'm not going to do what they consider real. Everybody has an opinion about what they think is real r&b. They say they want the instrumentation back, they want the live strings. But then when you give it to them, they're nowhere to be found. That's ok, because I understand where music is and where it's come from and where it is now. I found my place in it. For me, I'm going to be true to me in the space that I am now. I'm not going to try to cater to everybody else's real r&b. I'm going to do my real r&b and do what Tank does. I'll let the chips fall where they may.
YouKnowIGotSoul: As you go to create an album like "Savage", what's motivating you the most right now?
Tank: Well "Sex, Love & Pain 2" was the motivation. Seeing the responses to those records. I didn't know how people would feel about me and Rich Homie Quan on a record. To see people have the moments, I knew they got it. They allowed r&b to live and for us to be creative and have fun with it. I wasn't ready to stop having fun. I wanted to keep having fun with pushing the r&b lines and pushing us forward. That was really the inspiration. I hear a lot of great songs on the radio. I hear Party Next Door pushing the melody, Drake is always pushing the melody, Chris Brown of course. All of those moments inspired me as well, that let me know I'm in the right place. Ty Dolla Sign as well. I can do that and then some.
YouKnowIGotSoul: It's so cool we're sitting here in Atlantic Records, where you've been signed for many years now. As you look around, most of your peers are no longer signed to major labels. We always talk to them about the benefits of being independent, well what do you love about being on a major label?
Tank: Partnerships with great partners. I've been blessed to have great partners. My friends and family at Atlantic Records, they've been nothing but amazing since day one. Even before day one, before we signed paperwork, we were working together and it was love. The approach that they wanted to take with me was that we're in it for the long haul. We may miss on one or two, but we may catch them on three and four. They wanted to work with me for as long as we can do this. You can't ask for anything better than that kind of commitment to your career. Not to just the moment or one album, or to a single. I couldn't have asked for anything better. Whether it be indie or whatever it is, it's about finding great partnerships with great people.
YouKnowIGotSoul: Atlantic believes in you so much, they gave you your own label, R&B Money. Tell us about what to expect from there.
Tank: I've got Dante, Dontay, Duntea signed. I've got Jordan Morris signed out of the UK. I've got another kid I just found online who's just fire! I'm signed to R&B Money. I'm trying to create a space where r&b artists can go and feel like they're going to have a real shot. A lot of people are throwing records up against the wall, especially when it comes to r&b. Through my partnership with Atlantic Records, I was taught something. If you stick with it, the results if you keep working, will come. I'm a 41 year old r&b artists with a label deal on a major record label. Who does that? Nobody I don't think. The blessing is in the work we've been able to do, and the work speaks for itself. That's the opportunity I'm trying to extend to all of the artists I signed.
YouKnowIGotSoul: So many people loved the TGT "Three Kings" album. Where does the group stand right now?
Tank: I love TGT, I would be the first to admit that, I named the album. Tyrese tries to take my credit sometimes, but he tells the truth after! It's not in the cards as we speak. We're always a good conversation away. We're always willing to sit at the table and just talk about it, the right way. The fair way. TGT is such a selfless moment, I just wish we could get out of the way of what it's really about and let the people be inspired and entertained. I wish we could just get out of the way, just do the work and give the people this music. If I had my way, we'd be doing it tomorrow. It's three members of TGT, it all has to make sense for everybody, and hopefully one day it will.
YouKnowIGotSoul: You've performed for Floyd Mayweather at his fights in the past. Any chance you'll perform at his upcoming fight?
Tank: I don't know. I was up at camp a few weeks back. Champ looks like Champ. He looks unstoppable and unbeatable and undefeatable as always. I'm going to go up and have a good time. I'm going to go to Vegas, I'm going to bring the crew, and we're just going to enjoy #50 and have fun. Sometimes it gets about work. When you're singing, you get into a space where you've got to focus on the songs. But I'm just going to have fun. Sometimes Champ will say "Hey Tank, turn on them songs, the ones you just put out!" Then it's on! It's an r&b party. That's the beauty of Champ. People don't realize that he's probably one of the biggest r&b fans in the world. He trains to old school r&b. We're in a hot gym at 140 degrees and you'll hear The O'Jays and gloves hitting boxing pads! *Laughs* It's the craziest thing but that's just what he does. When I'm in that building and around Champ, I feel appreciated for doing this r&b thing. It's a good moment.
YouKnowIGotSoul: Anything you'd like to add?
Tank: The "Savage" tour starts September 5th, and we're rolling all the way through the 29th. Follow me @TheRealTank to see what I'm doing. We're trying to do something special and give a local r&b artist in every city a chance to open up on stage. So we're running a contest. You have 60 seconds on IG to show me what you have. Tag #OpenForTank and #TankSavageTour and your city. Let me see you. It's been crazy. We found some really dope r&b artists who for me, just need a shot. That's the difference most times between me and somebody else. I had an opportunity and I was able to take advantage. I want to extend that opportunity to somebody else.