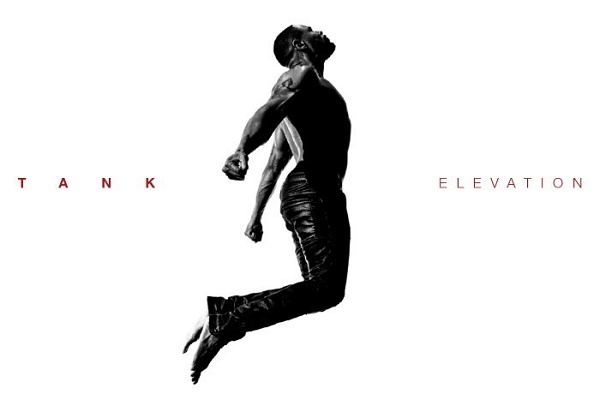 The R&B general found new life on his last album "Savage" when he dropped his single "When We". The success of the record was a shocker to a lot of people because "When We" not only dominated Urban AC, the song also crossed over to Urban radio and found some success there. This was considered a huge accomplishment to many in the industry because Urban radio is typically for younger artists, not one who has been releasing music since 2001. Tank is back with his new album "Elevation" and YouKnowIGotSoul had a chance to talk to him about the project, his collaboration with JoJo and his thoughts on R&B fans who want the "old Tank" back. He also talks about his label R&B Money and his upcoming "Sketchbook" tour with Fantasia, Robin Thicke and The Bonfyre.
YouKnowIGotSoul: Let's talk about your new album "Elevation". What does the title mean to you?
Tank: I think "Elevation" is a call to not get comfortable and to do more. Sometimes when you're having the biggest moments of your career, you stop and smell the flowers. I don't want to do that. I want to push myself to another level and I want to be inspired to go to a different space, so "Elevation" was the mode I was in. It was elevating everything. My "Savage" and "Sex Love & Pain II" albums, I was very aimed in a direction. Now with "Elevation", I'm attacking a bunch of different areas sonically, lyrically and melody wise. I'm trying to take it all to another level. The R&B that is now and the R&B that we know and love, I'm trying to take all of it higher.
YouKnowIGotSoul: When we look at the landscape of R&B right now, we see the trap stuff on Urban radio, but we also see Ella Mai and Bruno Mars doing 90's influenced R&B. Then of course in the Pop world, you see Adele and Sam Smith doing those piano and gospel influenced records. How do you decide which direction to go into when you're working on a project?
Tank: I just do what feels right. I do what's honest and how I'm feeling for that moment. Like we have all of those moments that you speak of. In terms of making the music, that's the easy part. From a business standpoint, trying to figure out where that music lives is the tough part. As I speak about the roots of where I came from, I come from a very traditional style of R&B and I've had to add pieces to this new R&B to make sure there are spaces for my music to live in. As much as I would love to put out a piano and gospel ballad like a Sam Smith, there would be very few ears on it from a business standpoint, so I have to be smart about that because I don't have as many advantages or avenues as those guys doing that thing over there. I have to play smart with my music, so once we started with "Sex Love & Pain II' and we found a lane that we own, we just stayed in that space and started growing there. Everything now is just growth from that and it's just continuing to grow.
YouKnowIGotSoul: On "Sex Love & Pain II", you had records with Rich Homie Quan and Yo Gotti. I think if your peers had put out records like that, their core audiences wouldn't have accepted it but it seems like your fans have followed you and embraced the new sound. How have you been able to bring your listeners along for the ride?
Tank: I think people are very smart in terms of figuring who's singing. I think that's what happens when moments don't catch. It's because they're not connected to the artist. When I'm writing "She's With The Shit" or "I Love Ya" and people hear it, you understand that it's not just a song. I'm actually giving you pieces of my life. It's not just music anymore, it's lifestyle too. They're having an opportunity to continue to ride with me as I ride through life. It's crazy that you say that because it wasn't necessarily a tough switch, but it was a tough addition to what I do.
YouKnowIGotSoul: A lot of people have been excited about the collaboration you have with JoJo. Talk about that song a little bit.
Tank: Oh man! I wanted to put JoJo in a space. I've watched JoJo grow up from a kid and now she's this gorgeous woman. I think she downplays it and how other people see her. I'm like "JoJo! These streets is talking about you. They want to be able to gawk over you". This song right here really puts her in that space to where you have to double take and look at JoJo like "Oh my god! I need to go to her page and like some of her pictures". It's that type of vibe and it's so cool because we both got out of a tough situation, so for both of us to make it out of that situation, it's the first opportunity to come together and do some real cool stuff. It was really a dope experience.
YouKnowIGotSoul: On social media a few weeks ago, we got into a little squabble. We're obviously happy for you and your recent success, but we also talked about wanting the old Tank back and that came from a good space because we felt that "Sex Love & Pain" album made such a huge impact on us as listeners. Do you ever feel like you have to compete with yourself when you read comments like that?
Tank: No, I don't. I understand that everything had its place in time. Like you take an album like "Stronger" which was completely musical and it was a grab from older R&B like Prince, Rick James and all of these dope moments, I was like "If we get the live strings and live horns, it'll be dope and maybe the R&B fans will be ready for this!". They completely were not. They didn't even understand what we were doing. I realized that as connected as I am to my roots musically, everybody else isn't. Me trying to purposely go back and grab that was contradicting to the growth that I had done in terms of being in this music business and being the creative behind so many artists. It was contradictory to that, so I had to level myself and say "Who are you now? Don't try to force or cater. Who are you now?". That's where we got "Sex Love & Pain II". Like I told you before, I'm completely okay with however the chips fall as long as I get to be honest. I'm just honestly being who I am and the best version of myself right now. I'll never go back and try to relive any moment. I won't ever try to make another "Maybe I Deserve", "Please Don't Go" or "When We". I don't do that, I keep moving forward.
YouKnowIGotSoul: When it comes to today's R&B, I've noticed a lack of bridges and a lot of songs are under 3 minutes. Does that bother you? For a lot of 90's R&B fans, it's very tough to listen to.
Tank: I own a label so part of that is me understanding those different types of musical nuances where songs are shorter and there aren't as many bridges or chord changes. It's understanding all those spaces and at some point tapping into them to make sure your music is able to live in these new spaces and float in these new currents. It doesn't me at all. I think it would only bother me if I wasn't able to keep up and understand it, but I do. For me it's just about continuing to navigate. I've heard people say "There are no bridges anymore!" and I get it, but what are you going to do? At one point in the NBA, it was all about a big man. You had to have a big center to be the focal point of your offense, so everyone was looking for the next Shaq. Then Steph Curry came along and completely changed the idea of basketball. Your big man now has to be someone that can actually run the team like Draymond Green. What did the NBA teams do? They didn't shut down shop, they started drafting big men that could play point guard. It's the same thing with the music business. You can't just shut down and close the shop because the terrain is getting rougher or changing. You have to figure your way through it or in it.
YouKnowIGotSoul: You're set to hit the road with Fantasia, Robin Thicke and The Bonfyre for the "Sketchbook" tour. What's the importance of R&B artists coming together for a tour like this?
Tank: It just shows unity within the genre which is what we need. We need big collaborative moments that make a statement for our genre of music. The rap guys have figured it out and they do it all the time. DJ Khaled gets 100 of the top artists and puts them all on one song. They've completely figured it out, so we have to be smarter about how we present our music as well. We have to put our pride aside and be honest about what the money looks like and do it so that we can create a bigger moment that will actually have a bigger impact later as we continue to build our space back. You have to ask yourself, when was the last R&B tour in an arena? If you consider Bruno Mars R&B, you can say that but in terms of our R&B, where is it? I think we're just falling a little short in creating moments. Everytime an R&B artist gets his moment, he gets it and covers it as opposed to spreading it and making it bigger. We should be grabbing everyone and creating a bigger moment collectively. I was happy to be part of this. They started adding more people and I was like "This could be pretty dope!". From a demographic standpoint, we're blending here and there are probably in the audience who don't know who I am. That will be really awesome to entertain those people and give them an eye opening experience.
YouKnowIGotSoul: We saw your social media the other day, so we just wanted to make sure. You're a Grammy award winner right?
Tank: *Laughs* I'm not! I found out the rules and it's wack. It's just a bad rule. Like if an album goes gold, everyone that was part of that album qualifies to get a gold plaque because they all helped make that album. If the album wins "Album Of The Year", even if the artist doesn't write one song on that album, only the artist gets the Grammy. So we're only participants in a Grammy award winning album. We didn't help make it, we're just participants which is a very bad rule.
YouKnowIGotSoul: Talk about what's going on with your label R&B money.
Tank: We have a new artist named Feather. We just did a partnership with Motown. She's out of Chicago and she's a singer, songwriter, dancer and producer. She's the next young wave. She got a really dope vibe about her and her music sounds like nothing that's out right now, but it's still in the wave. It's funny because I haven't even touched it musically, she just presented what she had and it's just crazy. We're very excited about that.
YouKnowIGotSoul: Anything you'd like to add?
Tank: Get the album and come to the show! That's where we shine. You get to hear our stories musically and the new body of work then you get to see it live.