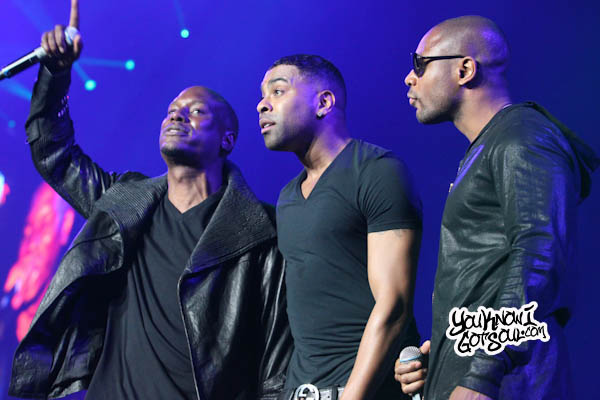 If you didn't hear the news by now, Tyrese announced on his Instagram page that the R&B super group TGT had called it quits. The cause of the breakup appears to be due to differences between Ginuwine and Tyrese. Not much else has been said about the split, so time will tell if the trio is actually done for good though. The group formed back in 2007 but nothing came of it until 2013 when they released their "Three Kings" album which had the big single "I Need". The album, which ended up being nomianted for a Grammy, was a huge success and there were talks that a second album was going to happen sometime next year. The news, of course, is horrible for R&B fans as Tyrese, Ginuwine and Tank have been some of the biggest R&B stars since the late 90's and the three collectively filled a void for the lack of groups in music right now.
With all of that being said, we look at some possible scenarios that may determine the fate of TGT:
1. Ginuwine and Tyrese reconcile
This is obviously the most ideal scenario. The strength of TGT was the chemistry they had and a lot of that was due to the fact that they were all good friends outside of music. Ginuwine put Tank in the music industry, Tank wrote songs on Tyrese's albums and Tyrese was the best man at Ginuwine's wedding. Their history should allow for them to forgive and forget so that they can get back to work on their sophomore album as TGT.
2. Remove Ginuwine and continue the group as a duo
Tyrese also mentioned in his Instagram that him and Tank could possile just move on without Ginuwine. Would that work? It's tough to say because Ginuwine has a huge following and he's had more hits than both Tyrese and Tank. That doesn't mean that Tyrese and Tank wouldn't be able to function without Ginuwine though. The two T's are both very credible R&B artists who can go toe to toe with anyone vocally. Tank's musicianship along with Tyrese's star power could make this work. But what would they call the group?
3. Replace Ginuwine with a new member
Ginuwine leaving the group would remove 1/3 of the group's fanbase, so it might be difficult for Tyrese and Tank to roll out as a duo permanently. The next best solution? Find a replacement that could fill the void of Ginuwine being gone. This is an interesting idea because let's face it, Ginuwine isn't on the same level as Tyrese and Tank vocally. He's a respected vocalist, but his strength is entertaining on the stage. A true vocalist could potentially strengthen the group's sound, so here are some candidates:
Jamie Foxx – Along with being good friends with Tank, he's also one of the most recognized faces in music. Jamie being in the group would add even more recognition to the group as he's an even bigger star than Tyrese in the Hollywood. Having Jamie Foxx in the group would instantly open a lot of doors for them as every TV show would love to have a Jamie Foxx appearance.
Joe – He comes from the same era as Tyrese and Tank. He's vocally on the same level and he's built up a big following on his own as a solo artist. To this day, he remains one of the more relevant male acts in R&B. He would also add another dimension to the group's sound as he's very much involved with the writing and production on his own albums.
Trey Songz – This is probably wishful thinking, but this would be an interesting way for Trey to test the waters when it comes to the Urban AC market. We already know Trey's fanbase is massive, but most of his fans are younger. Being in a group with Tyrese and Tank would could bring in a new audience for him. He's already mastered the art of bedroom records, so he would fit in musically with the group. TGT and Trey Songz are also both signed to Atlantic.
4. Disband the group
It's already clear that Tyrese, Ginuwine and Tank can find solo success on their own. They didn't necessarily have to form a group. The trio has already made their mark on R&B music as they were praised by fans for the work they did on the "Three Kings" project. Perhaps it's one of those situations where it is better to leave a project on a good note rather than force something that isn't there.