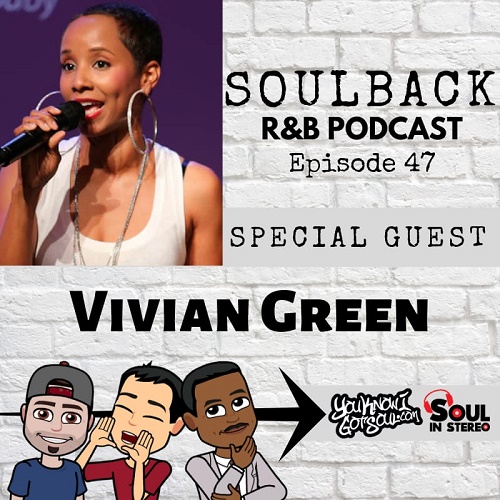 We are back with another episode! This week we have R&B singer Vivian Green on the podcast. We reflect back on her debut "A Love Story" and find out why she finds it hilarious when people call her a Neo Soul album. We also talk about the changes in her sound especially ever since she linked up with producer Kwamé. We also discuss some of our favorite songs from her discography. We also highlight some of our favorite projects including Joe's "My Name Is Joe" album and discuss the success of the Millennium tour with all the special guests that are coming out in each city. This is an information episode so check it out!
0:03:16 – Looking back at Joe's "My Name Is Joe" album
0:06:21 – What's the best Joe featured song?
0:08:05 – Celebrating Truth Hurt's "Addictive" 17 year anniversary
0:09:12 – Discussing Boyz II Men's hit records
0:15:23 – Vivian Green joins the #SoulBackPodcast
0:16:12 – The incorrect "Neo Soul" label given to Vivian Green because of her debut album
0:23:50 – The evolution of Vivian's sound throughout her career
0:27:45 – Making music that shows her real personality with Kwamé
0:31:30 – No major label artist is completely themselves when it comes to making music
0:37:54 – Favorite songs in the Vivian Green discography
0:42:11 – The challenges of getting music out to the public
0:50:30 – The "You fell off" culture
0:53:17 – Thoughts on Lizzo's new album
0:54:15 – The success of the Millennium tour
1:00:22 – Is R&B the new Jazz music?
Follow our podcast on Podbean: https://youknowigotsoul.podbean.com/
Follow our podcast on Soundcloud: https://soundcloud.com/youknowigotsoul/sets/youknowigotsoul-podcasts
Follow our podcast on Spotify: https://open.spotify.com/show/6oLmNUkcXrAqsQP5EBJ4dk
Follow our podcast on iTunes: https://itunes.apple.com/ca/podcast/youknowigotsoul-podcast/id998813013
Follow our podcast on Google Play: https://play.google.com/music/listen?u=0#/ps/Imoe7gt6vd4v6iuf4yq5fyhy3e4
Follow our podcast on YouTube: https://www.youtube.com/playlist?list=PLVyB7WCEUIPl_CYZFTwiNLHqtCHaK2GcK