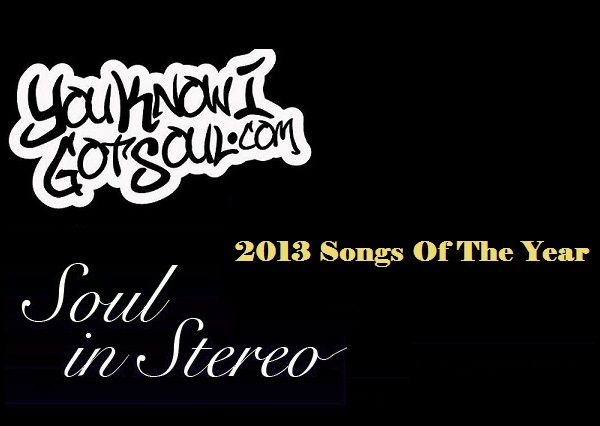 It's been a very good year for R&B.
This year we've been treated to long-awaited comebacks, stories of redemption, the formation of supergroups and the evolution of the genre. Artists who weren't afraid to take a chance and those who stayed true to themselves both found success.
And we enjoyed great music along the way.
The crews of You Know I Got Soul and Soul In Stereo teamed up to create the ultimate list of R&B excellence. Tom, Kyle and yours truly each nominated 50 of our favorite songs, whittled that huge list list down to 100 and ranked them based on performance, creativity and impact.
The results are below, which include links to the songs themselves. If you missed on out these bangers the first time around, don't make that mistake again.
2013 was a great year for R&B. Here's the best of the best.
100. TGT, "OMG"
Kyle Said: None of them need autotune, but the effect brought out an interesting element to the song.
99. Alicia Keys & Maxwell, "Fire We Make"
Edd said: This smoldering ballad makes me miss the days of R&B duets.
98. Mayer Hawthorne, "Corsican Rose'"
Edd said: This is joint right here makes me wanna take prom pictures with the skyline in the background.
97. Melanie Fiona, "Cold Piece"
Tom said: A newly minted indie artist, Melanie Fiona made a bold statement with the single "Cold Piece".
96. Marques Houston, "Nothing on You"
Tom said: "Nothin on You" was an album cut from Marques' 2013 album "Famous" where he went in a new direction and showed influences from Marvin Gaye and D'Angelo.
95. Georgia Reign, "Feel Like A Woman"
Tom said: The protege of Raheem DeVaughn and producer Adonis, Georgia Reign showed a flash of her future potential with the breakout hit "Feel Like a Woman".
94. Kristal Lyndriette, "Silhouette"
Kyle said: Tyrese told us to watch out for the former RichGirl member and Kristal now has our attention after releasing this sensual track.
93. Avant, "When It's Over"
Edd said: Avant dropped a very strong album this year, with this track being one of its standouts.
92. John Legend featuring Rick Ross, "Who Do We Think We Are"
Kyle said: Only fitting that this soulful Bink produced beat has John Legend's vocals on it.
91. J. Holiday, "Incredible"
Tom said: J. Holiday is returning to r&b as an indie artist, and that doesn't seem to be stopping the quality of his music. "Incredible" is the second single from his upcoming album "Guilty Conscience".
90. Mayer Hawthorne, "Back Seat Lover"
Edd said: Everything Mayer Hawthorne touches is addictive and tons of fun. This is no exception.
89. Lyfe Jennings, "I Am"
Edd said: Lyfe's always been very motivational and this album cut urges strength in tough times.
88. John Legend & Seal, "We Loved It"
Edd said: Surprisingly, this bonus track from John Legend's latest album surpasses most of the album cuts. Don't sleep on it.
87. Omarion featuring Pusha T & Fabolous, "Know You Better"
Kyle said: Maybach O has been trying to find a new sound for a minute now and he may have finally found it with this banger.
86. Bradd Marquis, "Happy Home"
Tom said: In 2013, Bradd Marquis finally started to get the credit he was due. Major media is finally taking notice of the soul man who has been making great music for years. He released "Thank You" in 2013.
85. Leigh Bush, "Ms. Bartender"
Tom Said: Leigh Bush really made an impact in 2013 with the Leigh Bush Project and showing his growth since being known as Sammie. "Ms. Bartender" was a standout from the EP.
84. Jade Alston, "If I Was Your Girl"
Tom said: Jade Alston has overcome so much in her young career, and the Philly songbird gave us something really special with "If I Was Your Girl". The best is yet to come.
83. Robert Glasper Experiment featuring Jill Scott, "Calls"
Edd said: Jilly's voice just glides along this track blessed by Glasper's Experiment band.
82. Bilal, "Astray"
Edd said: I'm a sucker for electric guitars. Listen to this one wail alongside Bilal's vocals.
81. TGT, "Take It Wrong"
Edd said: I can't front, of all the tracks from TGT's latest album, this is the one that got the most play on the iPod. I call it the Eddpod.
80. Tiara Thomas, "Bad"
Edd said: I wasn't that fond of the original version of Wale's "Bad" (those squeaking bed coils were VERY annoying). But Tiara's solo version was a fun ode to bad girls.
79. Ariana Grande & Nathan Sykes "Almost Is Never Enough"
Edd said: Remember what I said earlier about the art of the ballad? Thank Ariana for keeping it alive.
78. Chante' Moore, "Don't Make Me Laugh"
Edd said: If your introduction to Chante' Moore was through the R&B Divas: LA reality show, step your game up. She's been doing it big for years. This proves it.
77. Avant, "Gratitude"
Tom said: "Gratitude" is classic Avant. One of our favorites from his 2013 album "Face the Music".
76. Luke James, "Hurt Me"
Kyle said: Luke James incorporates influences from multiple genres to create "Hurt Me".
75. Kelly Rowland, "Down On Love"
Kyle said: Consistency is something Kelly has struggled with in the past, but her latest album is great. "Down On Love" is a prime example of her growth as an artist.
74. Brian McKnight, "4thof July"
Edd said: My favorite track from Brian's most recent release.
73. Raheem DeVaughn, "Complicated"
Tom Said: It wasn't easy choosing which Raheem Devaughn songs would make the list since we love the whole "A Place Called Loveland" album. "Complicated" is a standout album track.
72. Drake featuring Majid Jordan, "Hold On, We're Going Home"
Edd said: Yeah, I know, Drake annoys me too. But when it comes to R&B offerings, this is his best yet.
71. John Michael, "Just A Man"
Tom said: John Michael made a serious statement as an indie artist taking us back to the 90s. "Just a Man" was the second single released from his debut album.
70. Maxine Ashley, "Perpetual Nights"
Kyle said: Newcomer Maxine Ashley's harmonies shine bright on a very dark beat. This song reminds me of Beyonce's collaborations with The Neptunes.
69. Jennifer Hudson featuring T.I., "I Can't Describe (The Way I Feel)"
Kyle said: Normally known for her ballads, J-Hud surprises us with this smooth and groovy track. It doesn't hurt that T.I. and Pharrell are part of this song.
68. Glenn Lewis, "All I See Is You"
Tom said: Glenn Lewis finally returned with an official sophomore album after keeping his fans waiting well over a decade. "All I See Is You" is a great album cut from the project.
67. Keyshia Cole, "I Choose You"
Kyle said: It took almost a year for Keyshia to release a video for this song, but we're glad she did. This is classic Keyshia Cole right here.
66. Ledisi, "I Blame You"
Kyle said: Ledisi, Chuck Harmony and Claude Kelly reunite to create the feel good joint "I Blame You". They were also the creators of Ledisi's previous single "Pieces Of Me".
65. Raheem DeVaughn, "Love Connection"
Tom said: "Love Connection" was the lead single from Raheem's "A Place Called Loveland" album and featured him going in a fresh direction.
64. Mack Wilds, "Own It"
Edd said: Y'all know I'm a hip-hop head and Mack Wilds stays true to the culture with this one.
63. Chrisette Michele featuring 2 Chainz, "Charades"
Edd said: For nearly 12 months, this has been in rotation in the Eddmobile. Still loving it.
62. Luke James, "Mo' Better Blues"
Edd said: The achy closing track from Luke's Whispers In the Dark mixtape is one of its true standouts.
61. Mayer Hawthorne, "Wine Glass Woman"
Kyle said: What else needs to be said about the surprise of the countdown Mr. Hawthorne?
60. K. Michelle, "The Right One"
Kyle said: From the truthful lyrics to the heartfelt vocals, this is the song that would describe K. Michelle as an artist.
59. Donell Jones, "Sorry I Hurt You"
Tom said: Donell released a very solid project in 2013 with "Forever", and "Sorry I Hurt You" was our favorite on that album.
58. Kelly Rowland featuring Kevin Cossom, "Talk A Good Game"
Edd said: Kelly's album exceeded my expectations, it's probably her best work. Add this track to the list of successes she's achieved this year.
57. Justin Timberlake, "Spaceship Coupe"
Tom said: Timbaland and Justin Timberlake had a plan in 2013, and on "Spaceship Coupe" they had Justin taking us back to the 90's r&b.
56. Robert Glasper Experiment featuring Brandy, "What Are We Doing"
Tom said: Robert Glasper has a knack for bringing out the best in artists, and it was no different on "What are we Doing" with Brandy.
55. Robert Glasper Experiment featuring Emeli Sande, "Somebody Else"
Edd said: This tale of reinvention in the face of adversity is one of my favorite tracks all year.
54. TGT, "Weekend Love"
Kyle said: Tank reunites with his production team The Underdogs to create this bedroom smash for his group TGT.
53. Avant & KeKe Wyatt, "You & I"
Edd said:  KeKe is one of the most underrated singers in the game today – maybe THE most underrated. She's the gasoline on this already hot track.
52. TGT, "Burn Out"
Tom said: You could not deny the success that TGT had in 2013, laying the blueprint for supergroups in r&b. "Burn Out" was a personal favorite album track.
51. Amel Larrieux, "Afraid"
Edd said: Groove Theory seems like a lifetime ago, but Amel is still producing memorable tracks.
50. Joe, "Baby"
Tom said: Joe's 2013 album "Doubleback: Evolution of R&B" showed why the legend still has a prominent place in r&b.
49. Brian McKnight, "Sweeter"
Tom said: The legacy of Brian McKnight continues to grow as he churns out hits like 2013's single "Sweeter".
48. Raheem DeVaughn, "Wrong Forever"
Tom said: Raheem DeVaughn successfully took it old school on "Wrong Forever", some of his best work on "A Place Called Loveland".
47. Lyfe Jennings, "Boomerang"
Edd said: More Lyfe lessons. Fellas, listen to the homie, Lyfe is speaking truth here.
46. Elijah Blake featuring Common, "XOX"
Tom said: Elijah Blake established himself in 2013 with his "Bijoux 22" EP led by the No ID produced "XOX".
45. Tamar Braxton, "All The Way Home"
Kyle said: We all knew Tamar Braxton could sing, but she sounds amazing on this track.
44. Justin Timberlake, "Take Back The Night"
Edd said: If Michael Jackson ever had the opportunity to work with Timbaland, I bet it would sound something like this.
43. Chrisette Michele featuring Wale, "Rich Hipster"
Tom said: "Rich Hipster" was a standout on Chrisette's "Audrey Hepburn" mixtape, and it was a great decision to include it on her album "Better" also.
42. RaVaughn, "Best Friend"
Tom said: Ne-Yo's protege RaVaughn released the smash "Best Friend" in 2013 and gave us great hopes for the young singers future potential.
41. Marques Houston, "Give Your Love A Try"
Kyle said: MH came back with a more mature sound and he got our stamp of approval for creating this musical joint,
40. Ariana Grande, "Baby I"
Edd said: Playa, I'm a grown man but even I love reciting the super-fast  "Every time I try to say it/Words, they only complicate it/Baby, baby" hook. In the car (with the windows up).
39. K. Michelle, "When I Get A Man"
Tom said: Although K. Michelle didn't choose this one as a single, we thought it would have done great for her. Couldn't really argue with her choices though.
38. Janelle Monae' & Miguel, "PrimeTime"
Edd said: This joint sounds like it was lifted from Prince's landmark Purple Rain album. That's the highest compliment I can give any song this year.
37. Kelly Rowland featuring Wiz Khalifa, "Gone"
Kyle said: Probably would have been a hit if the single was pushed properly. Kelly has never sounded better than on this track, which was produced by Harmony and written by Sevyn Streeter.
36. Chrisette Michele, "Love Won't Leave Me Out"
Tom said: Chrisette is dominating our 2013 list, and for good reason, her fourth album "Better" is arguably her best and one of the years best albums.
35. Janelle Monae' & Solange, "Electric Lady"
Tom said: Despite her snubs in the award shows, we had to give Janelle Monae props for giving us one of the best albums of the year.
34. Ariana Grande, "Honeymoon Avenue"
Kyle said: This song took me back to JoJo's debut album. Oh and Ariana sounds great at usual.
33. John Legend, "Open Your Eyes"
Edd said: Shout to to Bobby Caldwell and Common – JL does both of them justice with this outstanding cover.
32. Chrisette Michele, "Let Me Win"
Tom said: Our favorite album track from Chrisette's "Better" album.
31. Mariah Carey & Miguel, "#Beautiful"
Edd said: I don't know if we'll ever see that fabled Mariah comeback album but if we do, I hope it sounds like this.
30. Luke James, "Love Chile"
Tom said: We loved Luke's "Whispers in the Dark" EP, and "Love Chile" is a song with an energy that embodies why Luke is so good live.
29. TLC, "Meant to Be"
Kyle said: Always good to see new music from TLC. However, the star of this song is Ne-Yo who proves to everyone that he can still write a pretty decent R&B record.
28. Justin Timberlake, "Tunnel Vision"
Edd said: Hands down, my favorite beat of the year. The production is outstanding.
27. Justin Timberlake, "You Got It On"
Edd said: Do the kids still say "grown and sexy?" Because that describes this song perfectly.
26. Fantasia, "Ain't All Bad"
Tom said: 2013 was a big comeback year for Fantasia, and "Aint All Bad" was a big standout that showed what her and Harmony Samuels do best together.
25. Mario featuring Nicki Minaj, "Somebody Else"
Kyle said: Mario's streak of strong first singles continues. Nicki Minaj's rap was the cherry on top.
24. Justin Timberlake, "TKO"
Edd said: My guilty pleasure. I don't condone grown men talking about "that coochie-coo" but this song is highly addictive. Like that coochie-coo, I guess.
23. Daley, "Look Up"
Kyle said: It's only a matter of time before Daley becomes a force in R&B. The UK singer is off to a great start with this song.
22. John Michael, "Arrive"
Edd said: One of the best discoveries I made this year was John Michael's music. This is my favorite track.
21. Justin Timberlake featuring Drake, "Cabaret"
Tom said: It's been said that the second part of Justin Timberlake's "20/20 Experience" wasn't as cohesive as the first, but "Cabaret" was definitely a standout.
20. Tamar Braxton, "The One"
Edd said: Tamar has a great story and I'm glad she's getting a second chance at a music career. In my mind, this song sealed the deal for her success.
19. Ariana Grande featuring Big Sean, "Right There"
Kyle said: If you're going to sample Lil Kim, you better come correct with it. Guess what? Ariana does just that.
18. Fantasia featuring Kelly Rowland and Missy Elliott, "Without Me"
Edd said: Three femme fatales on one track, Tasia, Kellz and Misdemeanor go extra hard on this one.
17. Ariana Grande featuring Mac Miller, "The Way"
Kyle said: Thalia used the Brenda Russell sample in 2003 to create the smash "I Want You". 10 years later, Ariana uses that same sample for "The Way" and it's a smash once again.
16. Luke James, "Make Love To Me"
Tom said: This Ne-Yo written song was released by Luke at the end of 2012, and this was at the top of my personal list.
15. Chris Brown, "Fine China"
Kyle said: "Fine China" takes us back to Chris' first album. We need more of this from him.
14. Jaheim, "Age Ain't A Factor"
Edd said: Jah's latest album is called Appreciation Day and the first single lives up to its billing. In his eyes, his lady will always be beautiful. Aww.
13. Fantasia, "Lose to Win"
Edd said: Tasia is 2013's comeback kid. Her struggles are no longer excuses, they fuel her fire.
12. Sevyn Streeter featuring Chris Brown, "It Won't Stop"
Tom said: It's hard to really put into words how big of an achievement it was that Sevyn reached the top of the Urban radio charts with "It Won't Stop". It single handedly helped usher real r&b back to urban radio.
11. Justin Timberlake, "Pusher Love Girl"
Kyle said: There should be no question that Justin Timberlake is an R&B artist after creating this song. Let's hope this eventually becomes a single.
10. Tamar Braxton, "Love & War"
Edd said: And I bet you thought that Tamar's music career was over. Playa please. She silenced her critics with this passionate ballad, the likes of which are rarely seen in modern R&B. Welcome back, Tamar.
9. Raheem DeVaughn, "Ridiculous"
Tom said: Another strong contender for the top spot on my personal list and another Ne-Yo written song, this is one of the most special songs of Raheem's storied career.
8. Daft Punk featuring Pharrell, "Get Lucky"
Edd said: Daft Punk and Skateboard P sound like they jumped straight off the Soul Train with a jam even my grandparents can vibe too.
7. Justin Timberlake, "Strawberry Bubblegum"
Edd said: This smooth, infectious cut is undeniable. JT even had the d-boys singing hey hey hey hey hey hey hey.
6. Ciara, "Body Party"
Kyle said: Ciara makes a perfect return with her smooth and sexy single.
5. Luke James, "Strawberry Vapors"
Edd said: Just listen to the notes Luke hits on this airy track. He possesses one of the best voices in the game right now. At this point, he's just teasing us – we need that album, Luke!
4. Robin Thicke featuring T.I. & Pharrell, "Blurred Lines"
Edd said: EVERYBODY GET UP! Yeah, some of y'all are probably sick of this one by now, but you can't deny the impact it made in 2013. There's a reason why it's one of the played songs of all time. Oversaturation may have taken a toll but no matter, you're gonna hear this one at family cookouts for a long time to come.
3. K. Michelle, "V.S.O.P."
Kyle said: We knew right away that this song was "very special". K. Michelle made the correct choice with this song to kick off her debut album. Oh yeah, the beat is banging too.
2. Chrisette Michele, "A Couple of Forevers"
Tom said: In most years, this would have easily been the number one song on the list. But this wasn't most years, and that leads us to….
1. Justin Timberlake featuring Jay Z, "Suit & Tie"
Edd said: A song six years in the making, JT stepped back in the game with a more mature sound but the same infectious energy that he's know and loved for. The secret to JT's success is constant evolution. While others follows trends, he makes them. It's why Justin is tailor-made for stardom.