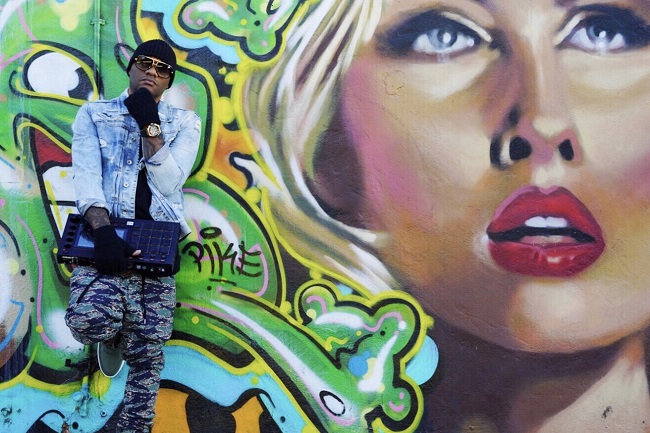 For whatever reason, Tim & Bob just never seem to get the recognition they deserve among top producers that came out of the 90's. After all, they had a hand in some of the biggest r&b hits over the past few decades, and helped create the soundscape for us out of that era that we've all grown to love. Not only that, but they also had a big hand in the discovery of many artists over the years, even if they hadn't gotten the credit for it. No longer a duo, Tim Kelley has found an all new energy in creating good music. His passion shined through with his work on the latest Brian McKnight album "Genesis", and we'll soon get to see the fruits of his labor on the new Bobby V album "Electrik". Perhaps it was no surprise that once he came on board with his own label at SRG, that Bobby would be among his first signees. Their collaborative relationship began years ago with Bobby's debut, and will begin anew with the current project. YouKnowIGotSoul caught up with Tim Kelley to discuss the origins of Tim & Bob, how they found 112, linking up with Dallas Austin, work with Bobby V, what's next for the label, and more.
Read below for some excerpts from the interview, or check out the audio for the full version
YouKnowIGotSoul: We love to hear the history behind the music. Now that we've finally tracked you down, can you fill us in on how you got your start in music and got your big break?
Tim Kelley: Well what actually happened was I went to college for a year and was playing basketball. I was born in Peoria, which is kinda considered a suburb of Chicago. So what happened was, my Dad had a band that was just like Earth, Wind & Fire, they were so dope. There was this one facility the used to practice in, it was a basement, and I used to go there all the time since I was eight years old. When they would leave, they'd leave a lot of their instruments there, because they knew they were coming back the next day. So when they were done, I'd go in there and mess with all of these instruments. Also, my brother taught me how to play the saxophone. So basically I can play a good 13 instruments, everything in the woodwinds and brass families. So just before I went off to college, my mom bought me some equipment, and I learned how to piece stuff together from just watching my dad's band. So when I came home from college for break, I just had kept thinking about music, so I just stayed. I just kept doing demos, and then I ended up meeting Bob through a mutual friend of ours. Bob came over with a keyboard of his and he wanted to sell it to me. From that day on, we were always together. He was in 11th grade, and I asked my Mom and Dad if he could stay with us. His parents ended up moving to New York, and he ended up living with us in Peoria. So the demos came out good, we found people in church who could sing on them, and we had 30 or 40 completed songs written and everything.
Eventually, Bob ended up going out to Detroit, and he met the people where the Winans and Anita Baker record at. They were looking for some producers because they were looking to start a production companies. He played them some of our tracks and they were going crazy. So I went to Detroit. Eventually, I ended up getting really good at engineering my own stuff and making my own drum sounds. Then I met Tony Rich and Mario Winans. Mind you, Mario was just in the 10th grade, and he'd just got an MPC. I ended up getting one myself. This is where the turn happens. There was a group called Rik, Ran & Dan, in which Randy Ran was in the group, he got them a deal in Atlanta. They were signed to Jimmy Jam & Terry Lewis. Randy Ran ended up getting killed in a head on collision, but his friend Paul who ended up replacing him, we did 10 songs with. Around that time, there was a chance we could get in with Dallas Austin. Back then, it was when Arrested Development was popping off, TLC was popping off, Boyz II Men, Another Bad Creation. That was early 1993 when it was popping in Atlanta, all of LaFace was there, Toni Braxton was just coming out. Jermaine Dupri had Kriss Kross and was just about to work with Xscape.
We ended up getting into the studio where Dallas Austin was, and it was a party going on. We got them to play our stuff, and everybody was dancing. Eventually, Dallas pulled us aside, and says "I haven't heard music produced and mixed this well since I've had my studio." He asked us to play some more of our joints, and asked if we could hang around, and he wanted to see us create in front of him. We ended up not even seeing the day light for three weeks. Dallas didn't even end up coming to the studio until a week and a half or two weeks later. We had about 100 tracks done. He asked if we could handle a session on our own. The first thing we did was a remix to "I Don't Wanna Fight" for Tina Turner. After that, we did a remix for TLC. Then we gave us songs for Another Bad Creation album to do, it was their second album. Then we ended up getting on Boyz II Men's album. So Dallas Austin gave us our break.
We ended up with the most songs on that Boyz II Men "II" album. That was a huge break for us right there, because that album is the biggest selling album by an r&b group in the history of music. So that really was our big break right there. After that, everybody started coming to us. Once we fulfilled our contract with Dallas, we told him we wanted our own production company where we could sign acts and label deals and a studio, so we parted ways. After that, our first hit record was for Jon B. Jon flew to Atlanta and we ended up doing "They Don't Know" which was our first #1 without Dallas. Then we did "So Into You" for Tamia. After that we did a couple of other records, and we caught the attention of Dr. Dre, who called us in for The Chronic 2001. We went all the way through with him on that.
YouKnowIGotSoul: There's a story out here that you guys discovered 112 also. Wasn't sure if you just worked the first album or actually found them.
Tim Kelley: After we did Boyz II Men and TLC, Dallas Austin encouraged us to find our own acts. We asked about where the talent was in Atlanta. We kept having acts brought to us. That story is false about how they were singing out in front of club 112. They were called Forte. Me and Bob worked with them, and their demos ended up getting over to Puffy, who named them 112 after the most booming club in Atlanta. Puff hit us up and said he needed us there, he said the magic wasn't there without us, and we knew them better than anyone. He sent for us, and we started with the demos. The second song we did ended up on the Money Train soundtrack, it's called "Let's Make Love".
The same thing happened with Destiny's Child. They ended up getting dropped by Sylvia Rhone at Elektra. We told Randy Jackson, which was the only A&R we knew at the time, we wanted to do a showcase. We couldn't sign them ourselves because at the time we were signed to Dallas Austin. D'Wayne Wiggins from Tony! Toni! Toné! had just got his own label. So what they did was work out a deal with all of us where they signed them to his label, and we started the joints. Then some of the joints we did, Wyclef remixed them, such as "No, No, No". So it looked like they were his group, but it really was our group.
Tony Rich we found him as well. He had an MPC 3000 as well and he brought it to the studio. We would always say, whoever made it out, would bring the rest of the cats in. Tony was the first one we pulled in, he was signed to LaFace, and made "Nobody Knows It But Me" which won him a Grammy. We pulled in Mario Winans as well. Dallas told us that if we could teach him our hip hop side, he'd sign him immediately. So I just put Mario Winans in my basement and gave him two crates of my break beats and showed him how to cut them up. He caught on fast and he got really good. He ended up working with Pebbles and he got the attention of Andre Harrell. He heard it and that's how Mario got signed to Motown. We helped him with his first album, but it didn't anything, so Puffy heard it and put him on his production team.
Carl Thomas was another one. His church used to congregate with our church in Peoria. Heavy D wanted to sign Carl, but he had just started working with Soul For Real. Carl did the backgrounds on that album. What ended up was a bidding war between Heavy D and Puffy. More than half of the r&b on Bad Boy was from us back then. That's how we flew under the radar so crazy. We didn't have a publicist, nobody would tell the real story because everybody wanted to take the credit for the people we found.
YouKnowIGotSoul: Many didn't even realize that Tim & Bob had split as a production team. How did that happen?
Tim Kelley: Bob is like my brother, I love him man. I think creatively, everything changed. Times have changed now that everybody has access to all of the technology. He started doing stuff that just wasn't sounding like the Tim & Bob sound. I was doing all of the drum patters and sampling. I'll give you an example, "Slow Down" by Bobby V is just a bunch of chopped up samples and I put a beat over it. Basically, Bob was doing stuff on his own, and it was too Jazzy, it wasn't sounding like the music we had made before. Me and Bob had a conversation and we decided creatively, he wanted to try it on his own. I was cool with it. He ended up having a song on Tamar Braxton's latest album, "My Man", it did really good for him, I think top 5. What happened with me is I ended up doing Brian McKnight's album. After I got all of the singles, the head of his label SRG asked me to be head of A&R. I've got my own label there as well. They asked me to get a couple of other artists who had sold records already. I tried to get Ginuwine, but he was already in a deal, and it was solid. But that was my perfect introduction to get Bobby V. So we made the deal.
I'm really excited about Bobby's new album, I really went there with this one. The name of the album is "Electrik" and it comes out March 9th. We didn't want to slow down the momentum, since the single "Lil' Bit" has been popping off. We've got everything on here.