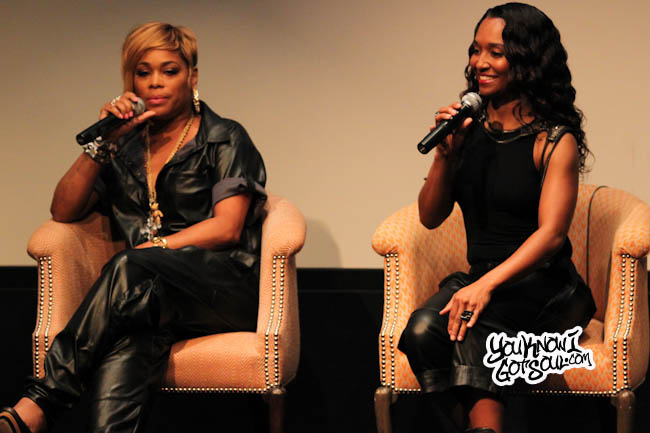 It has been over two years since legendary r&b group TLC originally kicked off their launched their Kickstarter Campaign to fund their final album. Things had been quiet for the most part since, even though the campaign was a huge success, garnering over 4000 pledges and nearly $450,000.
Things appear to be finally headed towards the release of a new album, as the group have just revealed through their manager. The following update was supplied on their Kickstarter page:
On behalf of TLC and myself I want to express our most sincere thanks for your patience on waiting for the album. I am thrilled to let you know that the album is tentatively scheduled to be released at the end of June and you will receive your advance album prior to that. We are working out the official date in the next couple of weeks and once it is final we will notify you.
A June release date is certainly welcome news to their legions of fans who have anxiously been anticipating their first new album in nearly 15 years. Things became a bit more complicated following the tragic passing of Lisa "Left Eye" Lopes, but the album will soon become a reality. Management also shared the following message, addressing the delay of the album:
Let me explain why this album has taken longer than expected. When we decided to do the album it was based on a number of emotional decisions and one of the biggest was how you inspired Tboz and Chilli by your emails and texts asking them to do another album. At the time we had no music, no producers, no writers, and a few ideas. We also were in the middle of rehearsal's for TLC's first arena tour since The FanMail Tour and therefore on the road for most of the year. It was very important to establish TLC's touring credibility and as most of you saw TLC live I am sure you agreed that we accomplished that goal. It took a lot more time to coordinate schedules with writers, TLC's executive producer Ron Fair and recording sessions than anticipated. I could go on in more detail to explain how TLC's touring, schedule, writing schedule and producing schedule was delayed but the simple fact is that Tboz & Chilli were inspired to make a record that they could be proud of and they would not settle for less and sometimes you just cannot rush art. They demanded of themselves a record that would stand up to the great body of work created in the past and that you would be proud of; because your belief and support is the greatest form of love and we want you to be proud.
Stay tuned as more details emerge about the release of the final album from TLC.