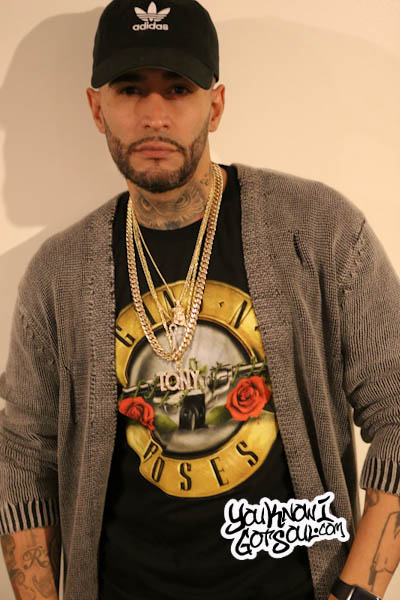 While it's natural now for hip hop artists to blow up and then bring singers into their crew to help break as well, Big Pun was one of the originators of that back in the late 90's. Following his massive success as a solo artist and with Terror Squad, he discovered Tony Sunshine and begun putting him on many of the records he was putting out. Unfortunately Pun didn't live long enough to see his protege achieve the heights of success, but here we are over 15 years later and Tony Sunshine is still moving forward. His long awaited debut album has still yet to be released, but he now seems more poised than ever to deliver on that promise. YouKnowIGotSoul sat down with Tony Sunshine prior to his performance at our Sol Village show in NYC and discussed his recent hiatus, the status of his long awaited debut album, how he's had to adapt to the changing industry, memories of Big Pun, and much more.
YouKnowIGotSoul: For those who haven't kept up with your journey over the past few years, catch them up on what you've been up to.
Tony Sunshine: I was sort of retired, you could say. During that process, I was recording here and there. I put out several songs expressing myself to the fans and letting them know of my whereabouts and what I was doing. I gave them insight into my situation. To my surprise, the fans have been very supporting and understanding. Now I'm making a comeback into the industry. Everyone is receiving me with open arms. I've got the new single "Close". We got the second single "Dance" we're going to follow up with. We're just making sure we make quality music the world can feel and that we can get on stage and have a presentation for the people. With the way music is going right now, it's difficult for an r&b singer to make real music. If it's not with a trap beat and you're not mumbling, no disrespect to all of the great artists out there doing what they're doing, I'm not hating, I'm just saying it's difficult for r&b singers right now to make quality music.
YouKnowIGotSoul: How has that made you have to do things differently?
Tony Sunshine: Being gone for so long and coming back into the game, I'm the type of person to reinvent myself pretty often and I can adapt to pretty much whatever genre is popping at the moment. For the last year, I had to get out of my bubble. When I first came back into the booth, I starting rapping. I've always had a passion for rap, and I might not be the greatest rapper, but I'm better than half of them out there. When I first got into the studio once again, and I started hearing the beats, the anger and bitterness was coming out of me. I guess somewhat I was also being brainwashed by what was going on today. I thought that to fit in, I had to do what was hot right now, which is not the case. I had to fall back and rethink and get into the studio and listen to real r&b music. This is what I do and this is what I need to do. I need to stay here. Forget about what everybody else is doing, this is what I do. I pretty much feel like I'm one of the inventors of that r&b thug gangsta shit. If it wasn't me it was Nate Dogg, I was called the East Coast Nate Dogg. It is what it is, we're gonna switch it up on them and make real r&b music.
YouKnowIGotSoul: You recently had another song called "Danger" with Chris Rivers for which you put out a video. What was it like collaborating with the son of Big Pun?
Tony Sunshine: It is a blessing. When I first got wind of him taking the rap thing serious and wanting to make a career out of it. I most definitely wanted to make a record out of it. Due to the fact of the negativity and things that transitioned over the years, I just wanted to give him his space. I had this record "Danger" which Free Smith produced the beat. It was one of the first beats I got when I started recording again and one of the first I sang to. I think that they were having a conversation with one of his people and my name came up. They played the music for his people, and he loved it and sent back his verse, and we chopped it up, and we did the best job we could do with the record. Did the record do well? I believe it did what it should have. It showed the hip hop community that Tony Sunshine is doing well and looking great. I think it showed the unity between the spirituality and love I have for Big Pun. It was overdue and I think that was God's plan. I didn't get to create the magic with him in the studio, but it was still a blessing.
YouKnowIGotSoul: You should know we along with many of your fans have been anticipating your debut album for many years. What's the latest on that?
Tony Sunshine: I think at one point I had the most anticipated album of the year for like 10 years straight. *Laughs* If I tell you that I'm on my r&b 2Pac shit, and I don't mean being a gangster or none of that, but with the songs. I have over 150 or 200 records recorded. We have so many EP's and LP's. It's just picking the best records to put the best possible album together. To be anticipated that long and come out with a bogus album, it wouldn't be ideal. We waited this long, we're just going to wait a little longer and make sure we make the best possible record for the fans.
YouKnowIGotSoul: You've been through so much in this industry. Has there ever been a time when you were close to releasing your debut?
Tony Sunshine: We're not going to get into how many deals I've had. I don't think there is a label that I was signed to that we didn't deliver an album. Every time the album got ready to be mixed and mastered, it was always a situation. That's neither here nor there, because Tony Sunshine is a different guy now, a different entity. I'm business savvy and my will is only to win. I can't hit rock bottom any lower. It's only up from here. The weight is off the shoulders with that.
YouKnowIGotSoul: We always like to look back to the 90's and early 2000's of r&b. What was is it like being an r&b singer during that time and making music?
Tony Sunshine: I think I came in right into the 2000's, around 1999. I wasn't introduced into the game until like 2000 really. I had a record on the Terror Squad album "My Kinda Girls", and then I had a record on the second Terror Squad album and was featured all over it. I wasn't really introduced into the game until about late 2000 where people got to see where I look like. We've still got half of the world that don't know what I look like. I've been around for a minute and played my position.
YouKnowIGotSoul: Who are some artists you'd like to collaborate with?
Tony Sunshine: I love all kinds of music. Everybody knows that Nas is my favorite lyricist in the universe. I'd love to collaborate with him on something. Maroon 5 is crazy to me, I would love to work with them. I'm just different. There are a handful of different types of genre of music that I would love to just jump into and people don't realize that I'm really good at those things. They just know me as Tony Sunshine, the guy that sang the hooks for Terror Squad. They don't know the talent and I want to show them. I'm a well rounded artist and I love to make music and create and be different. Hopefully I get the opportunity to show the world that.
YouKnowIGotSoul: We're here many years since Big Pun discovered you and help put you on. What do you think it was that he saw you in originally?
Tony Sunshine: I met Big Pun when I was a young boy. I think that he really gravitated to my innocence. He loved the fact that I could sing, everybody around us were rappers. A lot of people didn't know that Pun really, really loved r&b music. I think at some point he really wanted to be a singer as well. He would call me at 3 or 4 in the morning and say "Yo Twin, sing something for me!". That's the type of love Big Pun had for me. He had this faith and belief and he expressed it many times. It was overwhelming for me. I think that he honestly believed I was going to make a difference in the game.
YouKnowIGotSoul: You certainly have been making an impact all of these years, and only better things to come.
Tony Sunshine: The best is yet to come. There's no other way but up from here. Fortunately for me I'm a vocalist, I can sing forever. I'm not going to be pretty forever, but I'm going to sing forever!
YouKnowIGotSoul: Anything you'd like to add?
Tony Sunshine: New record "Close" is out now. Your boy is back. Holla at your boy ladies. BX to the death of me.