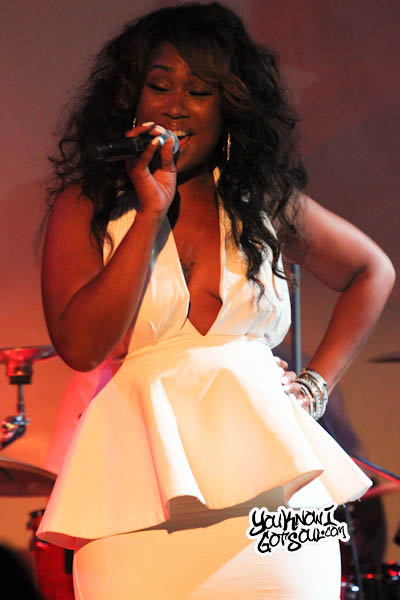 When it came time to pick out a guest editor for the Sunshine Anderson feature, I knew I could call on one of the most passionate fans of r&b music I've ever met Miss Birmingham. Big shout out to her for the feature and for continuing to be one of the biggest supporters we have on the site!
10 ) Heard It All Before: This was Sunshine's lead single in 2001 (wow 10 years ago). I will never forget this tune & it will always stay in my head because this was played everywhere in the UK bars, clubs, radios & TV it also did very well in the UK, it peaked at number 9 in the charts.
9) Trust: The first thing that caught my attention on this tune was the beat. It's got that fresh & funky kinda feeling to it, it's a little different from Sunshine.
8) Karma's A Mutha
7) U Doin' It
6) Being With You: This has a nice uptempo beat.
5) Lunch Or Dinner: What I liked about this song was it had a great vibe to it. Sunshine paints a good picture in this song of both a confident man & woman that are both interested in each other. She's telling a man that she can treat him much better than all the other ladies his been with & she will show him so basically lets go to "Lunch or Dinner" & talk. I loved the line: "I can tell that you're used to dealing with chicken heads who have no kind of class."
4) 2nd Fiddle: Great soulful vibe to this song.
3) Being Away
2) Last Night ft Anthony Hamilton: This was also featured on Anthony Hamilton's album "Soulife" 3/4 years later. It just shows how good the song was and still is to this day. Very nice duet & great vibe.
1) Crazy Love : Oh my what can I say about this song. I so can relate to this song as I'm sure everyone that's been in love can. Imaging finishing with an ex & you haven't heard from them in a while then out of the blue they call u to say how much they miss you etc (it just messes with your head right! lol). Well this is what this song is about, basically going back & forth with an ex because love gets the better of you but then you realize the reason why u left in the first place & nothings change "Crazy Love" indeed…
Click Here to read Sunshine's list.