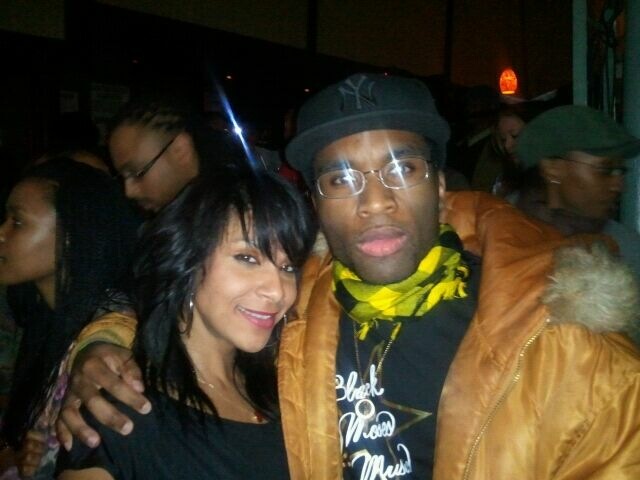 Click Here for Teedra Moses' list.
When it came time to find a guest editor for the Teedra Moses feature, I know exactly where to turn, because I had already tracked down her biggest fan! Check out this top 10 Teedra Moses songs list by @CreativeSwag.
Hey DJ Slam, whassup man its creativeswag from twitter known as James. As you know my favorite artist my #1 is Teedra Moses! I Love her music because she has her own sound, she doesn't sound like no one in the industry. My favorite songs that I like of hers and have on repeat would have to be:
1. No More Tears (Complex Simplicity album) I like that song because i can relate to it in so many ways, I've been through that and love the way she sings on the song!!
2. Caught Up (Complex Simplicity album) I love the beat and I love the lyrics and the music; i've been caught up with people that i like in my life so i can relate to that song!
3. I Think of You (Shirley's Song) (Complex Simplicity album) I love this song in so many ways. I think it was so sweet for Teedra to make a tribute to her mom, the words are just beautiful and her voice just slays lol.
4. For A Lifetime (Complex Simplicity album) The song is beautiful, the words are just right and the song fits me "sure as all that breath will die and showers fall from april skies a heart that's pure wont be denied the kinda loving that will rock ya the kinda loving that will keep u hold you for a lifetime." That song spoke to me telling me to not give up on that special person their out there.
5. Future World (Young Hustla: Live in the jungle vol.2 mixtape) I love this song soooo much love the beat and the way teedra flows on this record.
6. Closer (Young Hustla: Live in the Jungle) I love this song because it sounds like one of the oldies but goodies type songs that my moms used to listen to way before my time, and teedra sounds amazing!
7. Your Sweet Love (Lionhearted Mixtape Vol. 3) I love this song soooooooo much. It's a song I have on repeat because I love the way teedra sings it. Then there's one part in the song where teedra just brings in each harmony at a time it just blows me away!!
8. R U 4real (The Royal Patience Mixtape Vol. 4) Love this song! I can relate to it because you really wanna know if a person is for real or are they just playing games, and if they for real can the handle what you have to give to them!! This song is me all the way :)
9.Take it away (Interlude) (Royal Patience) This is a song that is special to me everytime i hear it I just have it on repeat, I go to sleep to this song i wake up to this song even though its a short interlude its a very special favorite! I love how Teedra blends her voice in with the guitar and the harmonies are just gorgeous!!!!! Then the words to the song "pardon me I'm a day dreamer i keep my head in the clouds life's still beautiful I'm a believer to hell wit the bullshit baby make me smile cause life should be an after party and love should be a sweet champagne make it good take it away." Those lyrics are just amazing, when i listen to the song i feel at peace and ease like I can go to a faraway place and it will be mellow no violence no negativity no nothing; this song makes me feel better if im going through bad times!!!!
10. All That I Have (Royal Patience Mixtape Vol.4) This song is special because I remember hearing it on a logo series show called "Noah's Arc." I loved the flow of the song, and the way Teedra sings it. I also remember hearing it when i went to one of her websites and the song would come on!!
I love Teedra Moses to def!!!!! Those are my top 10 favorite songs. If I really had to choose though I would say I can't and don't have a favorite because I love all of Teedra's songs, she can do no wrong in my eyes when it comes to making music! I have supported her since 2004 bought so many copies of Complex Simplicity and have been introduced to her mixtapes. I call myself part of the Team Teedra fam. I am always going to support her 100% percent and ride with her til i leave this earth!!!!!!!! Teedra Moses does no wrong in my eyes. I had the experience of meeting her at SOBs 11/18/10 and it was a amazing experience, she is so sweet and humble, and so real, and she knows how to connect with her fans, and has an amazing stage presence! i hope to see her make it real big and can't wait for her sophomore album!!!! I will buy copies!!!!!! Thank you Mr. DJ Slam for letting me list my favorite 10 songs by my favorite artist Teedra Moses, it means a lot to me!!!! Thanks again man much love and God bless!