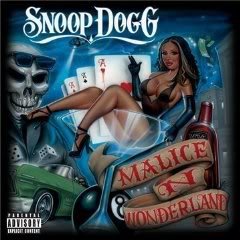 Snoop Dogg is preparing the release of his 10th studio album called "Malice N Wonderland" and the tracklisting has just released. As usual, Snoop brings an all-star cast with him. Eight of his nine albums have gone platinum so far, so it's obvious he's one of the biggest names in hip hop today. Thus far, the first two singles "Gangsta Luv" and "That's the Homie" have not done much on the charts.
Click Below for tracklisting
1. Intro
2. I Wanna Rock
3. 2 Minute Warning
4. 1800 feat. Lil Jon
5. Different Languages feat. Jazmine Sullivan
6. Gangsta Luv feat. The-Dream
7. Pronto feat. Soulja Boy
8. That's Tha Homie
9. Upside Down feat. Problem & Nipsey Hussle
10. Secrets feat. Kokane
11. Pimpin' Ain't EZ feat. R. Kelly
12. Luv Drunk feat. The-Dream
13. Special feat. Brandy & Pharrell
14. Outro
"Malice N Wonderland" will be in stores December 8th.