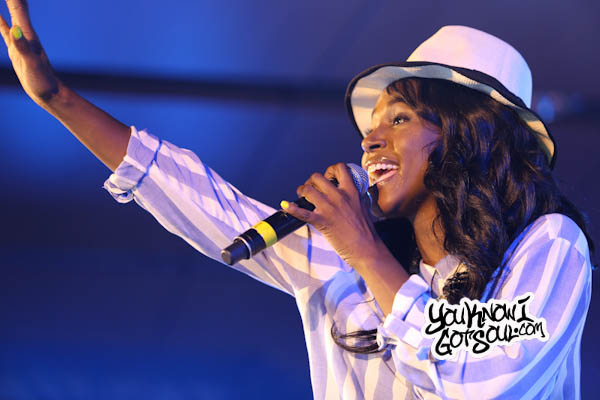 One of the most exciting stories of 2016 in r&b was the return of Tweet. Following a ten year hiatus, the southern hummingbird made a triumphant and very successful return with the album "Charlene". Not only did it lead to great reviews, but she was also able to go on a nationwide tour and put herself squarely on the r&b radar once again. In fact, she gave fans exactly the album they were hoping for once she did finally decide to return. YouKnowIGotSoul sat down with Tweet prior to her performance at the Raheem DeVaughn holiday concert in DC and discussed the "Charlene" album, her successful return, the spiritual journey back, and plans she has for 2017.
Interview by Zeplyn Tillman
YouKnowIGotSoul: We spoke with you earlier in the year before the album came out, and this has been a real successful comeback year for you. What has it been like?
Tweet: It's been a roller coaster ride. You think out of sight out of mind being gone for ten years, people will forget about you. But the love has been phenomenal so it's been uphill and exciting; to still be loved after so many years.
YouKnowIGotSoul: In another interview you talked about the spiritual journey you went through as well leading to the album. What was that process like?
Tweet: This industry can drag you into places you'd never thought you'd be. So my spirit was off. I had to get it back together in order to do justice to the music, so that's what I decided. In 2005 after the music business took me there, I had to get it back together. From 2006 until now, I had to get God in my life and have that relationship number one in order for him to give me this right here, this moment.
YouKnowIGotSoul: After you dropped the album "Charlene", what has the mindset been? Did you want to rest or get back to work immediately?
Tweet: I wanted to get back to work immediately. Although at some points I wanted to give up on music still, because the business is just as bad as it was when I left in 2005. But I'm learning that I have purpose to be here. So I'm good at wherever He takes me.
YouKnowIGotSoul: With this music industry ever changing with technology, it seems like it's hard to find a place of peace and stillness. What are some things you do to disconnect?
Tweet: I'm a simple girl. I just like the simple things in life. I don't get tied to the music industry where you have to be on social media all day. I enjoy just being around my family and my loved ones. It's just the simple things. I'm an easy date, as someone would say! *Laughs* I'm a cheap date! I don't do what the average these days so. I'm chillin in my sweats and sneakers and t-shirt. I can do that all day.
YouKnowIGotSoul: For 2017, have you thought about what it has in store for you musically?
Tweet: I'm going to ride the wave. "Charlene" was a great setup record, so I'm just going to ride that and continue to do the music that I love. I don't want to try to do music or satisfy anyone else's ears; it has to come from here first and what I love. "Charlene" set it up great. I don't think I steered too far from "Southern Hummingbird", so I'm in a great position to just ride the wave. Plus my daughter, she's going to be releasing music this year. I'm excited to go down that avenue.
YouKnowIGotSoul: If you had two or three things to pass down about life that you know for certain these things are true, what would you say those are?
Tweet: Be true to yourself. Never compromise.