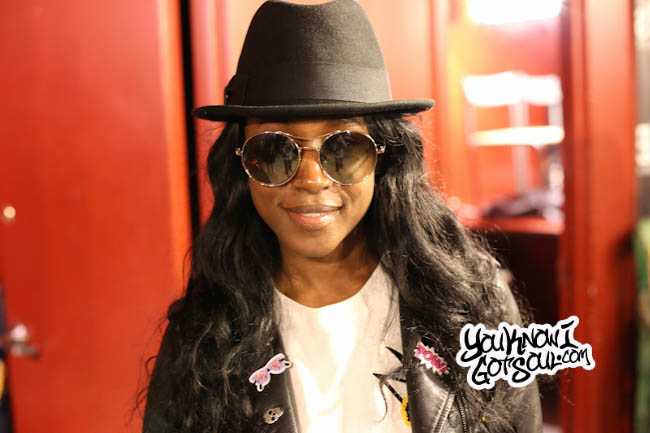 Many artists choose to go on hiatus for various reason over the course of their careers. The return is usually well received, but not always successful. For Tweet, it's been both. When she released her "Charlene" album after a 10 year hiatus, r&b fans were ready. In addition, the return has been extremely well received by the media. Perhaps most importantly, the album is one of the best in r&b this year and it's allowed Tweet to have her own nationwide tour. YouKnowIGotSoul caught up with Tweet during the NYC stop on her tour and discussed creating the "Charlene" album, making it so close to the style of "Southern Hummingbird", reintroducing herself to fans, the tour, looking back on her group Sugah, and more.
YouKnowIGotSoul: We're here at the New York City tour stop of your "Charlene Tour". How has the experience been so far?
Tweet: The tour has been phenomenal. Sold out places, the love has been tremendous, we just did Atlanta and it was ridiculous. I've been really enjoying the love and being on stage again.
YouKnowIGotSoul: When we reviewed your new album "Charlene", we mentioned how close it came to "Southern Hummingbird" and how happy your fans were going to be to hear you stick to that sound. Talk about what influenced the album.
Tweet: I always wanted to just stick with the game plan. The second album I kind of compromised and did some sounds that really weren't me. This album, I really wanted to get back to the basics, back to "Southern Hummingbird" and the sound that everybody loved. It's really who I am. The music these days, I feel that soul is missing, so my purpose was to really put out good soul music and an album you can put in and just ride. Real good timeless music. There was no blueprint, I was just doing something I loved and trying to put some soul back into the industry.
YouKnowIGotSoul: I was reading another interview you did where you mentioned you matured during your hiatus between albums. To us you're such a complete artist with the overall package. In what ways would you say you've matured?
Tweet: I've matured spiritually. Before I was kind of weak in areas. Not comfortable in the skin I was in or the artist I wanted to be. In my hiatus, with me rededicating my life to God and just really knowing that this is what I'm created to do. I'm standing firm in who I am. I'm not afraid to scream, whisper, whatever I want to do to be creative in my attempt to be creative. That's how I've matured. Before I was timid and scared to step out there.
YouKnowIGotSoul: Since your last album the industry has changed so much, r&b has evolved so much. Did that force you to adapt in any way?
Tweet: I never wanted to be like anybody else or follow suit. I always wanted to just be me. Being that the second album, my compromise and trying to follow suit, didn't work out well, I said let me just be me. Whatever is going on in today's industry it doesn't really make me want to change. I just want to continue to be me.
YouKnowIGotSoul: It's been so awesome watching the rollout of "Charlene" and how so many are embracing this return. Talk about the challenge it's been to reintroduce yourself to those who didn't know where you went all of that time.
Tweet: It's been really easy. For me, in the beginning I was very worried, paranoid, scared to put it out because it's been 10 years. You think out of sight, out of mind. When the album dropped and it did very well and the love and the reception was there, it's been phenomenal. People have been asking where I've been and then they understand when they hear the story. It's been easy for me to tell them and they understand because they feel like they've missed me so I'm just appreciative and happy that people are loving it.
YouKnowIGotSoul: One of the cool things about "Charlene" was the reunion song with Missy Elliott and Timbaland on "Somebody Else Will". We're used to hearing loud over the top Timbaland productions but it felt like you really pulled him into your lane this time. Talk about the creation of the song.
Tweet: You know I had nothing to do with it! I wish I could take credit but that was Missy and Timbaland. Being that we've grown up together in the business, we kind of know each other, Missy sent that song knowing I'd love it and it fit me well. Then I added my little Tweet at the end. It was all them knowing that I needed. It was a great song.
YouKnowIGotSoul: Going through this great resurgence in your music right now, what do you look at as the future for your music?
Tweet: My goal is to be keep putting out music and stay on the road. I think we still haven't hit that plateau where everybody knows I'm out and the shows are going on. So my focus is to get more exposure so people know. So I'll continue to put music out and be on stage.
YouKnowIGotSoul: You're not the only one in your family who's created a movement in music. Your daughter is an amazing talent in her own right. What advice have you given her as she begins her music career?
Tweet: She wanted to be in the business a long time ago and I told her no. It was a lot I was going through and since 1994 with DeVante, I was like "No Way!" But as she's gotten older, she's 26 now, she kinda has seen my journey and she trusts what I say. My biggest thing is to be yourself and never compromise because that's what I did. Never try to do what you're not comfortable with. If you're not a country singer don't try and sing country. Just be who you are and express yourself. I think that's the number one that's stuck with her and made her who she is.
YouKnowIGotSoul: Lastly, we've always gotta come back to Da Bassment when we talk to you. Looking back at your history with the group Sugah, imagine if the group had taken off, where do you think Tweet would be now? It's interesting that their sound was a contrast to yours as a solo artist.
Tweet: I don't know! I can't say! I just know that a lot of my writing style is still the same, so it might not have been different. I really wish we would have been able to take that step and let the world hear us and hopefully we'll do something in the future so people can hear.
YouKnowIGotSoul: We see you guys still interacting on social media.
Tweet: Yep, we're still friends and we still do the group texts. We talk, we laugh, we're still sisters and we're still tight.
YouKnowIGotSoul: Anything you'd like to add?
Tweet: Just thank you guys for the love and the support and I won't stay gone for 10 years again! Look me up on all of my social media sites. Instagram is @Tweet_ and Twitter is @MS_Hummingbird and the website is IAmTweet.net.