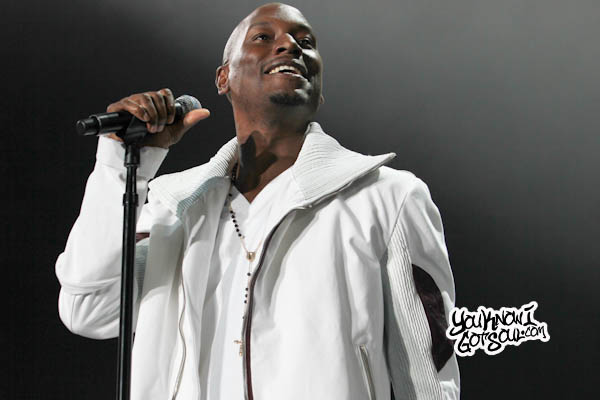 Just recently, he released a short film called "The Black Book" which features two songs from his album ( "Waiting on You" and "Prior to You") as well as the duet "You Can't Break Me" with V. Bozeman. Tyrese just started shooting for his scenes in the new Fast & Furious 8 movie, but he's still heavily promoting his "Black Rose" album. The CD, which Tyrese has said will be his last, debuted at number one on the Billboard 200 charts and it doesn't look like the project is finished yet.
If "Black Rose" really is Tyrese's last album, could you really think of a better ending? He'll be finishing on top and there won't be any "what if" moments left for him. Though it's possible that we may see another TGT album or even one more solo project from Tyrese, we'll take this time right now to look back at some of his greatest moments in R&B starting from his debut album to his latest CD. Here are Tyrese's top 10 best songs:
"Nobody Else" was the song that started Tyrese's career, so it's only fitting that the song makes the top 10 list.
This was a stand out on Tyrese's "Alter Ego" album. The CD will be remembered as Black Ty's debut, but there were solid R&B gems like this song on there as well.
Tyrese sounds best when he's singing ballads, but this Underdogs produced record was a standout on his "2000 Watts" album.
Though this single didn't make a lot of noise on the charts, this ballad contains every element needed for a Tyrese song to be great. This song can be found on Tyrese's "Open Invitation" album.
The second single from "I Wanna Go There" was just another great addition to his catalogue of strong ballads.
The second single from his debut showed everyone what Tyrese was capable of as a vocalist.
The Grammy nominated single has been on the Urban AC charts for over 48 weeks now and for good reason. The Jennifer Hudson assisted record generated a huge buzz for R&B and the album "Black Rose" ended up topping the charts for many weeks.
Tyrese's first stab at being an independent artist was a mega success as "Stay" ended up being one of his most successful singles. His album "Open Invitation" ended up being nominated for a Grammy for Best R&B album as well.
Although "Nobody Else" and "Lately" were good songs, "Sweet Lady" is the song that put Tyrese on the map and made him one of the most recognized names in R&B.
The single peaked at number 7 on the Billboard 100 charts. It's undeniably Tyrese's biggest record and the one that proved to everyone that he was here to stay.