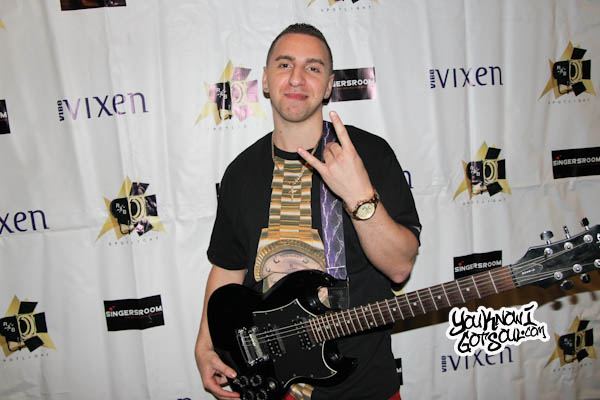 It seems like everyone I meet these days is saying the same thing over and over again, "Yeah man, I sing." Or "I'm a producer, I make beats." That is a completely different story when it comes to me, Gaetano DiNardi. It appears that in todays music industry, real soul singers are losing the battle to manufactured studio singers, but I invite you to join me in the movement of bringing real singers back into the game. Allow me to introduce myself as "G," the real R&B/Pop artist, producer, songwriter, musician.
What does it mean to be a G? It means being Genuine, it means representing the hard work it takes to achieve Greatness, and it also demonstrates the swag and charisma of a true Gentleman. I'm not going to write some over-hyped bio from a third person point of view, trying to make myself sound like something I'm not. I will put it in my own words from my own perspective.
I was just 10 years old when I recorded, "O sole mio," in my fathers music studio. I began singing Italian songs as a young boy because of my culture and heritage that I embraced from my grandparents, who immigrated from Salerno, Italy. I sang classic songs like "Torna a Surriento" and "O Paese Di O' Sole" at numerous special events and talent shows. It truly marked the beginning of my musical journey.
When I was in middle school I began playing guitar, piano, and drums, and became influenced by many rock legends like Jimi Hendrix and Van Halen. As I developed my skills as a guitarist, I joined several bands in high school, and even went on a tour. As I continued to diversify my musical taste buds, I fell in love with a genre of music that was pretty new to me, r&b/soul.
I quickly became obsessed with artists like Stevie Wonder, Donnie Hathaway, Michael Jackson, Jodeci, Usher, Boyz II Men, and Brian McKnight. The passion and soul in the voices of these artists really inspired the way I sound today.
It wasn't until a few years ago when I started attending voice classes with a professional trainer named Craig Derry, that I knew it was my destiny to be an R&B artist. He developed my voice, and more importantly my ear, to a level that I never thought I would reach. Training in NYC with some of the best talent in the world built my confidence high enough to enable to me to perform at some of the most renowned places in New York, such as the Apollo Theatre, The Village Underground, and The Knitting Factory.
But there's much more to me than just being an artist, I also love the behind the scenes part of music, more specifically production, writing and engineering. I call myself a composer, I do way more than just "make beats." Anyone can learn how to make generic loops or take a sample from a popular song. I always start from scratch, I play the melodies either on guitar or piano, and always create my own vocal arrangements and harmonies.
The mentality is this… "Plan A is getting a deal, Plan B is making sure that Plan A is executed successfully." The combination of smooth, sensual vocals, charm, and swag, is the foundation for what drives my passion and spirit for music. I look forward to sharing my feelings on love, sex, pain, and life through my music.
www.OfficialGmusic.Net
www.facebook.com/OfficialGmusic
www.twitter.com/G_Got_Soul