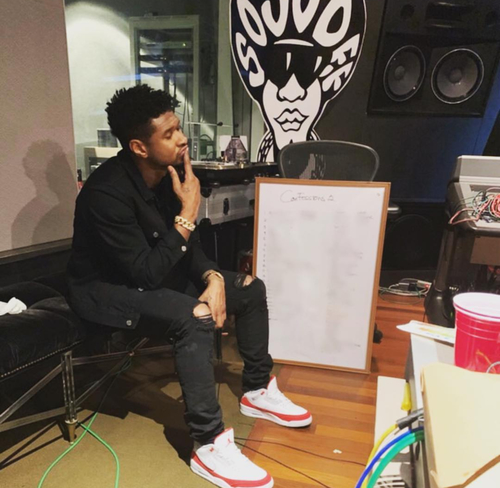 It's been well over a decade since Usher released his most successful album "Confessions" and it seems fans are still begging for a sequal. The project recently celebrated it's 15th anniversary and that only brought out more anticipation of a follow up.
For his part, Usher has gone his own direction on recent projects and deviated from the sound that made him successful originally. That most was evident on his to most recent releases "Hard II Love" and "A".
The singer has just taken to his Instagram account to share some news that will surely get people talking. He's pictured in the studio next to a So So Def sign with a white board titled "Confessions 2". Below that are presumably song titles that are blurred out, but we get the point. Usher simply shared the message "Dis what y'all want?".
Prior to this, his frequent collaborators Jermaine Dupri and Bryan-Michael Cox had been sharing video from the studio sessions with Usher. We had no clue what they were working on but this picture surely gives us a hint.
We'll have to wait and see if "Confessions 2" does eventually materialize. If it does, it would surely be an epic moment for R&B music since we know Usher is more than capable of delivering another classic album.