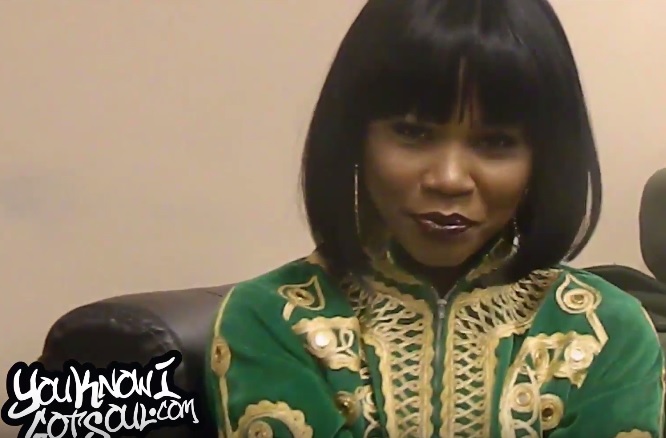 V. Bozeman has emerged as one of the most exciting new artists coming out of the new generation of r&b music. She was introduced to us via her exciting collaboration with Timothy Bloom on "Until the End of Time", and then further established after signing with Timbaland and extensive co-signs from Tyrese. She's already proven that she's not afraid to be herself, and paired with her powerful vocal prowess, she's certainly one to keep an eye on as we anticipate her debut album. YouKnowIGotSoul sat down with V. Bozeman prior to her performance at Raheem DeVaughn's holiday concert at the Howard Theatre and discussed her emergence as an artist, her journey so far, the responsibility she holds as an artist, and more.
Interview by: Zeplyn Tillman
YouKnowIGotSoul: You've had a really fantastic year this year. Tell us a little bit about some of your standout moments of 2016.
V. Bozeman: I had a great year actually. I've been in the industry for a long time. People know me from a song that I did some years ago called "Until the End of Time" with Timothy Bloom. Then the masses found out about me from Empire. This year has been amazing. I'll have an album releasing next year. Just different black events for me have been the highlight. It's been an instrumental year in black America, and I just think that those were the standout moments.
YouKnowIGotSoul: Talk about more about that. In 2016 as a story teller and communicator of the culture, do you feel you have a responsibility even more so now to talk about this black experience?
V. Bozeman: Yea absolutely. I'm an artist. I feel like when you have a platform as big as the one you have, we have to use it. Especially in these times, they are very critical. Really my artistry as a whole is all about that, it's just not about the celebrity.
YouKnowIGotSoul: Being one of the leaders of this next generation of talented artists, when you look at the legacy you're building, how do you want people to remember you?
V. Bozeman: Legacy is very important in terms of bringing your artistry to the world. I just want to be known as one of the artists on the front lines of my people and showing I have respect when it comes to art.
YouKnowIGotSoul: You've been in this industry for a while. Talk about your journey and some of the tips you can pass along to the up and coming artists?
V. Bozeman: I would just tell them to stand by your truth and that it's ok to have your own lane. You have to believe in yourself.
YouKnowIGotSoul: Tonight we have this really fantastic event here at the Howard Theatre. What can the crowd expect from you?
V. Bozeman: Just fun! I don't take myself as serious as people might think. When I'm on stage I just like to let loose and connect with the people and show them different sides of me!