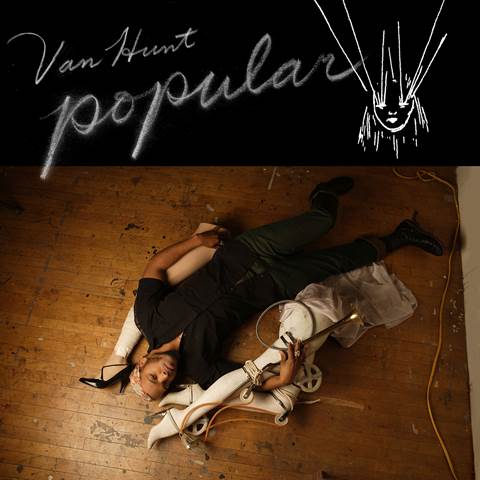 Blue Note Records has released Popular, the previously unreleased 3rd album from singer-songwriter Van Hunt, which was shelved a decade ago. The album is available digitally today.
Popular was originally intended for release in January 2008, but was pulled from Blue Note's release schedule in late 2007 during a tumultuous time for the label's prior parent company EMI. Hunt had been moved to Blue Note's roster following the release of two albums for EMI's Capitol Records: Van Hunt (2004) and On the Jungle Floor (2006).
In 2016, Hunt re-approached Blue Note (now underneath the Capitol Music Group, a division of the Universal Music Group) to reconsider releasing the album. Current Blue Note President Don Was—who has cultivated a movement of forward-thinking artists who blur the lines of R&B, hip-hop, funk, rock and jazz like Robert Glasper, José James, and Chris Dave—readily agreed, allowing the album to finally see the light of day.
"Popular was so far ahead of its time that it sounds fresh today and reaffirms Van Hunt as an important musical voice," says Was. "The opportunity to right this wrong is both karmically and musically solid."
Popular's 14 tracks show the evolution of Hunt's sound from his first two albums, an assemblage of funk, rock, soul and all styles in between that followed in the vein of his primary influences: Prince and Sly Stone. LA Weekly called the album "a left-field stunner" for its "trippy fusion of funk grooves, punk guitar and soul vocals."
"This record is all the way me," said Hunt in 2007. "Without a doubt, it's certainly personal, in its sound, in its lyrics. I wouldn't necessarily call it autobiographical, but it's all about how I feel. Picasso said that art should disrupt, and it does that a bit."
10 years later Hunt reflects back and looks ahead: "I put my whole world into making this record. But looking back, my world was a different place then. I was different, then. I thought my world was all there was. I was to learn that the emotions on that record couldn't overwhelm the events that would befall its release. Piracy, changing technology, collapsing economy – we – this entire industry – went under.
"One lesson remains obvious, though: we are all responsible for the society that births our culture, and the manner in which it is nurtured. And that is why I approached Blue Note with an idea for a fresh start. My strength allows me to be proud of the last 10 years. Their sincerity allows me to be excited about the next.
"I've cried three times in the last 10 years. And none of those were when i was told that Popular wouldn't be released. I cried whenever I felt justified for making that record. In the face of a churning reality, it took one online comment from a listener, and two emails from Blue Note – one with a release date, and one with the album's press release – to let me know I wasn't crazy for hanging on all this time."