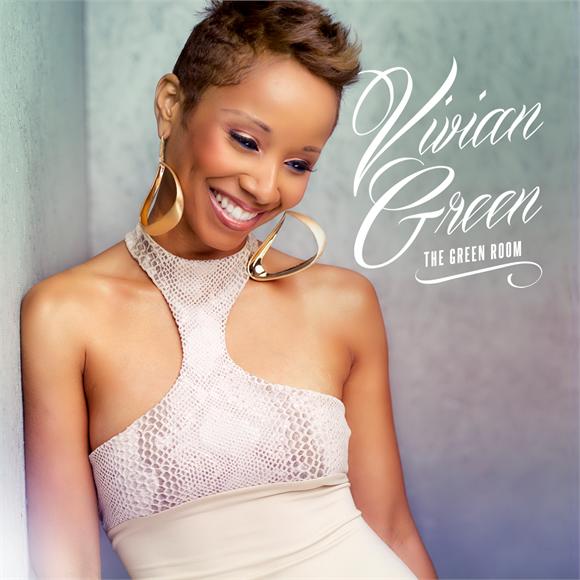 R&B/POP SONGSTRESS VIVIAN GREEN TO RELEASE NEW ALBUM, "THE GREEN ROOM," ON SEPTEMBER 25TH
(New York, NY) – Singer/songwriter Vivian Green is set to release her fourth album, "The Green Room," on September 25, 2012. The upbeat collection of songs celebrates Green's maturing perspective, and is steeped in the emotional immediacy of classic soul while maintaining an unmistakably contemporary sensibility.
Vivian's first single, "Anything Out There," will be serviced to radio shortly.
"I wanted to create music that's fun and sexy and soulful, and songs that are reflective but not morose. That's where I am in my life, and that's the kind of music I wanted to make."
Following on the heels of the wildly-successful "Still Here," her hit collaboration with jazz-funk keyboardist Brian Culbertson, "The Green Room" teams Vivian with a roster of notable R&B producers, namely Phoe, Steve McKie, Adam Blackstone, Vidal Davis and Jason Farmer. Such indelible tunes as "Remedy," "Anything Out There," "Free as a Bird" and "Supposed To Be Mine" brilliantly showcase the artist's distinctive musical gifts.
Her debut album, "A Love Story," featured the urban AC/dance hits "Emotional Rollercoaster" and "Fanatic." She broke new musical ground on her sophomore effort "Vivian," which produced the Number One AC/dance singles "Gotta Go, Gotta Leave" and "I Like It But I Don't Need It." "Beautiful," released in 2010, boasted some of Vivian's most personally charged, emotionally nuanced work to date. Along the way, Vivian has won a reputation as a riveting live performer, sharing stages with such diverse artists as Maxwell, Teena Marie, Chaka Khan, Betty Wright, Q-Tip, Anthony Hamilton and Common.
In 2003, Vivian made her film debut, portraying Billie Holiday and performing the Holiday classic "Love for Sale" in the Oscar-nominated Cole Porter biopic De-Lovely. Two years later, she appeared in the TV series American Dreams, playing the role of Brenda Holloway and singing Holloway's Motown hit "Every Little Bit Hurts." Vivian wrote the music for David E. Talbert's popular all-star stage play Love in the Nick of Tyme, which debuted in 2007.