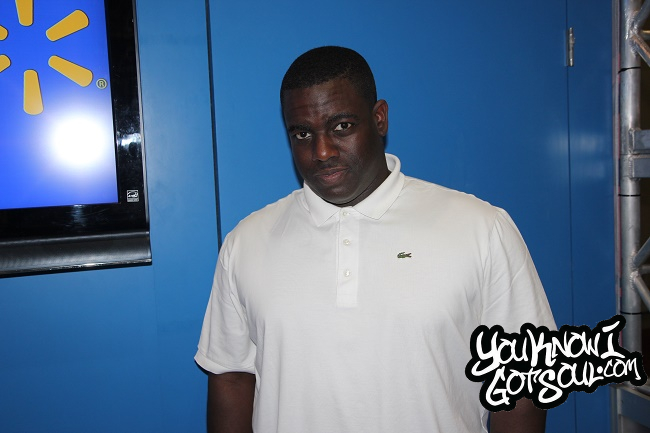 It's amazing that Grammy award winning producer Warryn Campbell has been crafting R&B hits since the mid 90's and the success still hasn't stopped. Just recently, he was nominated at the Grammy's for the Tyrese record "Shame" which has been on top of Urban AC for over 15 weeks. The record "Shame" is the epitome of everything that Warryn Campbell stands for when it comes to creating music. It has to be authentic and it has to reach the soul. Proof of that is his entire discography which has always consisted of real music and lyrics. YouKnowIGotSoul had a chance to speak with Warryn Campbell about the state of R&B and his thoughts on the struggles in soul music right now. Warryn has been in the industry long enough to understand what the challenges are and he breaks them down in the interview. We also briefly touch on the creation of the Grammy nominated song "Shame" and he talks about some upcoming projects that he has going on including JoiStaRR who is signed to his record label My Block.
YouKnowIGotSoul: Talk about the Tyrese record "Shame" and how it all came together for you guys.
Warryn Campbell: That song is special to me for a few different reasons. One is, I made that song with my partner D.J. Rogers nine years ago and for something like that to sit on my hard drive for that long and be virtually untouched, we just put it out. All we did was add Tyrese to it and put Jennifer Hudson on the backgrounds. For it to be received in that way, it spoke volumes to the state of music and what people like and what they still want.
YouKnowIGotSoul: Tyrese is really upset that the song wasn't able to crossover to other formats despite the massive success on Urban AC. As a producer, do you look at the song as a success even though it didn't crossover and reach all audiences?
Warryn Campbell: I consider it a success. The Urban AC is a viable format. You can't look at it and say "It was only on Urban AC" because frankly, it could have not been on the radio at all. I look at as a success and I appreciate the Urban AC format very much because they're still supporting R&B music. With that said, I do feel that "Shame" could have had crossover success if it was given the shot. I think Tyrese is more upset that it wasn't even give a shot. They didn't even try. Play it once, at least once. It's not like Tyrese is making it up because there's so much evidence to support it, but if another artist like Sam Smith or Adele sung the same record, it would be all over Pop radio and it'll be all over KissFM. Like in the case of Justin Timberlake, he's really trying to make R&B music. He's not really tripping on the Pop stuff. He's like "I want to be on the R&B charts but because I'm white, they put me on the Pop charts. That's not even what I'm aiming for!" It goes both ways. I do feel very proud of what we did and the success of that record in the Urban AC format, but I do feel like given the opportunity, it would have been received well. Just play the record.
YouKnowIGotSoul: We've come across so many artists who are afraid to jump into that Urban AC record because they still want to have mainstream success. When you meet these artists and they want to make turn up records, what are you telling them?
Warryn Campbell: I tell them that I'm a musical snob. It's going to take a lot for me to do that. I just don't do it because I didn't spend 15 years training and learning the art of composition and how to write piccolos down the double basses to make trap music and make hi-hats off it. I appreciate it because I can't do it. I did one record with my wife called "I Luh God" because she's my wife and she kept begging me to do it. I live with her, so she can kick me out of the covers at night so I had to do it. *Laughs* I will support our culture no matter where it goes, but sometimes as a musician, I don't always want to dumb down and do records where I'm completely using not even one percent of what I know I can to make this record. It's not always about making this huge musical statement, but I want to make music that I know that ten years from now, you can put it on and say "This is a great record". The "Shame" song was made 9 years ago and it still has life. It still resonates and some of the stuff that I hear our young producers and artists doing, I know for a fact it won't be here in 3 years. I'm all about the conservation and preservation of our culture. I think we should make important records. I think Usher, Beyonce and Kanye or anyone with a large platform in the Urban space, make the records you want to make but don't abandon the records that will hold the genre and culture together. Make some important records. That's the one thing I always loved about Michael Jackson. He had fun records, but he's also going to make some important statement with the music as well. He's not going to forsake the culture. I think we have that responsibility.
YouKnowIGotSoul: Who else are you currently working with?
Warryn Campbell: I'm sure I'll get in with Brandy because we go way back. I'm really excited about breaking new acts. While I'm trying to preserve the culture and make sure I fight for the acts that the major labels have thrown away, you can't throw away Musiq Soulchild, Kelly Price and Jon B. They have a lot of fans and they're still making amazing music. My job is to preserve that and make sure they have the best shot possible to do what they do. While I'm doing that, I also want to break new acts. JoiStaRR, who happens to be my little sister, she's coming hard. Her new music is going to be so amazing. We're putting a lot behind her. I'm actually going to package her and Jon B together. You'll see them a lot doing a lot of things together where she'll sing and open up for him. Maybe on the occasion she'll do backgrounds for him on certain dates. I'm going to have her do 25-30 shows with him just to get her out there while we're promoting her single at radio. I believe in the synergy and sharing platforms. You'll see her do shows with Musiq Soulchild. She's actually featured on Musiq Soulchild's new album. The song is called "Part Of Me" that they kill together. We're just pushing the whole thing forward and in the meantime, we're looking for the next act we're going to break. We're trying to find the next soulful artist. Right now JoiStaRR is it. She's killing the game and I think everyone is going to be very pleased with what she does and her movement.
YouKnowIGotSoul: It seems like it's so hard for artists to break out in 2016. We see so many artists emerging online and even labels are having struggles breaking artists. Do you think it's harder now than it used to be to break a new artist?
Warryn Campbell: I don't think it's harder. It's just different. You can't say that people don't love music anymore because they do. If we say that all the music stopped, if music stops now, the world can't handle that. We need our music. I think we have to change our thinking and the music industry has to shift and look at how people are acquiring their music now. They want it differently. They're getting it in a different way and you just have to adjust. Along with that, it's the fact that the musicianship and the skill has been diminished because we made a lot of money with mediocre records. They were records that were okay. They were selling a lot, so the labels weren't requiring much of these artists that they signed as opposed to if this was 1960 or 1970. You had to be a monster artist to get a record deal. Now people are getting record deals and they can barely sing. We have these new terms for artists that can dance, but they can't sing. They call them performance artists, but they shouldn't be making an album. They should just be dancers. I don't know, I'm a musical snob. I feel like if you're going to record music and you're going to be a singer, you have to be able to sing. If you're going to be called a musicianship, you have to be able to play. I think when the music and the product is amazing, people buy it. They bought Adele because it was amazing. When Alicia Keys first came out, they bought the crap out of it and when she comes out with another record and it's amazing, they're going to buy it. When Jay Z comes out with something amazing, they buy it. When you push the envelope and it's creatively untouchable and undeniable, people buy it. I think it should push the artist, writers and producers to dig deeper. Don't be lazy. Learn your instrument and the kids should be learning that stuff. We have to get back to the musicianship of the music. It's called music, so at some point somebody has to learn how to play an instrument. That's the only thing that's going to preserve our culture and music. I'm excited about being part of it. I'm a veteran, but I'm still young. A lot of times, people will say "I wish I could be young again knowing what I know now". I'm in that space right now. I'm still young but I've been in it so long. I know a lot of things. I have a lot of knowledge and I still have a lot of movement and relevance. I can move around the way I want to. It's a beautiful thing. I don't know how long it'll last, but I'll certainly take advantage of it and try to be part of shifting and shaping the culture and preserving it. We have to get back to back to the real music.
YouKnowIGotSoul: Do you think it'll be possible to get back to the real music because it seems years by year, the quality of music isn't what it used to be. You still have great music from the independent artists, but do you think mainstream music will appreciate ballads and R&B music again?
Warryn Campbell: It just takes somebody to do it. The major labels, they roll with whatever is making money. I don't know if R&B turned into making banjo music and it sounded like blue grass, they'll buy it if it's selling. Tyrese is almost at 400k units sold at Urban AC. It's there. If he can do it, imagine what a major label with a major push could do. Also if you listen to Bryson Tiller's record, there's some real music. There's some trap stuff, but if you listen to what's on top of that stuff, that's real music. I look at that and I know it's real. I respect it immensely. I respect everything from BJ the Chicago Kid. It's real music to me. I've known BJ since he was still in Chicago. He's a young cat and this has always been his dream to do real music. The young people are really going after that. It helps that a young guy like Kendrick Lamar has so much real music on his album. It lets you know the kids are buying it. We just have to keep making it. If we keep making it and then the major labels will say that they want to do it too. If we push the envelope and it's leaning to that side, they have no choice. They're the machine. They're the engine. We create the gas. So as long as we create the gas, we have the control. I just encourage everyone to make real music and it will fuel the engine and the machine. Just make it real and put your heart into it. Don't make it because you heard someone on the radio. Prince didn't want to sound like Michael Jackson. Neither of them wanted to sound like Luther Vandross. They didn't want to sound like David Bowie. They were all different, but brilliant. Once we get back to the real skill, you'll see music rise again.