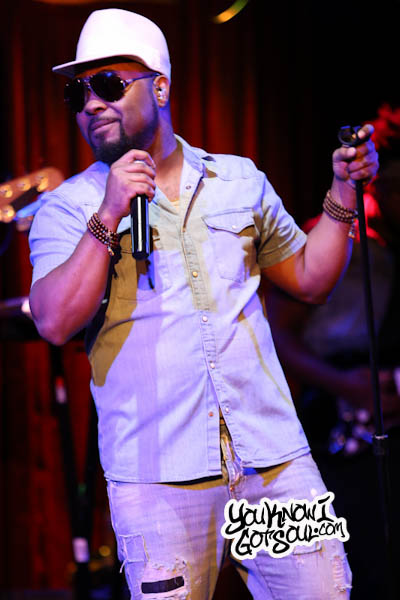 Last week we revealed the news Warryn Campbell had signed Jon B. to his My Block Inc. record label, and now we have more exclusive details on another major artist on his label. Sometime after Musiq Soulchild became an independent artist following his departure from Atlantic Records, he also signed with Warryn Campbell's label. The partnership is leading to the release of Musiq's upcoming album "Life on Earth" which is his first since 2011. Listen to Warryn talk about signing Musiq, how the first single "I Do" was created, and what to expect on the album.
YouKnowIGotSoul: You've got a hand in releasing this new Musiq Soulchild album including the first single "I Do". Tell us about that.
Warryn Campbell: We did a deal with Musiq to do this album at My Block Inc. The album is called "Life on Earth" and will be released on My Block, distributed through eOne. The song is written by myself, Musiq and a young lady named Ursula Yancy who is also an artist herself. Actually, I came up with the concept of the music at home. I just said "Musiq would kill this!" We had been in the studio working. I was driving and listening to the beat I had made at my house, and just started singing "I Do, I Do". That's all I had really. I shot that to them and they ran with it. Musiq is very, very skilled at taking any idea and turning it into magic. I've not seen any other artist like this. He's just so good at what he does. It was an honor to work with him. I've been a fan of his forever, and I finally got a chance to work with him on his "Luvanmusiq" album. I did like 6 or 7 songs on that album. We had met at Def Jam in the lobby. I was walking up to go talk to my managers at the time, Roc Nation, Jay Brown. He was going up to meet with Jay Brown as well. We saw each other in the lobby. We ended up talking and decided we should do some things together. We had met a couple of times before. He went back to Philly on the train, and I went into the studio. I was living in New York at the time. I made this track and it was all live music. I sent it to him and called him. I sent it to him, he got back on the train and came back to New York and stayed until 7 in the morning and wrote and sung the whole song! The song ended up being "Greatest Love". That's when our musical marriage began. At that point I was thinking of starting a label, and he said "When I'm done here, I want to sign to My Block." I thought he was just talking, but when he got done with Atlantic, he called me and said he was out, and he was ready. I couldn't believe it. We have an album coming out April 8th.
YouKnowIGotSoul: When we've spoken to him in the past, he hasn't always been happy with the direction the label has pushed his music into. How did the music come out on this album?
Warryn Campbell: I pretty much let him do whatever he wants to do, because he's Musiq Soulchild and he knows what he's doing. Even when I was making the records for him, he was there when I was doing everything and steering me. I believe that he likes what he's doing. No matter what he does, even when he veered off and did The Husel or Purple Wondaluv. I had a conversation with him, I said "You're 15 years into being Musiq Soulchild, no matter what you change your name to, or change your clothes or the sound of the music, your fans will just hear Musiq Soulchild". That was just my opinion. I'm sure he didn't like it, but I'm a fan. You can't get mad at the fans if that's what they want or like. You've got to give them what they want. Once you give them what they want, then you can veer off and do different things. But it's been too long since he'd given them a Musiq Soulchild album. I think after this album, his fans will satisfied and he can do whatever he wants to do after that.