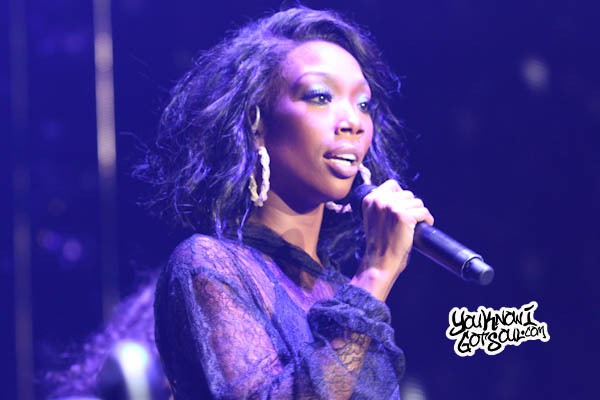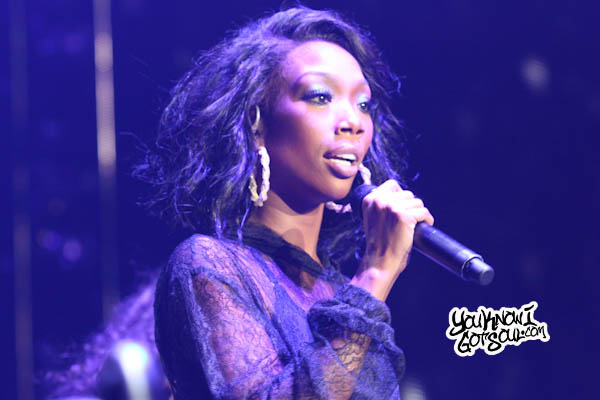 It's almost that time again. Brandy season is upon us and the timing couldn't be more perfect. In case you forgot, it's been four years since Brandy released her last album "Two Eleven". The regular consumer might not feel the absence of her voice because she's been able to keep her name out there with her role on BET's The Game as well as the Broadway musical Chicago. Make no mistake about it though, it's been four long years for diehard R&B fans.
The hiatus is nothing new for Brandy though as she's always taken long breaks between albums (aside from the fourth album "Afrodisiac"). It's been painful for fans though as they've been anxiously waiting for new music. Need proof of that? When producer DJ Camper announced that he was working on an EP with Brandy, the fans went crazy. Unfortunately that EP never actually happened and everyone was visibly frustrated. Need more proof that everyone was dying for new Brandy music? When she released her new song "Beggin and Pleadin" recently, the internet basically exploded. Brandy fans came together and rejoiced on the fact that there was new music being released and interestingly enough, that group of fans also included like Tyrese and Luke James.
It's truly a phenomenon to see the universal love that Brandy gets from other artists. It's well deserved too as she's been one of the most respected vocalists in the game since her debut came out in 1994. So now that the wait appears to be over (or at least almost), what should we be expecting from Brandy this time around? Well before we get into that, it probably makes more sense to look at what Brandy created back in 2012 to see if there's anything that needs to be tweaked.
Brandy told us in an interview a few years ago, that her focus on "Two Eleven' was bringing back the R&B core that was missing from her 2008 album "Human". With that in mind, she enlisted the likes of hit songwriters Sean Garrett and Rico Love to create the majority of her project. Objectively speaking, she was able to accomplish that as her single "Put It Down" with Chris Brown was a huge success on Urban radio and her album sold fairly well on the charts. With that being said, Brandy is now managed by music veteran Jeff Robinson and his company MBK entertainment, so we expect some changes to happen. Though no one can say for sure what's going to happen, there are a couple of things that we would like to see improved from the "Two Eleven" era.
With Sean Garrett and Rico Love on board for the majority of "Two Eleven", it was clear that the songs were going to be heavily geared towards radio success. Both of them are accomplished hit makers and have proved time and time again that they can deliver a smash when called upon. Sean Garrett in particular proved that as he wrote the lead single "Put It Down".
The only problem is that "Two Eleven" as a whole lacked a certain feel that we would get when we listened to a Brandy album. Although Brandy has had hits in the past, her strength has always been her ability to create great albums. Think about her past albums like "Full Moon", "Never Say Never" and "Afrodisiac". Those were projects that you could listen to from top to bottom and feel like you were part of the journey. There were great songs like "Nothing", "I Tried" and "Put That On Everything" that you could connect to emotionally when you were alone in your room. Those weren't necessarily songs that would be released as radio singles, they were just great songs.
"Two Eleven" for whatever reason lacked those type of songs. She sounded amazing vocally on each track, but it always felt like something was missing. That's not to say the album was bad by any stretch though because it did have some great songs like "Slower", "So Sick" and the fan favorite "Do You Know What You Have?". Perhaps that was the problem though. The album had great songs that had potential to do well at radio, but it didn't have those album tracks that would stand out from everything else. In a way "Two Eleven" felt more like a batch of good songs as opposed to a cohesive Brandy album that we've come to expect from her.
Judging from the direction of the last album, it's clear that Brandy's goal was to see if she still had a place in today's R&B world. She was able to accomplish that, but in return it's almost like she had to give up some of her creative input to get there. For this new album that she's working on, Brandy needs to take control and put her stamp on everything. That's what made "Full Moon" such a great album. You could tell that Brandy was part of the process from start to finish.
The second single for "Two Eleven" was the Sean Garret penned mid-tempo ballad "Wildest Dreams". When we talk about that song on the album that stood out from everything else, this song was just that. It had all the makings of being that one album track that stood out from everything else. Brandy sounded great and the vibe was reminiscent of the "Full Moon" era. The only problem is that they released "Wildest Dreams" as a single, so the song is now viewed simply as the single that came after the monster known as "Put It Down".
The release of "Wildest Dreams" didn't make a lot of sense to begin because it went against everything she was trying to accomplish with "Two Eleven". "Put It Down" was created for the younger crowd and they loved it. If Brandy's goal was to capture the younger market, she succeeded in doing so with "Put It Down" and she should have continued to attack that youth market with songs like "Do You Know What You Have?" or "Let Me Go". It's almost impossible these days for an R&B artist to release a song that appeals to both the youth and the grown audience and "Wildest Dreams" definitely wasn't the song to do that.
So how should Brandy approach her singles this time around? It's really hard to say because she has such a broad audience. For someone who has been putting out music for over 20 years now, it's surprising to see the amount of younger fans that she has. At times it puts her at a disadvantage because she has to cater to different crowds. It'll always be tough for a versatile artist like Brandy to create something that makes everyone happy, so our advice is for her to stay consistent with whatever lane she decides to go in.
There was a lot buzz surrounding Brandy's comeback during the "Two Eleven" era. She had new management team (Breyon Prescott and Chameleon Entertainment Group), a new label situation with RCA Records and a new group of producers working wit her. More importantly, she had a new-found confidence on stage during her performances. All of this should have meant big things for the project, but nothing really happened after the release of the album. Just like many other R&B albums that have come out in recent years, "Two Eleven" sort of just disappeared after the week it was released.
We've already pointed out that the release of "Wildest Dreams" as a single was questionable, but what's more concerning is that there was no push behind the single. And after that song failed to match the success of "Put It Down", there was no news regarding a third single. Let us remind you again that this was an album that was meant to be single-driven, so why did they stop after the second single? The decision not to put out an official third single (even after the overwhelming online support for "Do You Know What You Have?") ultimately put the final nail in the coffin for "Two Eleven".
It's easy to point the finger at the record label, but you have to also remember that Brandy went off to act on BET's The Game. Now we're not sure what happened behind the scenes, but for the sake of the album, it would have made more sense for her to go on an actual tour to support the album. She did spot dates here and there, but a full tour would have benefited her so much more. Brandy hasn't had a full tour in quite some time, so it would have been a good opportunity for her to connect with her fans and introduce them to the new music. Some may say that it was wise for her to go back into acting and it certainly was good for her brand, but it prematurely ended the "Two Eleven" era.
So what should Brandy do this time around? It's simple, focus on the album and promote it. Her new TV show Zoe Ever After will undoubtedly be a huge hit, but once she's back in music mode, we need her to be committed to the process 100%.
To conclude, Brandy will go down as one of the best voices of this generation, but there's still a lot of work left for her to do. At this point in her career, her only competition is herself. She's outlasted basically every artist from her generation and that's not an exaggeration. However, if she's serious about being a great artist and reaching her full potential, she's going to need to see her kick it up a notch. When the going gets tough, she's going to need to stand strong and whether through the storm. We believe she can do it. She tasted some success on her last project with "Put It Down", so there's no doubt that she's going to want more. As long as she doesn't make the same mistakes again, she will be just fine.