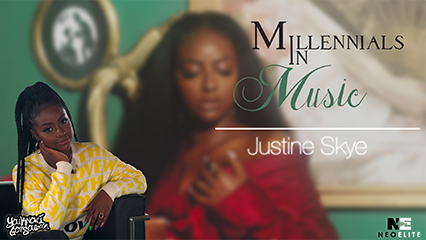 Roc Nation artist Justine Skye joins us on this episode of Millenials in Music to discuss her new single, 'Build', the current motivations in her life that are driving her, and the mental process she is adapting which is ushering in a new era of artistery within her music. In addition, she chats about why she no longer wears purple hair, battling depression at a young age, the insecurities she faced growing up, her recent encounter with domestic violence, and evolution to moving into a space of happiness.
Although, Skye has been a popular figure on the scene since 2013, she is determined now more than ever to begin living out her authentic truth within her music. At 23, Justine has released 3 EPs, and her debut album, Ultraviolet. Her new single, 'Build' can be found on Apple Music, Tidal, and Spotify. Watch the full interview for more on Justine Skye and to find out just exactly who she is!
– – – – – – – – – – – – – – – – – – – – –
– – – – – – – – – – – – – – – – – – – – –
Produced by the Neo Elite, Millennials in Music is an interview series geared towards millennial fans of Soul, R&B, and rising thoughtful Hip-Hop artists in order to create a deeper level of connection between creatives and their fans. The purpose of the series is to have a candid dialogue with the next generation of superstars that inspires and elevates their fans.
Subscribe to Neo Elite: http://bit.ly/2cNV6nz
Neo Elite on Twitter: https://twitter.com/theneoelite
Neo Elite on Instagram: https://www.instagram.com/theneoelite/
Neo Elite on Facebook: https://facebook.com/theneoelite
https://www.theneoelite.com/
Subscribe to YouKnowIGotSoul: https://bit.ly/2lFi1Vw
YouKnowIGotSoul on Twitter: https://twitter.com/ykigs
YouKnowIGotSoul on Instagram: https://www.instagram.com/youknowigotsoul/
YouKnowIGotSoul on Facebook: https://www.facebook.com/youknowigotsoul
https://youknowigotsoul.com/
Subscribe to Justine Skye on YouTube: https://bit.ly/2Bda5lZ
Justine Skye on Twitter: https://twitter.com/JustineSkye
Justine Skye on Instagram: https://www.instagram.com/justineskye/
Justine Skye on Facebook: https://www.facebook.com/justineskye
http://justineskye.com/