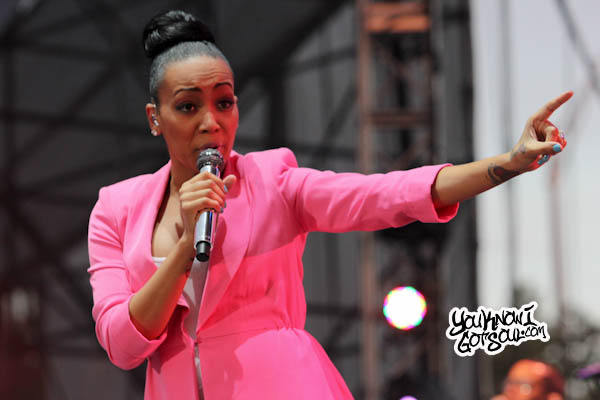 Monica just announced that her 8th studio album "Code Red" will come out December 18th. The news should bring some relief to fans who have been anxiously waiting for the CD. The rollout plan couldn't be any better as her single with Lil Wayne "Just Right For Me" is climbing the charts (we're still waiting on the music video) and her "Code Red Experience" tour is ready to kick off in 2 weeks. With all of that being said though, the grind cannot stop now. Monica must take all of this momentum and run with it, especially after the uneventful "New Life" era where aside from a promo run that she did for "It All Belongs To Me" with Brandy, there was pretty much nothing else for the album. She needs to promote beyond the release week this time around.
Whereas her counterparts Aaliyah and Brandy found success in other ventures such as acting, Monica has always focused on her music and family. She's established herself as one of the premiere R&B artists because of this and she needs to maintain that focus for this album. The marketing needs to be on point, but more importantly the music needs to be up to Monica standard. She titled her album "Code Red" as she's stated that R&B is in a state of emergency right now. The only way she'll able to live up to that bold title is if she brings it musically. I'm sure Monica will even admit that "New Life" was not her best work, but the beauty about being an artist is that you can make right of things with the next album. She's living proof of that. Many thought that she had lost her touch after "Everytime Tha Beat Drops" came out but she recovered with the critically acclaimed "Still Standing" album and everyone was back on the bandwagon.
She's already proved to us historically that she can deliver a great album when she puts her mind to it, so you're probably asking why we're putting so much pressure on her for this "Code Red" album. The reality is that there are only a handful of R&B artists who can still make an impact for a genre that is seemingly fading from the mainstream, as evidenced by the abysmal album sales that we've seen this year. The veteran stars like Monica need to do all that they can to make a difference. Tyrese was able to do that with his "Black Rose" album. He was basically everywhere promoting his album and his first week sales came back very strong. Now take that into consideration and also include the fact that his reach is nowhere near Monica's from a musical standpoint. Tyrese may be a celebrity, but Monica is a household R&B name with an audience that has followed her since 1995. Also remember that even though Monica's music is rooted in R&B, she's always been cool enough for the streets. That's why her current single "Just Right For Me" is blowing up on Urban radio.
Monica's probably not going to turn back the clock and smash the charts like it's 1998 again, but there's no reason why she can't repeat what she did in 2010 with "Still Standing". R&B is struggling to maintain its presence in music right now and it doesn't look like the bleeding will stop anytime soon, but if Monica is committed to her craft, it should pay dividends for the genre moving forward. That is why we desperately need Monica's album "Code Red".