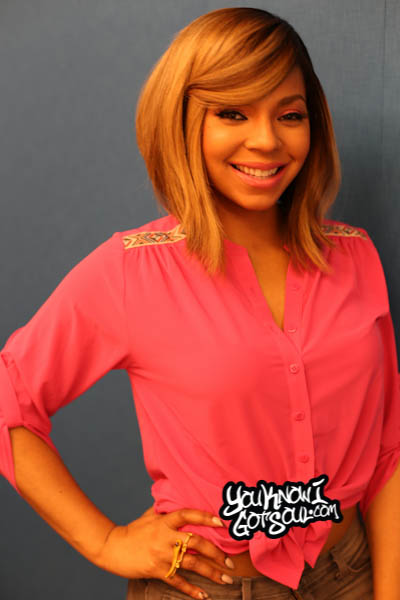 It was just 12 years ago when Ashanti first entered the R&B game and almost immediately took over the music charts with her catchy tunes. It was impossible to go anywhere without hearing her music whether it was one of her duets with Ja Rule, hip hop hooks, or her solo material. Ashanti was on top of the world for a period of time and it didn't look like anything or anyone could stop her. Unfortunately Murder Inc went through legal problems a few years later and we witnessed the collapse of one of the most successful labels in recent history. Ashanti's 2008 album "The Declaration" was her last on Irv Gotti's label and before you knew it, the label dissolved and Ashanti disappeared from the musical spotlight. She's finally back after 6 long years with a new album, a new record company and a new story to share. YouKnowIGotSoul had a chance to speak with Ashanti about the new album "Braveheart", her experience being on an independent label and her history with Puff Daddy and Murder Inc.
YouKnowIGotSoul: The new album "Braveheart" is out now. You've said that this album is your most personal album to date. What allowed that to be the case?
Ashanti: "Braveheart" is my most personal album to date because I feel like it is a mirror of the past few years of my life. Everything on the album, I wrote from a very real place and experience. I felt it was time to open up and just be brave about everything that was going on.
YouKnowIGotSoul: You've got some really personal songs on your album like "Scars". Is it hard making yourself so vulnerable to the public like that through your music?
Ashanti: This time around, it wasn't as hard because again, I haven't put out an album since 2008. I feel like there's a lot of filling in the gaps that had to be done, so I felt like if I was going to talk about my movement and being brave, hence the title "Braveheart", you have to be very honest and open. It doesn't necessarily mean that I'll put everything on blast, but it does mean that I'm going to open up a lot more from interviews, radio and just being a little more transparent because I think nowadays you need it.
YouKnowIGotSoul: Even though it's been so long since your last album, you can still hear that Ashanti signature sound on songs like "Nowhere". It's radio friendly, but it also showcases growth. How important was it for you to keep that signature sound?
Ashanti: I think it's so important to keep your signature sound because you have a core fanbase that knows and loves you for that. I think they appreciate me trying things and being creative and reinventing at times, but the trick is kind of keeping the foundation and just expanding on it. That's what I tried to do with the album and it's really what I love. Even when people say "You have a sound", I think it's for a reason. It's funny when I walk into the studio and the producer is like "Yeah I got that Ashanti!" It's a great compliment.
YouKnowIGotSoul: With "Braveheart" being your first independent album, how are you going to measure the success of this album compared to how you used to in the past?
Ashanti: For me, a large part of the pressure is completely off because the reception of the music has been phenomenal. The reviews and just people talking about how much they love the songs and how they can relate to the whole thing, that was one of the most important things to me. Just making sure that the people loved the music. I'm very fortunate enough to have had a very successful career, so when people talk about numbers I can still be like "I sold a lot of records! I hold records!" Sustaining that is really a blessing. Am I going to beat my Guinness World Record? Probably not, but I'm cool because I did it already. *Laughs*
YouKnowIGotSoul: This album was highly anticipated and fans have been waiting so long for you. Unfortunately the album had some push backs along the way. How hard was it for you to have to keep the fans waiting?
Ashanti: Well I definitely have to clear it up. Although the blogs and the internet is a wonderful place and for people to visit and get information, sometimes that information is false. I saw a lot of dates that were posted and I realistically only posted two dates. I would see different dates all the time and I would be like "Where did they get that from?" Or I would post a promo picture and they would be like "This is the album cover! Oh naw, this is the album cover!" I'd be like "This was just a promo picture. I didn't say it was a cover picture, but get them out there!" *Laughs* I definitely did push the album back myself because I wanted it to be perfect. I wanted it to be right. I wanted it to tell a complete story and it was important to me because if the last album I put out was 2008 and I'm putting one out now, it has to be worth it. It doesn't make sense to take all that time and for it not to be perfect in my eyes or my heart.
YouKnowIGotSoul: In the past few years, you've released a couple of singles on iTunes. Was that your way of testing the waters? What were you trying to accomplish with that approach?
Ashanti: To be totally honest, it was trying to satisfy a few different things. Doing a little bit of testing, having content out there because you need content out there. You don't want to leave too much of a gap. It was a little bit of both. Your fans want content regardless. I think if your fans could get a record every week, they would love it.
YouKnowIGotSoul: Your single "I Got It" has that radio friendly sound and that's something you've always had. Is that something you consciously go after when you're creating in the studio or is that an organic thing for you?
Ashanti: Honestly I think it's a tiny bit of both. I think the most important thing is for the record to be organic and to have it not sound forced. When you're playing your record back, you kind of sit and say "This is radio" or "This is a great album cut". I think the thought does go into it and I think the business side of me, it has to. If you're recording a record for a potential single and it depends because you're recording just to be recording and usually those are the songs that end up being singles.
YouKnowIGotSoul: On the intro of "Braveheart", you mentioned that a lot of people counted you out. You were still doing your thing with the TV shows and movies and stuff, but why do you feel like people almost gave up on you?
Ashanti: A lot of people always want to see your downfall. I don't know what it is, but misery loves company. People don't like to be supportive and if you're not plastered and smeared everywhere, you have haters or people who are just negative and trying to pull you down like crabs at the bottom of the barrel. I think that the way you address it is to continue to work and to use that as motivation to do the best that you can.
YouKnowIGotSoul: It seems like you get a lot of hate from people for no reason and it's so undeserved. How do those comments make you feel?
Ashanti: I think you have to have a certain mindset and build to deal with the industry as a whole. I don't take it personal because I feel like it comes with a territory. I know how to ignore things and sometimes I may address it. *Laughs* They get a little crazy! I hardly do though. I really go by my motto of "Elephants do not swat flies." Usually it's just somebody that wants a little light and you're doing them more of a service by responding or retaliating. I feel like if people aren't hating on you, maybe there is something wrong. You have to be out there enough to have people have something to say good, bad or indifferent.
YouKnowIGotSoul: I was reading that when you were 17, you were discovered by Puff Daddy and performed for him and Biggie. Is this true?
Ashanti: Fairly true. I was around 13 and I went to audition for Puff. We were shopping a deal and I sang a Mary J. Blige record in his office. Puff did a test with me. It was me, my mom and my attorney in the office. I'm sitting at the desk and he pulls out this cologne and he's like "I want you to smell this. This is a new fragrance that I'm working on." I smelled it and it was terrible. It smelled like garbage. It was like stinky onions. I was like "This is bad!" My mom and my attorney were mortified like "Oh my god! We lost the deal!" Puff just started laughing and was like "I wanted to see if you were real or not. I did that on purpose. This is terrible!" That was the first time I met Biggie and I got an autograph from him. I was super excited. We actually got the offer. Puff offered the deal and we didn't take it. *Laughs* I ended up getting a deal with Jive.
YouKnowIGotSoul: How did you eventually end up on Murder Inc?
Ashanti: I had three record deals before I ended up with Murder Inc. I think it was Jive first, Noontime/Epic second and AJM Records third. There was a person that used to work with my team that had a mutual friend that used to babysit Irv Gotti. They hooked the meeting and I went to Irv's office. He was very rude. *Laughs* He was eating Chinese food and had me, my mom and a business associate waiting. It was kind of like a word of mouth thing, it wasn't a specific search for it. It was an organic word of mouth.
YouKnowIGotSoul: Anything you'd like to add?
Ashanti: Let the people know that with me running my own record label Written Entertainment and this being my first project, I'm really grateful for all the support. It's a lot of work and I think the rewards come when I hear how much people love the records and the album. I put so much into "Braveheart" so I'm just really grateful.